43 Surreal Places That Could Have Been Colossal Works Of Art
Do you sometimes get the feeling when visiting a place that's so beautifully unreal it seems like you're stepping into a painting, a movie set, or a large-scale art installation? Our imagination can run so wild. Here's a list of incredibly captivating places that would draw you in and leave you breathless in wonder.
1. Dreamlike sea of flowers of Luoping, China (link)
2. Misshapen trees of Finland's frozen landscapes (link)
3. Flysch rock formation in Zumaia, Spain (link)
4. Luxuriant sandy desert lagoons of Brazil (link)
5. Glassy blue ice caves of Skaftafell, Iceland (link)
6. Mount Rainier, which casts shadows on the sky, in Washington, USA (link)
7. Bubblegum pink Lake Hillier of Australia (link)
8. The Wave in Arizona, USA (link)
9. Dramatic volcanic wastelands of Tengger Massif, Indonesia (link)
10. The "goat-bearing" trees of Morocco (link)
11. Enchanting wisteria tunnels of Japan (link)
12. Permanently distorted trees of Slope Point, New Zealand (link)
13. Waitomo glowworm caves of New Zealand (link)
14. "Underwater Waterfall" of Mauritius Island
15. "Underwater River" of Mexico (link)
16. Technicolor tulip fields of Lisse, Netherlands (link)
17. Star sand beach of Okinawa, Japan (link)
18. Spotted Lake of Canada (link)
19. Salar de Uyuni in Bolivia (link)
20. Mysterious sailing stones of Death Valley, USA (link)
21. Charming Rock Islands of Palau (link)
22. A traveling pile of sand in Denmark (link)
23. Majestic Pulpit Rock of Norway (link)
24. Playa de Gulpiyuri, a sandy beach in the middle of a meadow in Spain (link)
25. Pamukkale Springs of Turkey (link)
26. The constantly raging lightning storms of Catutumbo, Venezuela (link)
27. Avatar-inspired Mt. Roraima of Venezuela (link)
28. Ever-changing hues of the Marble Caves in Chile (link)
29. Kleven's Tunnel of Love in Ukraine (link)
30. 40,000 plastic balls afloat in LA's Ivanhoe Reservoir
31. Bizarre shrubbery of Hitachi Seaside Park, Japan
32. Bombsite turned beach paradise of Puerto Vallarta, Mexico (link)
33. The graveyard of ships in the desert of Mo'ynoq
34. Enigmatic Giant's Causeway of Ireland
35. The balancing house in Drina River, Serbia (link)
36. Impressionistic Deadvlei of Namibia
37. Rainbow layer-cake landscapes of Danxia Landform, China
38. Mysterious crop circles of Wiltshire, England (link)
39. Crooked forest of Poland (link)
40. The River of Five Colors in Colombia (link)
41. The gruesome Blood Falls of Antartica (link)
42. Shapely Antelope Canyon of Arizona, USA
43. Stunning Waterworks of Plitvice Lakes, Croatia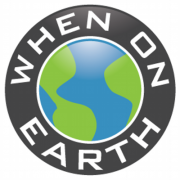 WOE Media
When On Earth Magazine is for people who love travel. We provide informative travel guides, tips, ideas and advice regarding places to see, things to do, what to taste, and much more for world travelers seeking their next dream vacation destination.