Visit the Beautiful and Bizzare Wat Rong Khun in Thailand
In the village of Rong Khun near Chiang Rai, Northern Thailand stands the most spectacular temple made by human hands. Painted pure white and covered in thousands of glass pieces, Wat Rong Khun or the White Temple shines brilliantly in the sunlight. But while its beautiful exteriors can take your breath away, you'll be surprised what this temple conceals behind its walls.
The temple grounds might give you a clue. Scattered among the amazing white porcelain statues are frightening sculptures of heads dangling from a tree, demonic exhibits dissuading visitors from pursuing smoking, booze, and sexual promiscuity, and, wait—is that Predator crawling out of the ground?
True enough, this surreal temple displays traditional Thai architecture with a whimsical touch of popular culture. Enter the temple and find the most unusual religious mural you'll ever set eyes on. Find Superman, Spiderman, Keanu Reeves as Neo, Angry Birds, and Kung Fu Panda riding Star Wars space ships or flying around the 911 Twin Towers in a huge wall painting that depicts the fight of good versus evil in the Buddhist point of view.
In another wall, catch Ben 10, Doraemon, Elvis, and George Bush along with Osama Bin Laden portray an apocalyptic image of the earth bound for destruction.
This bizarre yet intensely stunning temple was conceived by nationally-honored artist Chalermchai Kositpipat. Assisted by more than 80 monks, he began the project in 1996, aiming to finish it by 2006 but failed. While the White Temple is already beautiful as it is, he still has another 100 years' worth painstaking work to add to his masterpiece, which he believes would grant him immortal life from Buddha.
But the surprises don't end there. Within the temple complex also stands what's known to be the most beautiful toilet in the world. It's a distinct golden building that houses priceless toilets for public use as well as Kositpipat's very own abode on the second floor.
According to the artist, while Wat Rong Khun is colored white to symbolize purity, the toilets are colored gold to symbolize passion. Don't us ask why.
Entrance to Wat Rong Khun (as with the golden toilet) is free of charge, but taking photos inside the temple is prohibited.
[su_note note_color="#fafddf" text_color="#000000″ radius="0″]
Related Topics You May Be Interested to Read: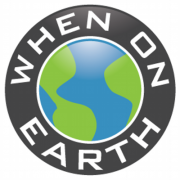 WOE Media
When On Earth Magazine is for people who love travel. We provide informative travel guides, tips, ideas and advice regarding places to see, things to do, what to taste, and much more for world travelers seeking their next dream vacation destination.