Hidden Beach in Marieta Islands, Mexico
Located in the Marieta Islands, about 20 nautical miles from Puerto Vallarta, lies an idyllic beach paradise hidden underneath a hole in the ground. Called the "Hidden Beach" or "Playa de Amor" (Beach of Love), this one-of-a-kind natural wonder has remained untouched by human hands for many years.
Within its natural cavernous shell, crystal-clear turquoise waters peacefully lap against its powdery white shores, out of sight and out of reach from the rest of the world. Only recently when its photos spread virally across the internet did it become one of the most popular beaches in Mexico.
However despite its fame, the Hidden Beach still remains unsullied due to the difficulty of getting to it. Besides being hoisted down from a helicopter, the only known way to access it is though a very small opening on the tidal side of its cavernous walls.
This short tunnel, measuring fifty feet with only 6 feet of air space between water and rock, can only be traversed by swimming or scuba diving, and only during low tide.
The origins of this secluded marvel comes as a surprise. It is said to have been formed in the early 1900's by the Mexican Government as a bomb site in preparation for the First World War.
The Marieta Islands were evidently the government's target practice site, and these controlled bombings were discovered to have formed several unique caves and rock formations, the most picturesque of which is Playa del Amor.
These islands known as the "Galapagos of Mexico," are in themselves an ecological gem. Formed thousands of years ago by a volcanic eruption, the Marieta Islands now house a spectacular array of terrestrial flora and fauna as well as marine species like humpback whales and manta rays which earned it its title as a UNESCO World Heritage Site.
The islands are protected by the government of Mexico, and visitors who intend to enter the reserve must have a permit.
Due to its tropical climate, the Marieta Islands, including the Hidden Beach, enjoy 12 months of sunny days. Nevertheless, it is best to visit the beach during winter months, after the rainy season, when the waters are at their clearest and most beautiful.
The best way to see the Marieta Islands would be to book a flight to Puerto Vallarta and then to find a tour operator that will take you to the islands.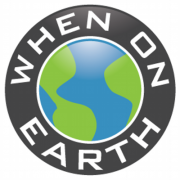 WOE Media
When On Earth Magazine is for people who love travel. We provide informative travel guides, tips, ideas and advice regarding places to see, things to do, what to taste, and much more for world travelers seeking their next dream vacation destination.