24 Unusual Beaches You've Never Heard Of Before
Do you think that beaches are blasé tourist destinations with nothing unique or interesting to offer? Well, you're only partly correct. Many of them are over crowded and boring, but none of the beaches we feature here will disappoint. A singing beach, a glowing beach, a beach with rainbow-colored sand — here are the most offbeat seaside destinations you'll find on Earth.
1. Glass Beach
Location: Hanapepe, Kauai, Hawaii
What's so special about it: Though it's regular rock is basalt, the Glass Beach in Kauai is blanketed with millions of sea glass particles which came from years of discarded glass washed up on shore. Similar beaches include Fort Bragg and Benicia, which are both in California. Source 
2. Green Sand Beach
Location: Papakolea Beach/Mahana Beach, South Point, Ka'u, Hawaii
What's so special about it: Thanks to the mineral olivine, which comes from the nearby cinder cone, this peculiar beach sparkles a brilliant green. It's only one of the four beaches in the world with bright green sand, the others being Talofofo Beach, Guam, Punta Cormorant on Floreana Island in the Galapagos Islands, and Hornindalsvatnet, Norway. Source

3. Hot Water Beach
Location: East coast of the Coromandel Peninsula, New Zealand
What's so special about it: Drive down to this beach armed with a shovel, because the best thing to do here is to dig your very own DIY spa. This geothermal beach can get as hot as 64°C (147°F), its heated water spouting from two nearby underground springs. Check out their website for updates on the water conditions before you drop by. Source

4. Tunnel Beach
Location: Dunedin, New Zealand
What's so special about it: After trekking across a private farmland, beach-goers must pass this long creepy tunnel to get to the actual beach. On the other side are beautiful sandstone cliffs, rock arches, caves, and other stunning rock formations against the backdrop of the magnificent Pacific Ocean. Source
5. Star Sand Beach
Location: Irimote Island, Japan
What's so special about it: Visitors of the star sand beaches of Irimote Island and neighboring islands in southern Japan are more often seen crouched over the sand, examining the curiously-shaped particles on their hands. Star sand are actually exoskeletons of foraminiferans (microscopic marine organisms) which have washed up by the millions for years on the island's shores. Those who look closely enough might find some that are still alive. Source

6. Singing Beach
Location: Manchester-by-the-Sea, Massachusetts, USA
What's so special about it: Before you get carried away by your imagination, the sounds coming from the friction between the grains of sand in this beach are actually more of the creaky, squeaky kind than the melodic, symphonic type, which is probably how you imagine it. Though you might call this false advertising, the experience is still one-of-a-kind. That Singing Beach is still one of of North Shore's most popular attractions attests to that. Source
7. A sandy beach in the middle of a meadow
Location: Playa De Gulpiyuri, Llanes, Spain
What's so special about it: If you're walking in a meadow and suddenly find yourself in a beach, it's likely you've come to Playa De Gulpiyuri. Though the ocean is nowhere in sight, the beach is actually connected by a network of intricate underground waterways to the Atlantic where its water is sourced. Source
8. Pink Sand Beach
Location: Harbour Island, Bahamas
What's so special about it: Eroded particles from red corals across the eastern coast of the Bahamas have washed to shore to give the powdery sand of Harbor island a pinkish glow. If you're a fan of pink, this beach is the way to go. Source
9. Purple Sand Beach
Location: Pfeiffer Beach, Big Sur, California, USA
What's so special about it: Another cute-colored sand beach is found in Big Sur, California. The purple tint of the sands of Pfeiffer Beach comes from its dominant mineral quartz combined with manganese garnet deposits found in the surrounding rocks. Source
10. Bioluminescent Beach
Location: Maldives
What's so special about it: It's an ocean of stars! Bioluminescent phytoplankton, which glows when agitated, can be found in many shores all over the world, but it seems they're found more often in Maldives. This amazing photo was taken by Taiwanese photographer Will Ho. Source
11. Beach of the Cathedrals
Location: Playa de las Catedrales/Praia de Augas Santas, Ribadeo, Spain
What's so special about it: Magnificent geological formations form a cathedral-like effect across this idyllic beach in Spain. The beach can only be easily accessible during low tide. Source
12. Bowling Ball Beach
Location: Schooner Gulch State Beach, Mendocino County, California, USA
What's so special about it: Large spherical rocks, like over-sized bowling balls, are scattered across the shore of this beach in Schooner Gulch. The boulders are said to have been caused by millions of years of erosion and "concretion" a rare geologic phenomenon also observed in the Moeraki and Koutu Boulders in New Zealand and Cannonball River in North Dakota. Source
13. Maho Beach
Location: Saint Martin Island, Sint Maarten
What's so special about it: With the beach's location adjacent to the Princess Juliana International Airport, vacationers can actually jump up and touch a flying airplane. Source
14. Schoolhouse Beach
Location: Washington Island, Wisconsin, USA
What's so special about it: If you like beaches but absolutely hate sand sticking to your feet and getting everywhere else, you'll love Schoolhouse Beach. Instead of icky sand, it's covered in smooth limestone rocks that were glacier-polished for thousands of years. Each small rock is a geologic treasure that anyone caught trying to take one home has to pay a steep fine. Source 
15. Vanishing Beach
Location: Chandipur Beach, eastern India
What's so special about it: In the morning, the sea in Chandipur Beach vanishes completely like a miracle. It recedes up to 5 kilometers from the shore, giving visitors an opportunity to walk in the sea and explore the sea bed on foot. But once high tide kicks in, they better be back in shore, since that's when the sea rushes back into place. This strange phenomenon happens twice a day throughout the year. Source
16. Hidden Beach
Location: Playa de Amor, Marieta Islands, Mexico
What's so special about it: This idyllic beach paradise was actually created when the Mexican government in the early 1900's made a bombsite out of the area, blasting a huge hole on the canopy of the grotto. Despite its dreadful past, we're actually grateful — the beach looks absolutely gorgeous! Source 
17. Black Sand Beach
Location: Punalu'u Park, Hawaii
What's so special about it: Sick of ordinary white sand beaches? Head down to Punalu'u Park for something entirely different. As for why the sand is colored black, we have theories. Source
18. White Sand Beach
Location: Hyams Beach,, New South Wales, Australia
What's so special about it: Hyams Beach holds a Guinness Record for having the whitest sand in the world. It's like snow in summer! Source
19. Rainbow Beach
Location: South-eastern Queensland, Australia
What's so special about it: Multi-colored sand dunes surrounding the town supply Rainbow Beach with as many as 74 different colors of sand. The colorful sand dunes are a result of years of erosion and iron oxidation dating back since the Ice Age. Source
20. Round Pebble Beach
Location: Mabua Pebble Beach, Surigao City, Philippines
What's so special about it: Instead of sand, this beach is covered with a multitude of smooth round pebbles which the waves gathered in from the sea. According to reflexologists, walking on these stones has a strong therapeutic effect on the body., which makes this beach a popular getaway for those who want to relax and rejuvenate. Source
21. Pig Beach
Location:  Big Major Cay, Bahamas
What's so special about it: Big major Cay is an island in the Bahamas that's populated by 20 or so feral pigs who are often seen lounging about and swimming in the clear waters around the island. No one really knows where they came from, but they sure are bringing more and more curious travelers to their island. Source
22. Scala Dei Turchi
Location: southern Sicily, Realmonte, Italy
What's so special about it: Scala dei Turchi is a set of stairs formed out of natural white rock by years of wave action. Beach-goers are often found covered in white paste made from the mineral Marl that's abundant in the area and is said to be good for the skin.  Source
23. Whitehaven Beach
Location: Whitsunday Island, Australia
What's so special about it: Not only is Whitehaven Beach visually spectacular, it's also actually awarded as the most eco-friendly beach in the world by CNN. Local sands are bright white containing a large amount of silica, which does not retain heat, enabling visitors to walk around the silky shore comfortably while barefoot on a sunny day.    Source
24. Shell Beach
Location: L'Haridon Bight,  Shark Bay, western Australia
What's special about it: A 7 to 10 meter thick layer of cockle shells covers the entire shoreline of this fascinating beach. Due to the high salinity of the water, cockles proliferate abundantly in the absence of its natural predators, who cannot survive in such harsh environment. It is one of the only two beaches made entirely out of shells. Source
Bonus:
A desert that turns into a beach on certain parts of the year
Location: Lençóis Maranhenses National Park, Maranhão, Brazil.
What's so special about it: Every start of the year, continuous rainfall floods the desert dunes of Lençóis Maranhenses National Park, creating a series of lovely turquoise lagoons in the white valleys of sand. The desert beach persists until it completely dries up in October. If you look closely in the water, you'll be surprised to find a variety of fishes swimming around–a result of adaptation through the periodic drying and flooding of the desert oasis. Source
A "glacial river lagoon" with black sand
Location: Jökulsárlón Lake, southeastern Iceland
What's special about it: Chunks of ice like huge glistening crystals scattered across the jet black bay make this natural scene seem right out of a dream. The ice comes from a nearby glacier while volcanic rock accounts for the black sand. Source
A beach covered in fish bones
Location: Salton Sea, California, USA
What's so special about it: Other beaches are covered in glass, pebbles, and multi-colored sand, but this beach is covered in fish bones. How did that happen? Find out here.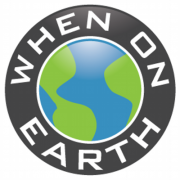 WOE Media
When On Earth Magazine is for people who love travel. We provide informative travel guides, tips, ideas and advice regarding places to see, things to do, what to taste, and much more for world travelers seeking their next dream vacation destination.