Make Your Own Spa in New Zealand's Hot Water Beach
Spas are crazy expensive these days, and getting a hot tub is a cost way over the top. But if you happen to live around Hot Water Beach, northeast of the Coromandel Peninsula in New Zealand, you got a relaxing weekend resort right at your doorstep, absolutely free of charge.
DIY is the trend in Hot Water Beach. Before you go, make sure you bring a shovel and a bucket with which to dig yourself a spa of your own. Make sure you get there in between hours of low and high water tide reaches at which the water is calm and best for relaxation. Once high tide ticks in, water would rush in and reclaim the beach, tearing down your personal spa while at it.
The Hot Water Beach featured as the Top 3 Mineral Bath in the World by Lonely Planet originates from underground hot springs and is rich in volcanic minerals good for the skin. The water's temperature can get as hot as 64 degrees Celsius (147 degrees Fahrenheit), so beach goers are advised to neutralize the heat by pouring in buckets of water from the ocean. Visitors are also prohibited from straying far as 50 m in the waters from the shore as the waves and rip currents are notoriously dangerous.
Approximately 130,000 tourists fill the beach every year. So if you're planning to go, you better be punctual to claim a good spot for your "spa". The Mercury Bay website provides a calendar with time schedules of low and high tides by the hour, so you can plan your visit in advance. Enjoy!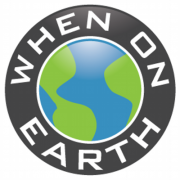 WOE Media
When On Earth Magazine is for people who love travel. We provide informative travel guides, tips, ideas and advice regarding places to see, things to do, what to taste, and much more for world travelers seeking their next dream vacation destination.