Punalu'u Black Sand Beach, on Hawaii's Big Island, is one of the finest examples of a black sand beach in the world. The ease of access to the beach, as well as good amenities, make Punalu'u Beach an ideal quick stop for a picnic, though beach-lovers could easily spend a whole day or longer here.
Black Sand — A Geological Marvel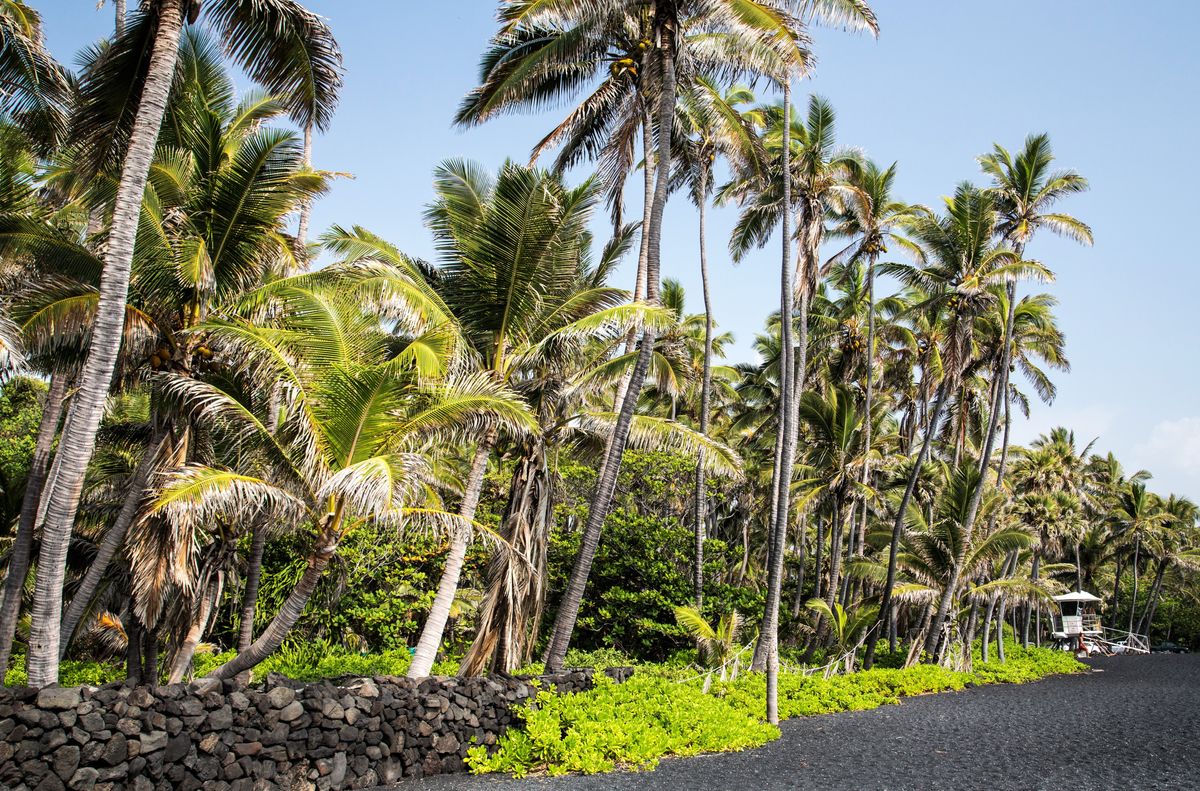 The black sand itself is the main attraction at Punalu'u Beach. The sand is made of tiny, surf-polished fragments of basalt formed as lava from the nearby active volcanoes poured into the ocean, hardened, and then shattered beneath the waves, softening and breaking apart until the pieces are worn down to the sand.
The sand at Punalu'u Beach is nearly all basalt (at many "black sand" beaches, it's mixed with white sand in varying concentrations), which makes it particularly striking in appearance, especially when it's wet.
Flora and Fauna at Punalu'u Beach
Beyond the black sand, sea turtles are the other big attraction at Punalu'u. This beach is very near nesting sites for both hawksbill and green sea turtles, so it's extremely common to see these gentle giants basking in the sun and warming themselves on the black sand.
These are endangered and threatened species of turtles, and should only be observed from a safe distance (fifteen feet or more). These extraordinary creatures won't hurt you, but it's easier than you might think to disturb them, so give them their space!
Nature-loving visitors should also keep an eye out for the Hawaiian hawk, an endangered bird that nests in the trees near the beach and in the adjacent wetland areas, as well as spinner dolphins and humpback whales, which can sometimes be seen leaping from the water in the distance. Hawaiian monk seals have also been seen here on rare occasions, so keep on the lookout!
Swimming and Snorkeling at Punalu'u Beach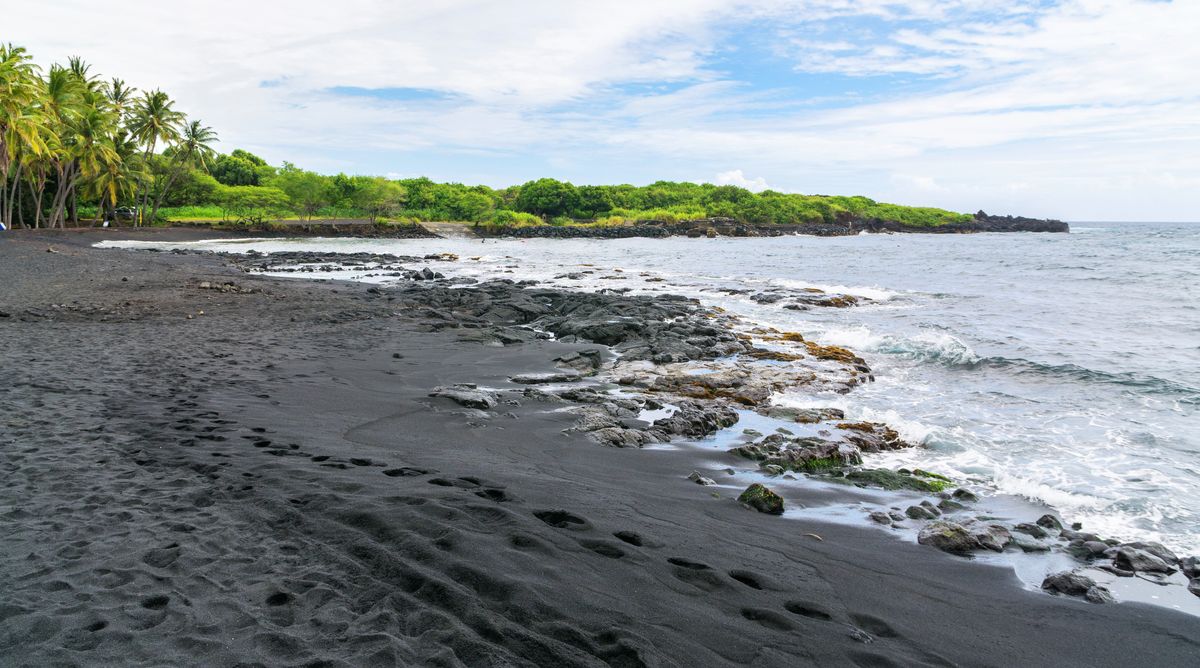 If you're looking for an ideal swimming or snorkeling beach, Punalu'u might not be the best choice. Lifeguards are sometimes on duty but rip currents and choppy surf mean that often, swimming is not recommended. The edge of the beach is also rocky, rather than smoothly sandy all the way in.
If you do swim, consider wearing water shoes as the sand itself and the ocean bottom can be dotted with sharp volcanic rocks. The black sand gets quite hot in the sun, so even if you're not swimming, be sure to bring your "rubber slippers" (flip-flops/thong sandals).
If the surf is low and visibility is good, experienced snorkelers may be in for a real treat, though: the same turtles that are often seen warming themselves on the black sand are even more common in the water just off the beach, where their favorite red seaweed grows in abundance. Again, it's important to keep your distance, but watching these huge, heavy creatures float weightlessly through the water is really something special.
Amenities at Punalu'u Beach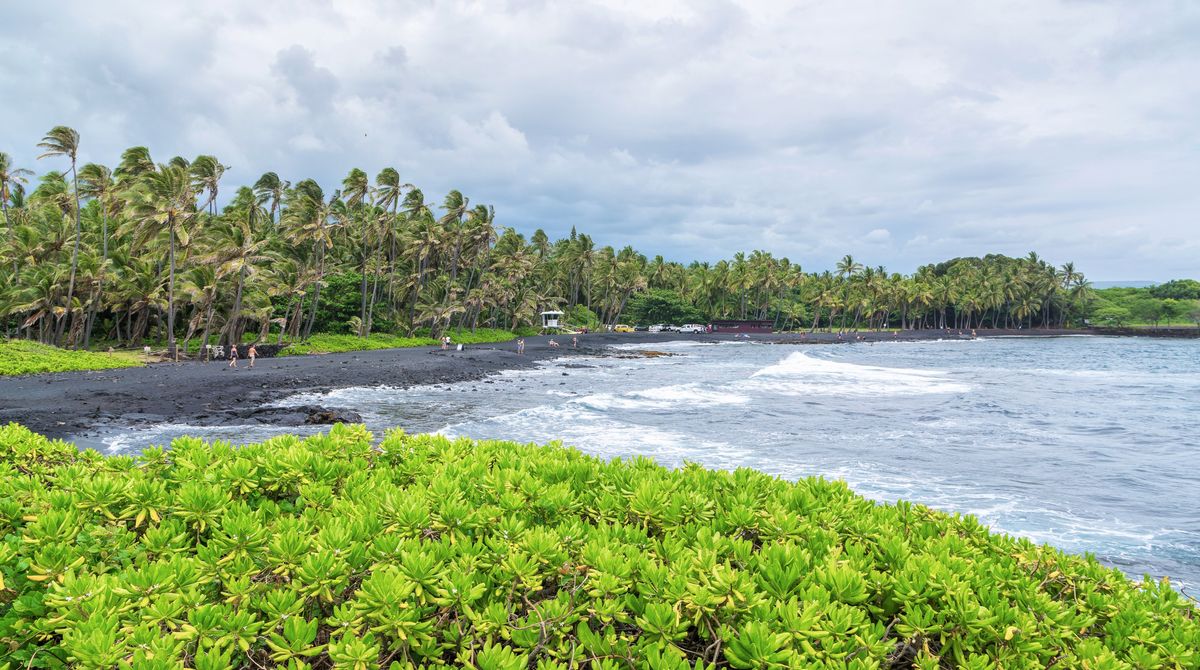 Picnic tables and restrooms are available at the beach. Make sure you snag a table in the shade of one of the many coconut palms along the back of the beach, as the heat of the sun-absorbing black sand radiates upward and you'll want a nice cool spot to relax.
Alcohol is allowed between 10 am and 10 pm, though be sure to use caution, as a choppy surf and diminished decision-making capacity is a bad combination. Larger pavilions are available for day rentals and can be reserved in advance through the County of Hawaii at +1-808-961-8311. Pets are not allowed at any time.
A small campground adjacent to the beach offers primitive overnight campsites at a very low price ($5 for residents, $20 for non-residents), so if you'd like to wake up to the sound of the surf and have your morning coffee just a few yards from a basking green sea turtle, definitely consider that option.
Camping spaces can be reserved online (https://hawaiicounty.ehawaii.gov/camping/all,details,57790.html) or through the phone number listed above for the county office.
The Nitty Gritty: How to Get To Punalu'u Beach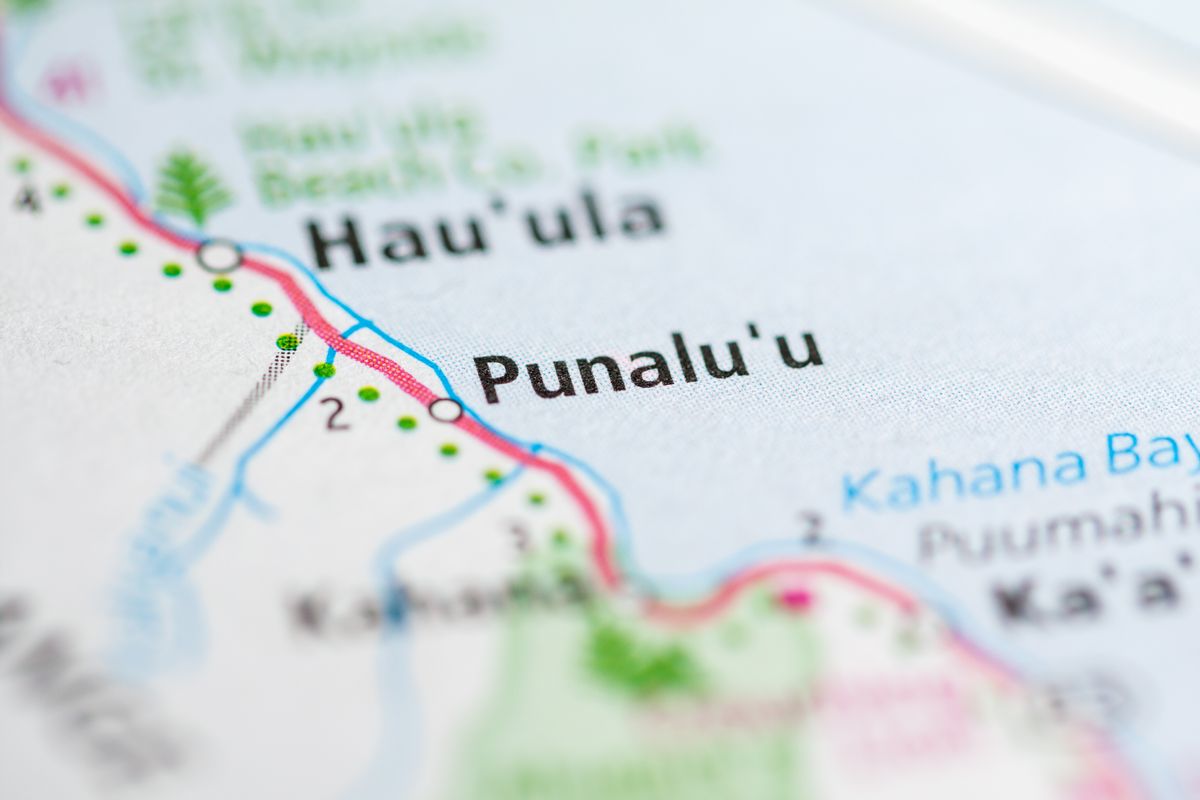 Accessing Punalu'u Beach is extremely easy. It's just off the Hawaii Belt Road/Mamahaloa Highway between Pahala and Naalehu, to the immediate Southwest of Hawaii Volcanoes National Park.
From the Hawaii Belt Road (Route 11), you're going to take the Ninole Loop Road, and from there, you can't miss it. Parking spaces are directly adjacent to both the beach itself and the picnic and camping facilities.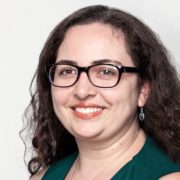 Megan Romer
Megan Romer is a Louisiana-based writer specializing in travel, food, music, and art. Megan's writing has appeared in Thrillist, TimeOut, TripSavvy, Delish, No Depression Roots Music Journal, Louisiana Life Magazine, and more. When she's not writing, she's singing, cooking, and beating her 9-year-old son at video games.