15 Real-Life Fairytale Destinations For The Dreamy Traveler
When the humdrum of this life gets the best of you, why not take an vacation to an otherwordly destination?
Escape to these places that not only seem as if they were plucked right out of a storybook, but may actually transport you into another unearthly realm, as far as your imagination could take you.
Inspired by this thread on Quora.
1. Neuschwanstein Castle, Germany
Built in 1886 by King Ludwig II of Bavaria, the Neuschwanstein Castle was intended to be the shy king's own private refuge from the flurry of his public dealings. Its striking nineteenth-century Neo-Romanesque architecture has inspired many who has seen it, including Walt Disney Studios, who modeled Sleeping Beauty's Castle after it.
2. Tree tunnel near Halnaker, England
Located near the village of Halnaker in West Sussex along the coast of England, this stunning tunnel of trees looks as if a Nazgul riding a horse would suddenly appear the next minute. The path that was once an ancient Roman road now leads to a windmill overlooking the coast.
3. Colmar, France
The Disney Princess of towns, this one looks like the old provincial town Belle was singing about, or Rapunzel's own lovely kingdom. Colmar is known best for its rainbow-colored houses, flowery canals, toy museum, and bright green miniature "Le Petit Train" which runs across town.
4. Hallerbos, Belgium
Hallerbos, or Halle's forest in Dutch, is an ancient forest in Halle, Belgium that transforms into a dreamy landscape in spring. Visit between April to May to find its slender beech trees swimming in a dazzling carpet of bluebells. Visitors can follow the winding path and watch rabbits and deer frolicking in the woods.
5. Cliff Palace of Mesa Verde, USA
What looks like a citadel of dwarves is actually a historical treasure sitting in central USA. The Mesa Verde National Park in Colorado is the largest archaeological preserve in the USA, which houses more than 4,400 ancestral Pueblo dwellings of the ancient Native American civilization. This particular dwelling above, known as the Cliff Palace, was built against the rock face of the Mesa Verde plateau and is dated to be around 900 years old.
6. Cappadocia, Turkey
Do fairies really live in Cappadocia's fairy chimneys? No one knows for sure, but as far as we can tell only the troglodytes live there. These ancient cave dwellers settled into this lunar-like landscape and carved houses and churches out of the surreal stone pillars creating a town that looks totally out of this world.
7. Wisteria Tunnel, Japan
According to Atlas Obscura, it's impossible to walk along the enchanting flower-strewn passageways of Ashikaga Flower Park without imagining a fairy princess and her unicorn prancing alongside you. We couldn't agree more.
8. Glenfinnan Viaduct, Scotland
If you've seen the Harry Potter movies, you'd know why this train looks familiar. Located some 20 miles west of Fort William. the Glenfinnan Viaduct bridges the Fort William to Mallaig railway across the Glenfinnan valley. Watch out for dementors if you're dropping by.
9. St. Nectan's Kieve, England
St. Nectan's Kieve is a mystical waterfall located in St. Necctan's Glen, a place where mysticism of fairies, pixies, and spirits abound. It is known as one of the most spiritually significant places in the country, attracting pilgrims who sit for meditation, healing, and power.
10. Ochiul Beiului, Romania
Ochiul Beiului is a lake with an ephemerally milky turquoise hue in the village of Sasca Montana in Caras-Severin County, Romania. The lake is known for not freezing at all during winter because of an underground spring that continually feeds it with water… or perhaps because of the water nymphs that live in it.
11. Bled Island, Slovenia
Located in the middle of Lake Bled, Bled Island is Slovenia's only real island. The castle on the tree-covered island is not actually a castle, but a church of medieval architecture. Fairytales do come true in Bled Island, mostly when grooms carry their brides up the church's steps to a blissfully happy ever after.
12. Lapland, Finland
Hometown to Santa Claus and perhaps portion to the Snow Queen Elsa's domain, the frozen wilderness of Lapland in winter inspires the most imaginative of myths and stories. Haunting snow-covered trees, the midnight sun, and the resplendent Northern Lights are just some of the reasons Lapland is pure magic.
13. Hall of Mosses, USA
If you're looking to Where The Wild Things Are, perhaps you should check out the Hall of Mosses first. Located in the Hoh Rain Forest in Olympic National Park, Washington, the Hall of Mosses trail has its trees, rocks, ground–everything–covered in mosses. The Dagobah-looking landscape is also home to a large population of giant slugs.
14. Crooked Forest, Poland
The Crooked Forest, or Krwyzy Las, is a freakish bunch of sitting (obviously not standing) trees in the middle of a forest in the village of Nowe Czarnowo, Poland. The question is, who bent these trees? Witches? Giants? Aliens? Nobody knows.
15. Lost Gardens of Heligan, England
Secret gardens do exist, and sleeping stone giants dwell in them. The Lost Gardens of Heligan in Cornwall, England is home to a number of strange creatures hidden in nooks and crannies throughout the garden. If you're planning to visit, be careful not to wake them up.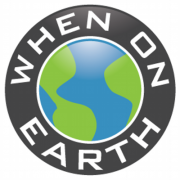 WOE Media
When On Earth Magazine is for people who love travel. We provide informative travel guides, tips, ideas and advice regarding places to see, things to do, what to taste, and much more for world travelers seeking their next dream vacation destination.