The Simple Trick To Getting Paid $400 (Or More) To Take Your Next Vacation
Let's face it, travel can get pretty expensive. Even if you're not planning on staying at the Ritz-Carlton, flights alone can range from several hundred to several thousand dollars. But, most people don't know that there's an incredibly simple way to knock off $400, $500, or even $600 of your next trip….and it doesn't involve twirling an oversized sign by the side of the road dressed in a Statue-of-Liberty costume.
If you already have your bags packed and your flight booked, this trick may not help you, but if you have 2-24 months before your next trip, this effortless trick is a good solution for getting a deep discount on your trip.
The trick is quite simple really, but like most people, we didn't even know about it until our savvy travel friend, Eric, spilled all the details on how he saved over $1,000 on his trip to Peru.
Here's how it works:
All you need to do is:
Find a travel card that offers a generous bonus for opening a new credit card account.
Apply.
Meet the basic spending requirements.
Cash in the juicy reimbursement on your travel expenses!
Right now there's a program that we especially like.
Barclaycard is still a fairly new arrival in the United States, so they're trying really hard to earn your business, which is great news for the consumer!
For a limited time, they're offering 40,000 bonus air miles for anyone who signs up and spends $3,000 in the first 3 months – that's equivalent to 400 free bucks. The other really sweet thing about this card is that you get 2X the miles on ALL your purchases, which is pretty crazy! But that's not the end of it. Another perk of this card is that you pay absolutely no foreign transaction fees when using the card abroad. This is a HUGE convenience, which can save you an additional 2-3% on your purchases. The icing on the cake though is the fact that you actually get 10% of your miles BACK when you redeem them. So that 60,000-mile dream trip gives you 6,000-miles towards your next trip!
And redeeming is super easy — all you have to do is choose any travel purchase within the last 120 days and redeem your miles for a travel statement credit toward all or a portion of your travel purchases.
The only thing to be aware of is that this card has an $89 annual fee, BUT Barclays does waive the fee for the first year, meaning that if you apply now, you'll still get your HUGE signup bonus and you'll have a whole year to decide if it works for you or to call and cancel and pay no fee at all.
If you prefer to have no fee, you can apply to Barclay's Arrival World Mastercard, which has no annual fee and still pays a nice bonus of 20,000 air miles. With this card, you still collect 2X miles on travel and dining expenses but collect 1 mile per dollar spent on all other purchases. If you're squeamish about the fee, our recommendation would be to still apply to the Barclaycard Arrival Plus World Elite Mastercard so that you can get the BIG BONUS and collect 2x miles on all purchases, and then to switch credit cards before the year is up if you feel you're not accruing enough miles to justify the fee.
Thanks again to Eric for this great tip. You can apply to the card right now to find out instantly if you qualify, which means you can start earning BIG discounts on your next adventure in no time.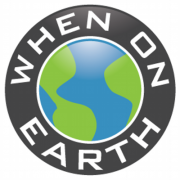 WOE Media
When On Earth Magazine is for people who love travel. We provide informative travel guides, tips, ideas and advice regarding places to see, things to do, what to taste, and much more for world travelers seeking their next dream vacation destination.