Work Your Imagination with Isaac Cordal's Mini Man Sculptures in Suits
Climate change, politics, capitalism, and consumerism are some of the issues that revolve around the world. Do we even take notice or do we just make ourselves apathetic? For Isaac Cordal, it doesn't hurt to speak out without letting his voice heard – literally. He created miniature people – from businessmen to families – sleeping on the road, working with their laptops inside a cage, sinking in a pile of dump with their suitcases, and getting stuck in a mouse trap. Cordal brought these sculptures to a number of unusual places, but all seem to equally reflect the reality in our society.
"Waiting for the Climate Change" is one of Cordal's works. Fourteen floating sculptures were displayed at Château des ducs de Bretagne, Nantes, France in 2013. The life-size sculptures in business suits were placed in the Château moat with their eyes blankly staring at the rising water level.
There's also "Follow the Leaders" featured in Nantes, France. 2,000 cement figures of men in suits and decaying concrete buildings were meant as a "metaphor for the collapse of capitalism and the side effects of progress."
"The New Slavery" looks normal for people who can relate to the busy mini-men in suits but seeing them inside cages transforms it into a haunting scene. For Cordal, "The new slavery reflects on society related to a new type of slavery: a daily slavery. We are immersed in a new form of bondage, without chains, but that keeps us perpetually completely tied to the perpetual work and payment of a debt, both private as to the state."
"Slowly Sinking" are life-size sculptures which represent businessmen "sinking in a system that does not have a solid foundation." Cordal states further, "The installation reflects on capitalism and its current drift. It is sad to think that consumption rates reflect the health of our society."
Isaac Cordal's "Cement Eclipses" have been displayed in different locations like Belgium, Sweden, UK, and Mexico. You can see his other works here.
The different places where these small sculptures stand give a whole new meaning to the entire view. The works aren't just the type that'll send a single message, but rather bring intrigue and meaning depending on the person who sees it. Some might think the sculptures mean emptiness in this busy world, and some might not create any meaning behind each. What do you think about Isaac Cordal's cement sculptures?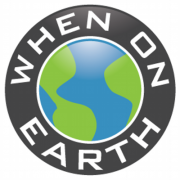 WOE Media
When On Earth Magazine is for people who love travel. We provide informative travel guides, tips, ideas and advice regarding places to see, things to do, what to taste, and much more for world travelers seeking their next dream vacation destination.