Weekly Web Finds: Airport Horror Stories, Sheepcams, The Paris Syndrome and More
A collection of cool stories from around the globe we dug up while surfing the web this week.
Let us know what you think about our weekly list on Facebook or Twitter.
1. The Paris Syndrome
Did high expectations about Paris brought you down to disappointment right after a trip in the city? Watch Tom Scott's short video about Paris Syndrome and tell us what you think.
2. Tour de France's "Sheepcams"
Sheep are fitted with Sony action cameras to record cyclists as they pass by fields. 5 "sheepcams" controlled remotely by a farmer shoot Tour de France's cyclists as they pass through Harrogate. The videos from these sheepcams are yet to be seen. Sony, we're all waiting.
3. 13 of the Most Spectacular Astronomy Photographs of 2014
The Northern Lights, Heart Nebula, meteor showers and all those other crazy stuff happening in space were beautifully captured in these shortlisted entries for the The 2014 Astronomy Photographer of the Year competition.
4. The Deli Counter: the Saddest Part of German Cuisine
"Sad", that's what the author thought, but the macro shots surely made these deli cuts look tasty. It's up to each person's palate, isn't it?
5. Walking Sleeping Bags
Check out these recommended sleeping bags for sleepwalkers. Freaky but looking comfy.
6. Blue Mister Donut
Mister Donut in Japan wanted to feel cool at the start of the summer season. The solution: Transforming 8 Mister Donut shops from the usual warm yellow and red colors to icy blue.
7. Fireworks Filmed with a Drone
We often watch fireworks looking up and be entertained from all the colorful explosions happening high up in the sky. However, someone got curious and snapped a GoPro onto a drone and let it fly through a  firework show. Awesome.
8. 10 Airport Horror Stories
What would you do if the airport security thought you're smuggling drugs in your stomach, but you're just actually having a bad tummy ache and all you want to do is go to the toilet? This tough situation really happened for #1 in these 10 Airport Horror Stories.
9. 20 of the Most Annoying Things People Do On Airplanes
Ahh, the fun people you see during flights.  Have you encountered some of them or are you one of them?
10. 28 Photos That Will Your Heart Rate Increase
Afraid of heights? See this. Sorry. *evil laugh*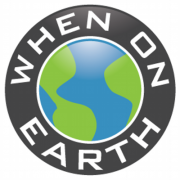 WOE Media
When On Earth Magazine is for people who love travel. We provide informative travel guides, tips, ideas and advice regarding places to see, things to do, what to taste, and much more for world travelers seeking their next dream vacation destination.