Weekend Web Finds: Japan's KFC Keyboard, Earth's Breathtaking Colors and More
So for this week, Japan is up to its weird stuff again that'll surely make some scream, "Take my money!" and two of these strange products are on the list. For the nomads who're always looking for ways to stretch their money, the list also features some money tips brought to you by fellow nomads. And of course, there're more interesting articles on this list, from events to amazing aerial shots, so check them all out!
1. Roasted Sweet Potato-looking Ice Cream
Japan did it again by creating an ice cream that looks like Japan's fave street food — the roasted sweet potato. Would you like to try this when you visit Japan? Read more here.
2. 6 Aerial Photo's of Earth's Breathtaking Colors
"I flew a wide variety of aircrafts, from small Cessnas to spacious Twin Otters, and from small helicopters, like a Hughes 500, to the huge Russian military helicopter MI8 in the Arctic and Denakil Desert."
Looks like the adventurous aerial photographer Bernard Edmaier did a great job in going over the Earth's amazing creations which you can all see in his book EarthART: Colors of the Earth. For a sneak peek, you can see six of his works here.
3. Vancouver Biennale
For the art lovers out there or for those who wanna go see something different, the Vancouver Biennale could be the perfect day trip for you when you visit the city. What's more exciting is the fact that it's now an outdoor gallery, free and open to everyone 24 hours a day until July 31, 2016. Read more here.
4. Chocolate City
What's the city that first comes into your mind when you look for good chocolate in Europe? You might think of a city somewhere in Belgium or Switzerland, but this Italian city could make you think twice.
5. Afternoon Tea, Anyone?
If you're in the US and you want to relax a bit with some cakes and tea in a glamorous setting, here are 9 places that you'll love.
6. How to Fund and Sustain a Life of Travel – Part 1
Currently traveling long-term but scared that you might end up penniless? Instead of planning to head back home and go "normal", these tips from 2 Monkeys Travel could help you find ways to make that trip longer.
7. How to Eat in Europe on a Tight Budget: 4 Euros a Day
Okay, some of the tips listed might not be for everyone; but if you're on a real tight budget or if you just want to challenge yourself, A Journey of Wonders' 6 budget tips should come in handy.
8. KFC keyboard in Japan
KFC in Japan is just crazy in a pretty cool way. They've turned Colonel Sanders into an ultimate cosplayer and now, they've got this — a keyboard with "finger-licking" fried-chicken infested keys with the letters K,F, and C left to be seen. There are fried chicken-y mouse, USB stick and earrings too. See more here.
9. Is Leipzig the "New Berlin"?
Leipzig is free from its tag as Germany's "poverty capital" and it is now slowly turning into a cultural mecca, opening up a variety of shops, artist studios and more. Know more about this growing city here.
10. US Military Bases Around the World
These might not be the places for a weekend getaway. But if you ever wondered how US military bases look like from above and how many they are around the world, then visit Empire.is.
If you've got suggestions or want to share interesting blogs, feature articles or news. Don't think twice and give us a comment below! You can also visit our Facebook and Twitter page.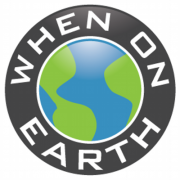 WOE Media
When On Earth Magazine is for people who love travel. We provide informative travel guides, tips, ideas and advice regarding places to see, things to do, what to taste, and much more for world travelers seeking their next dream vacation destination.