Are you preparing for a trip to the East Coast of Australia? Look no further, as this guide is going to provide you with all the tips and tricks learned along the way of traveling down under.
The east coast of Australia is highly popular for a good reason – you get the best of both worlds: exploring nature at its finest while also immersing yourself in the laid-back deposition of Australian city life.
While expenses are pretty high in this region of the continent, a few tips will take you far so you don't overspend and still revel in all there is to offer.
1. Travel in Mild Seasons for Unforgettable Adventures
Australian climates are some of the best in the world, but they do fluctuate. The most popular time to visit Australia is in the summer months of November – February.
The sun is shining, although the heat can be sweltering and dry (especially the further south you go). With the intense heat comes tropical summer storms and monsoons, which you can expect if you plan to visit during these months. However, if this seems a bit too unpredictable for you and not something you want to risk experiencing, consider traveling in March-May, when it is Autumn in Australia.
Traveling in Autumn means you will likely run into warm days and cool nights. During these months, you will avoid stinger season when spending time in the ocean and will encounter the beautiful transition of nature, preparing itself for the winter to come. While you will still encounter the occasional thunderstorms, it will be much less than what you will experience while traveling in the summer.
Temperatures during the day are cool enough to partake in several outdoor activities without feeling like you need to step into a freezer for a few hours, and you won't incur the tourist fees that come with traveling in the summer months.
Traveling in the winter months of June- August means you will likely save a lot of money as this is the low season when few are flying amongst the region for vacation. While the low prices may sound very appealing, especially for those traveling to Australia as a tourist, the weather conditions are not going to be optimal.
Traveling in the winter does pose the benefit of seeing the Great Barrier Reef in all of its glory, as the lack of rainstorms means water visibility is at its prime. The winter is also a great time to check out the Australian slopes and mountains a bit more west, with cooler climates that will leave you ready for a bonfire.
Read more: Kakadu: Australia's Largest National Park
Traveling in the spring (September – November) will bring you low humidity, rainfalls, high winds, and a combination of weather that will have you ready to ski one day while experiencing a strong heatwave the next. In short, expect the unexpected during these months (in the best way possible). In addition, traveling in the spring means seeing the beautiful Australian nature flourish and wildlife at its peak, with baby animals everywhere.
Overall, the best time to visit Australia is in Autumn or Spring. While the weather can be quite unpredictable in these seasons, it is also going to bring naturally enjoyable experiences that won't drastically change your trip plans.
2. Save on Flights for the Longer Distances
While it may seem like a breeze to travel the East Coast all by bus or car, and while it can be in some cases, it is much more convenient and saves you so much time to travel longer distances by plane.
The East Coast of Australia is no short distance (26,000 km to be exact), and if you aren't planning to stay for at least 1-2 months, booking a flight or two will ensure you are spending more time at your destination than getting there. So how do you get the best flight rates? Booking online with budget-conscious airlines, of course!
Below are approximate costs of what you can expect to spend and during what months from popular airports and domestic airlines, so you know ahead of time.
Brisbane → Melbourne (2-week round trip)
| | | | | |
| --- | --- | --- | --- | --- |
| Airline | March – May | June – Aug | Sept – Nov | Dec – Feb |
| Jetstar | $188 | $177 | $174 | $198 |
| Virgin Australia | $209 | $190 | $178 | $174 |
| Qantas | $254 | $202 | $289 | $211 |
Cairns→ Sydney (2-week round trip)
| | | | | |
| --- | --- | --- | --- | --- |
| Airline | March – May | June – Aug | Sept – Nov | Dec – Feb |
| Jetstar | $132 | $298 | $203 | $282 |
| Virgin Australia | $178 | $199 | $255 | $240 |
| Qantas | $236 | $291 | $289 | $258 |
If in case you plan to fly. For a hassle-free travel experience, using your own car for commuting to and from the airport is advisable as it avoids the unexpected delays that usually occur in the case of public transport.
You can simply opt for budget-friendly airport parking to securely park your vehicle while you are away. Opting for this route minimizes travel time and eliminates the need to wait long hours for alternative transportation options, such as Uber, taxis, or other services, to arrive at the airport upon your journey back home.
Flyparks – an online booking and comparison platform for airport car parks throughout Australia and New Zealand, comes highly recommended. Whether you require airport parking at Brisbane, Adelaide, Sydney, or Melbourne Airport, you will find secure, affordable parking options with Flyparks.
3. Prepare Bus Passes for the Shorter Distances
Buses are a great, budget-friendly transportation mode for those who don't mind sitting in close quarters for a few hours. There are two primary bus companies to use when traveling in eastern Australia: Greyhound and Premier Motor Service. Both offer bus pass deals when traveling between certain cities or a set amount of kilometers.
Greyhound offers you an eastern Australian bus pass called the 'East Coast Whitmit Pass,' which offers unlimited travel between Melbourne and Cairns for a number of days that you get to select. Prices will vary depending on the duration of your pass. The Greyhound offers daily departures from 68 stops and only requires you to book your seat online a day before you plan to travel. A few of their passes include:
7 days for $212
15 days for $271
30 days for $332
To simplify matters, you can easily add days to your pass via their online portal.
Read more: 14 Unforgettable Outback Experiences in Australia's New South Wales
Your other option for a trustworthy, budget-friendly travel mode is using the Premier Motor Service bus. This company offers travelers cheaper rates for passes than Greyhound. But, they have fewer departures a day than their competitor and therefore do not offer as much ease in booking a last-minute spot if needed. Despite this, you can find bus passes in the form of direct express tickets, as well as hop-on and hop-off passes for various cities. Some of the most famous passes are mentioned below:
Six months for unlimited hop-on / hop-off stops one way Brisbane → Cairns or Cairns → Brisbane: $258.00
Three months for unlimited hop-on / hop-off stops one way Sydney → Brisbane or Brisbane → Sydney: $103.00
Six months for unlimited hop-on / hop-off stops one way Byron Bay → Cairns or Cairns → Byron Bay: $278.00
Three months for unlimited hop-on / hop-off stops one way Sydney → Cairns or Cairns → Sydney: $330.00
After buying your passes, you simply need to reserve your seat on the bus at least 72 hours in advance to secure your spot. Whatever company you choose to go with, you are in good hands for convenient, cheap travel plans.
4. Renting a Campervan – Yes or No?
As you probably know, campervans are a massive part of Australian travel life. If you are planning a trip to Australia, you have probably considered renting a campervan if you are interested in experiencing that style of travel. It's definitely not for everyone, though, so don't feel bad if it doesn't appeal to you.
If you are questioning whether or not it is worth it, the choice can be narrowed down.
If you plan to stay in Australia for a month or two and want complete freedom in moving around, go for it! But, definitely rent a campervan (and not buy one). Some places only cost $40 a day to rent a van, and going to the hassle of buying and selling your van all within that time isn't worth it.
If you plan to travel the country or the coast for an extended period, say, six months or so, buying a campervan can be very beneficial as you won't be paying for accommodation constantly and can drive to and from wherever you wish without the hassle of planning around public transportation routes.
On the other hand, if you are only in Australia for two weeks or so, and plan on traveling a greater distance, consider opting for a short flight if you are not strapped for cash.
Flying domestically in Australia will get you to where you need to go in 2 hours or less and will allow you to spend much more time in the destination of your choice than on the travel it takes to get there.
If you need to travel shorter distances, say from Byron Bay to Yamba, which takes an hour and 1⁄2, hop on a bus! Campervans are a marvelous mode of transportation but are best suited for those who plan to travel long-term.
5. Choose Your Destinations Wisely
With so many excellent cities and beach towns to choose from, deciding where to stop and spend your time can be pretty tricky. Below are some of the most beloved cities and towns to stop in by locals and tourists alike, no matter if you are traveling for two weeks or two months.
The Great Barrier Reef, Queensland: It is a must-see while in Australia. As one of the most complex ecosystems in the world and one that is facing great dangers in the coming millennia, you need to see this world Heritage site while there is still time (cue the melancholic tone).
Sydney: Home to the famous opera house, Sydney is a spot that nearly everyone stops by upon their initial visit to Australia. It is a great place to travel to other attractions like Bondi Beach and Cockatoo Island, but also home to the Opera House and Harbor Bridge, where you can get your Insta-worthy photos.
Byron Bay: If you want to party and meet like-minded travelers, Byron Bay should be on your list. Everyone you meet here is ready to have a good time while basking in the sun's rays on the white sandy beach.
It is pretty pricey as local businesses know its popularity amongst travelers, so be prepared to spend a bit more than you typically would in a similar beach town!
Read more: Triboniophorus aff. graeffei: The Giant Pink Slugs of Mount Kaputar, Australia
Fraser Island: As a no-road island, your only mode of transportation here will be a 4-wheeler. Whether you want to 4-wheel by yourself or as part of a guided group tour, there is an option to do so. And as you do so, you will pass by natural lakes, some of the most beautiful beach views, and stellar restaurants to stop at for a bite or beer along the way.
The Whitsundays: An exceptional stop. Here you can scuba dive or snorkel in crystal blue waters, island hop via kayaks, eat all the fresh seafood you can find, and enjoy saturday farmer markets.
Great Ocean Road: This will require some time (9.5 hours or approximately three days if you want to split up some of the sights along the way), but you will be glad you took the time to do so. You can see the 12 Apostles Rock formations, the Loch Ard Gorge, the Sherbrook River, the Thunder Cave, and much more by taking the drive.
Ultimately
If you can't hit all of these places on your travel or would instead opt for other cities/towns, do it!
There are many great places to see and experience on the east coast of Australia, and we are sure that you likely won't regret anywhere you go (except maybe Alice Springs, it is probably best to avoid this city).
Try to soak up every minute when in Australia (the beautiful country), and don't forget to use your SPF, as those UV rays are no joke. Happy traveling!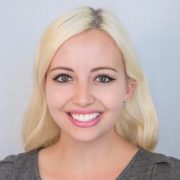 Hailey Brotze
Hailey is a writer by day and anthropologist by night. She was born and raised in California and she holds university degrees in English, French and German, studied Spanish and also holds a university degree in political science and sociology. She has traveled to over 60 countries in a variety of ways, such as backpacking, cruises, camping, luxury, solo, spiritual and adventure travel. Aside from traveling, Hailey's other passions include food, books, music, and dance.