The Squishy, Squelchy Sands of Squeaky Beach in Victoria, Australia
Squeak, squeak, squeak. You've heard some funny sounds while walking and you wonder where those sounds come from. No, it's not your slippers but if you look down you'll notice that it's all the beach's fault. Cute right? If you want this to become a reality then run now to Australia's Squeaky Beach. The beach is located right at the perennial river called Tidal River on the West Gippsland of Wilsons Promontory National Park, Victoria, Australia.
Let's get down to the bottom of this mystery. Why does Squeaky Beach squeak while stepping on its dry sand? The ultra-fine grains of quartz, all with the same size and shape, that mix with the surrounding dirt makes the ground squishy and squelchy.
Squeaky Beach is one of the popular hangout spots within the Wilsons Promontory National Park especially for visitors who also want to see the Tidal River and Norman Beach. There's the 3-kilometer Squeaky Beach walk which passes over the ridge between Norman and Squeaky Beach. The site is good for campers who'd want to stay overnight nearby the river while enjoying some extras like a café, general store, fish and chippery, an outdoor cinema and of course, the much needed flushing toilets.
You can also check out the Tidal River, which is known for its changing color that ranges from a deep-yellow in shallow areas to a dark-purple, and to black in deeper areas. The tea trees that surround the river makes the water look like a good hot cup of tea that makes the bottom of the river difficult to see clearly.
Want to see more unusual beaches? Check out 24 Unusual Beaches You've Never Heard of Before.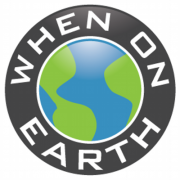 WOE Media
When On Earth Magazine is for people who love travel. We provide informative travel guides, tips, ideas and advice regarding places to see, things to do, what to taste, and much more for world travelers seeking their next dream vacation destination.