This small market town in Wales is every bookworm's paradise
A bibliophile's sanctuary can be found in humongous libraries and bookstores, but did you know there's a town known as the "town of books"? In fact, the town is so crazy about literature that it holds an annual literature festival each May. Crazy deal for literary lovers, right? Leave your e-books for a while and rush now to Hay-on-Wye, the National Book Town of Wales.
Hay-on-Wye is located on the Welsh / English border in the United Kingdom and lies on the banks of the River Wye. It is one of those towns left untouched by the 20th century and you can enjoy walking around, exploring its castle ruins and mansions.
But don't forget the main reason why you're here, and that's to conquer all books and see what each bookshop has to offer. There are 30 major bookshops famous for selling secondhand and antique books. They also have brand new books, so don't you worry about running out of choices. Don't miss a castle, a cinema, and even a fire station because you'll be shocked and happy to know that they're bookshops too.
Each bookshop has their own "specialty". For example, you've got Murder and Mayhem for detective fiction, true crime and horror; Rose's Books for rare and out-of-print children's and illustrated books; C. Arden Bookseller for natural history, botany & gardening, and beekeeping; and Addyman Annexe for a large stock that covers all subjects.
To perfectly fill your days in Hay-on-Wye with book madness, you must visit every May to witness its Hay Festival that not only brings in almost 80,000 writers, publishers and book fans, but also film-makers, historians, novelists, philosophers, environmentalists, poets, comedians, musicians, and scientists from all over the world to mash up ideas. No wonder Bill Clinton declared the festival as "the Woodstock of the mind".
Besides the book craze, don't forget to check out Hay-on-Wye's Farmers' Market that opens every Thursday and other specialty shops.
How did Hay-on-Wye turn into this? In 1976, entrepreneur and book lover Richard Booth, dissatisfied with the local government, declared himself as the King of Hay-on-Wye and thus, his kingdom became a book paradise.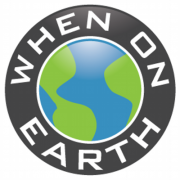 WOE Media
When On Earth Magazine is for people who love travel. We provide informative travel guides, tips, ideas and advice regarding places to see, things to do, what to taste, and much more for world travelers seeking their next dream vacation destination.