Stuttgart City Library: A Mixture of Traditional and Digital in a Box
This is the age when you could easily buy books online, open them with a single touch and flip a page with a swipe of a finger. Quick, cheap and easy, you could even have hundreds of them and save them in your own "library". Even though the digital revolution isn't yet a big threat for the old industry, the fear of its domination is undeniably existing. But Germany's Stuttgart City Library instead fused the digital and the traditional to create a futuristic world.
Designed by Eun Young Yi, the Stuttgart City Library is a nine-storey cube located at Mailander Platz, an area seen as a future city center. It has 11,500 meters of floor space and all sides are equally 45 meters in length. This enormous pale-gray Rubik's cube, inspired by the "Cenotaph for Newton" by Étienne Boullée, is now the home of over 500,000 media.
Besides surrounding you with great selections of books, each level serves different function and concept rooms to suit every visitor's interests. Guests who needed to get away from their busy lives can find solace in the library's cube-shaped empty "heart" which is illuminated by a central roof light; or head up to the 8th floor to see a panoramic view of Stuttgart. Also, there are other function rooms like a children's room, a workstation, a studio, a cafe, an art exhibit, computer labs and  more.
And when it gets dark, brace yourselves as the library turns into a glowing box as white, golden and blue lights start to gleam from its rooms.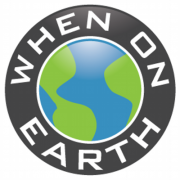 WOE Media
When On Earth Magazine is for people who love travel. We provide informative travel guides, tips, ideas and advice regarding places to see, things to do, what to taste, and much more for world travelers seeking their next dream vacation destination.