Live Green and Book a Room at The Earthship in Taos, New Mexico
When looking for accommodations for a future trip, searching for photos is the first thing done before thoroughly reading the whole details and reviews. But sometimes there's a problem: what you can see as almost perfect in an image isn't what you'll face in real life and, that's what you'll feel for sure when you book in one of the rooms of the Earthship in Taos, New Mexico. Actual rooms don't match what's on the photos but you can't complain about it -because they're much better.
The Earthship is a unique type of passive solar house made of both natural and recycled materials such as earth-filled tires and glass bottles. Besides the fact you're staying in an oddly shaped but cozy place, booking a room in the Earthship also means temporarily inhabiting in one of the world's eco-friendly homes, experiencing the amazing use of alternative sources. The term "Earthship" is a registered trademark of Michael Reynolds of Earthship Biotecture.
Earthships are generally considered off-the-grid homes, which means these don't rely on water supply, natural gas, electrical power grid or other similar utility services. Instead, these structures utilize the available local resources, especially the energy from the sun.
The homes are built often with a horseshoe shape to maximize light and solar gain during winter nights. Moreover, the thick walls that stood with the help of recycled materials like tires and tin cans provide thermal mass that regulates the interior temperatures during different seasons with the expected high temperatures.
Even though you're expecting to stay in a "green" type of accommodation, it doesn't mean that you'll need to sacrifice the usual stuff you get from your typical hotel. Earthship's rooms are fully furnished, complete with WiFi, TV with Netflix, and growing food (organic food produce). You can even bring your dog in some of the rooms available. The solar panels generate the electricity around the house. Cool right?
The Earthship is located at the foothills of Sangre de Cristo mountains near Taos, New Mexico. The Earthship Biotecture continues to build off-the-grid homes by establishing new shelters in the Philippines and a community center in Malawi.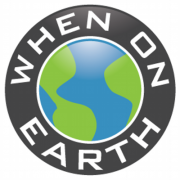 WOE Media
When On Earth Magazine is for people who love travel. We provide informative travel guides, tips, ideas and advice regarding places to see, things to do, what to taste, and much more for world travelers seeking their next dream vacation destination.