19 Architecturally Epic Bridges You'd Want To Cross Again And Again
Back in the day, bridges used to be just logs, planks, and rope that aid in crossing streams and rivers. Somewhere along the way, people began complicated designs which eventually evolved to seriously amazing feats of engineering and architecture that do more than take you across water. Here are some of these bridges that are worth seeing for yourself:
1. River Hull Footbridge
A bridge that swings you across the river
Location:  Hull, UK
Passengers can "ride" this bridge to get across the river while it makes way for river traffic. The hub section even has a restaurant and a viewing platform that rotates with it. Photo via Archdaily
2. Aiola Island Bridge
The ultimate hangout bridge
Location: Gratz, Austria
Designed to link nature with the city, this trendy island-bridge contains a bar, a cafe, a sunbathing area, an open-air theater, and a children's playground. It was originally intended to be relocated to another river or city, but the people loved it so much, it stayed. Photo via Architecture Linked
3. Yongle Bridge
The only bridge with a Ferris Wheel attached to it
Location: Tianjin, China
The Tianjin Eye,  towering 354 feet high, makes a full circle in 30 minutes. That's a fun way to kill time when stuck in traffic. Photo via Windoworld
4. Heatherwick's Rolling Bridge
A bridge that rolls up on its own
Location: London, England
Created by designer/engineer Thomas Heatherwick, the rolling bridge can practically twist itself from a free-standing octagonal fixture into a smart-looking pedestrian bridge.
5. Vancouver Land Bridge
A gorgeous bridge that pays tribute to Northwestern American culture and history
Location: Vancouver, WA, USA
The Vancouver Land Bridge is part of a 2.3-mile trail winds through the historical sites of Fort Vancouver and the Columbia River. The trail is marked by Native American artwork among blooming flowers and indigenous plants grown in the earth-covered pedestrian bridge. Photo via Lando-Landscape Architecture
6. Foryd Harbour Cycle & Pedestrian Bridge
A flappy bridge
Location: Ryll, North Wales
To make way for passing ships, other bridges swing, twist, or elevate. This one flaps.
7. Pont Jacques Chaban-Delmas
A bridge with an elevator function
Location: Boreaux, France
A futuristic four-poster bridge that lifts traffic up for ships to sail through. Bet the view up there's fantastic. Photo via Projets-Architecte-Urbanisme
8. BP Pedestrian Bridge
A snaky bridge that blocks out traffic noise
Location: Chigaco, IL, USA
Designed by architect Frank Gehry, this stunning bridge was inspired by a certain scaly reptile that has haunted many of his works since the 1960's. Photo via Designalmic
9. Gateshead Millennium Bridge
A winking, tilting bridge
Location: Gateshead, UK
The Gateshead Millenium is also called the  'Blinking Eye Bridge' or the 'Winking Eye Bridge' because of its peculiar movementwhen it pivots itself to provide clearance above the river. Tourists love watching the works. Photo via BBC News
10. Falkirk Wheel
A revolving boat lift from the future
Location: Falkirk, Scotland
Basically it lifts boats up from the water and on to the road above. Jaws drop.
11. Banpo Bridge
Korea's famous rainbow fountain bridge
Location: Seoul, South Korea
A bridge built to entertain. Its inbuilt fountain is programmed to play shows throughout the day. At daytime it plays with different shapes of sprays, while at night it sends jets of rainbow-colored water to the air while music plays in the background. Photo via Wikimedia Commons
12. Red Python Bridge
A bridge that will swallow you whole
Location: Amsterdam, Netherlands
Connecting Borneo Island and Sporenburg, this bridge is a popular destination for neighborhood youngsters to dive into the cool canal on hot summer days. Don't let the snake-like form fool you. It's perfectly safe. Photo via Jovarq
13. Henderson Waves
Singapore's trendy hangout bridge
Location: Singapore
This is where all the cool kids in Singapore hang out. Its smooth, undulating wood panel hollows are the perfect place to take Instagrams. Photo via Yurtopic
14. Da Nang's Fire-Breathing Dragon Bridge
Just a fire-breathing dragon bridge
Location: Da Nang, Vietnam
Nothing's more badass than a fire-breathing, steel-hewn dragon bridge. It sprays water and lights up with rainbow LEDs too.
15. Magdeburg Water Bridge
A bridge that connects rivers, not roads
Location: Magdeburg, Germany
The boss of all aqueducts, the Magdeburg Water Bridge is an engineering feat fusing two faraway rivers over another via an artificial river bridge thing that looks totally awesome. Photo via Home Desgn
16. Helix Bridge
 A bridge that resembles the structure of the DNA
Location: Singapore
Want to find out what the DNA looks like a million times magnified? Here's an idea (minus the sparkly multi-color LED effect, of course).  Photo by Angus Martin
17. Hovenring
A floating bridge roundabout for cyclists
Location: Eindhoven, Netherlands
Cycling in Eindhoven is heaven, and this bridge is probably its most blissful spot. Suspended by steel cables from a balancing pylon, the Hovenring is practically floating on air while cyclists happily paddle around it. Photo via Reddit

18. Moses Bridge
A sunken bridge that lets you walk through, not over, water
Location: Fort De Roovere, Netherlands
Remember Moses parting the Red Sea to free the Israelites from the slavery of Egypt? That's the idea. Would have been cooler (or creepier) if the side walls were made of glass though. Photo via Best-Koeln
19. The Root Bridges of Cherrapunji
Natural bridges made entirely of living tree roots
Location: Cherrapunji, India
Finally, a group of  epic bridges that weren't built, but grown. Tribesmen in Meghalaya use a natural guidance system to direct roots of a particular Indian rubber tree to create a bridge crossing the river. These bridges are said to be 500 years old.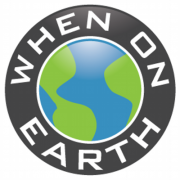 WOE Media
When On Earth Magazine is for people who love travel. We provide informative travel guides, tips, ideas and advice regarding places to see, things to do, what to taste, and much more for world travelers seeking their next dream vacation destination.