Cross the Moses Bridge in Fort de Roovere, Netherlands
Aptly called "the Moses Bridge", this bridge in Fort de Roovere, Netherlands lets tourists experience what it feels like to walk across divided waters.
Fort de Roovere is one of the many fortresses built by the Dutch over the West Brabant Water Line to protect themselves from the invasion of France and Spain during the 18th century Austrian War of Succession. The fort was designed too deep for men to walk across but too shallow for boats to drift over. Over the years, the fort has fallen into utter disrepair until 2010, when the fort underwent extensive renovation as a tourist attraction.
Instead of constructing a bridge to access the fort, designers decided to install a sunken bridge to preserve the dramatic view of the area. The Moses Bridge is made entirely of wood and waterproofed with foil. Visitors who pass through the bridge are rendered invisible except for their bobbing heads when seen from a distance. The project was awarded Building of the Year in 2011 by the prestigious BNA (Union of Dutch Architects), Southern Region.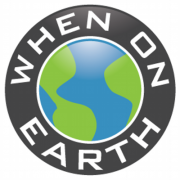 WOE Media
When On Earth Magazine is for people who love travel. We provide informative travel guides, tips, ideas and advice regarding places to see, things to do, what to taste, and much more for world travelers seeking their next dream vacation destination.