10 of the Most Charming One-Room Hotels Around the World
Luxury doesn't only come in high-rise buildings and large hotel areas. It can also be summed up into a small hotel that is entirely no one else's but yours. You could be missing the usual hotel facilities but being with someone you'd love to be with in an amazing room that's only yours is something worth to try for the first time – or maybe 10 times if you checked-in in all these listed one-room hotels around the world.
1. The One Hotel Angkor, Siem Reap
In the heart of an old town, the One Hotel Angkor is a lavish shelter that's entirely yours and also nearby Siem Reap's hotspots. From the ground floor, you'll already feel your money's worth as you enter the designer lounge. Beyond the lounge, you can wander around the hotel's art gallery, relax in the shaded roof terrace, or hangout in its Jacuzzi while listening to the music from its surround sound system or to the random sounds of the city.
2. Eh'häusl, Amberg, Germany
The Eh'häusl was built in 1728 as a clever business for young couples who want to get married but can't provide a proof of landownership to the city council. This house was built between two existing buildings in the Seminargasse. So it's a buy, marry, sell cycle during that time, but since 2008, it has become a fully renovated luxury hotel for two.
3. Central Hotel & Café, Copenhagen, Denmark
A single 12-square-meter-room above a tiny café turns into an another home because of its coziness and the matching aroma of coffee in the morning. The Central Hotel and Café is a former shoemaker's garret transformed into a comfortable, charming room furnished with small varnished wooden furniture and vintage décor. The room, even though small, has almost everything you need from a double bed to free WiFi.
4. Grand Hotel de Kromme Raake, Eenrum, Netherlands
A former grocery shop was converted into the Grand Hotel de Kromme Raake that made the small Dutch town of Eenrum buzzworthy. It got its name from the embanked sea arm flowing through the town. Going inside the hotel gives you a luxurious feel with its traditional Dutch bedstead with king-sized bed, bathroom, and private sitting room. Its design is a combination of traditional Dutch and art deco style.
5. Cabanas no Rio, Sítio da Carrasqueira, Comporta, Portugal
Cabanas no Rio, "cabins on the river" when translated, are two former fishing huts reconstructed using only reclaimed timber. The cabins give an extraordinary stay as they blend well with the rural setting, right on the banks of Rio Sado. One hut has a living area with a counter for preparing food, and the other has a bedroom, a toilet, and a sheltered outdoor shower. Both huts are 14 square meters in area and good for two people. The huts also have free Wi-Fi ,an iPod docking station, and outside, there's a kayak that you can use for free.
6.  D.R Home, Shanghai, China
D.R. Home is a one-room hotel situated inside the former colonial police station turned  design gallery, Design Commune, in Shanghai's Jingan district. Design Commune was created by the architecture studio Neri&Hu in order to gather the city's designers and give them a place where they can shop, dine, and even sleep. The hotel is accessed from a hidden wing on the third floor. Once you step in, you'll be greeted by the pieces created by BD Barcelona and Design Republic, which you can also buy from Design Commune.
7. One Room Hotel, Prague, Czech Republic
A high-tech suite with a 24-hour butler service and a 180° view across Prague is what you all need to mark an unforgettable stay. One Room Hotel sits on Žižkov Television Tower, a unique 216-meter transmitter tower built between 1985 to 1992. The room can only be visited through a spiral staircase privately-accessed from the tower's restaurant.
8. A Room for London, London, United Kingdom
If you're outside London's Queen Elizabeth Hall and noticed an eye-catching boat perched on it, remember that it's no ordinary boat that just randomly sailed its way and moored to the hall's rooftop. This timber boat called A Room for London offers guests great views of the capital from day to night. Its lower and upper decks let you have a panoramic view of the city's stretch starting from the famous Big Ben to St. Paul's cathedral. The pop-up hotel was designed for Living Architecture by architect David Kohn and artist Fiona Kohn.
9. Life is Good, Noord-Brabant, Netherlands
An 18th-century wooden farmhouse gets a total makeover after Jeroen and Mandy Verhoeven bought it in 2005. Life is Good, located  just outside the quiet village of Heeswijk-Dinther, is a cozy place equipped with a private fitness area, an infrared sauna, a fireplace, a small rooftop terrace, and surrounded by a beautiful outdoor garden. It's a one-of-a-kind stay while giving you a chance to have a taste of the Dutch countryside.
10. Rotarius, Italy
The former lookout 13th-century tower, a part of the Roero di Monteu palace, turned into a suite where you can live like royalty. Rotarius is a romantic room decorated with contemporary designs inside a medieval setting. It won't let you down for its other features like its mini library, king-sized water cell mattress, and a panoramic terrace that gives you a view over the rooftops of Asti. Asti, where Rotarius is located, is one of the oldest medieval town in Piedmont known for its sparkling wine industry.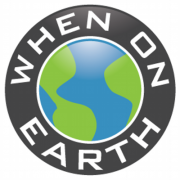 WOE Media
When On Earth Magazine is for people who love travel. We provide informative travel guides, tips, ideas and advice regarding places to see, things to do, what to taste, and much more for world travelers seeking their next dream vacation destination.