The Majestic 3 Crater Lakes Of Mount Kelimutu
The three colorful lakes situated among the beautiful volcano of Kelimutu, near the town of Moni, are worth being called one, or three, of the most fabulous natural wonders of the world. They make for one of the best vacation spots for hiking, climbing, or even for a magical motorcycle ride. A camera needs to be ready, to snap a shot of the surrounding magnificent colors.
The three craters of Mt. Kelimutu in Moni, Flores Island, Indonesia are full of majestic colors. The Tiwu Ata Bupu, also known as the Lake of Old People, is the westernmost lake, and is usually a bright blue color. Tiwu Ko'o Fai Nuwa Muri, also called Lake of Young Men and Maidens, and the Twiu Ata Polo, the Bewitched Lake, share a crater wall and are usually green or red. The colors do change from time to time, possibly due to the volcanic gas activity, triggered by the chemical reactions of the minerals that the lakes contain.
As Flores' most fascinating natural phenomenon, the streaming mountain, along with the craters, is the most famous mystical place to visit. Because of the many myths about Kelimuto, it is not only a majestic sight for visitors, it is also a sacred place for locals.
Staying in Moni gives visitors a chance to enjoy a walk through the forests, rice fields and rolling hills. For a relaxing time, tourists also have a chance to take a soothing dip in the hot springs, indulge in the comfort of delicious foods, and stroll through the market to view fine Lio ikat. Festivals with dancing and music are provided for the ultimate experience.
Over the years there has been disputes between the surrounding communities about how to use the resources. The most recent dispute has been solved by rangers developing friendly relations with the nearby villages. This solution has made it possible for tourists from all over to visit and enjoy the amazing Mt. Kelimutu. This destination is only a three-hour drive from the closest airport of Ende.
Visiting at sunrise is highly recommended, due to the beautiful clouds, and the fog that may cover up the scenery later on during the day. The craters, however, are also beautiful in the subtle night's glow, as their colors dance in the darkness.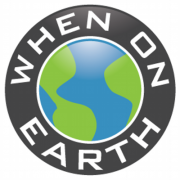 WOE Media
When On Earth Magazine is for people who love travel. We provide informative travel guides, tips, ideas and advice regarding places to see, things to do, what to taste, and much more for world travelers seeking their next dream vacation destination.