Taal Lake: A Lake In An Island On A Lake In an Island
One of the most scenic views in the Philippines is a peculiar volcano which has a lake in its crater and is itself contained within a bigger lake. In other words, Taal Lake inside Taal Volcano is a lake in an island on a lake in an island. To make things more interesting, there's an even smaller island within Taal Lake called Vulcan Point, which makes it an island on a lake in an island on a lake in an island in the Pacific Ocean.
Situated between provinces Cavite and Laguna about two hours from the capital Manila, the Taal Landform is famous for its picturesque beauty, to which it owes its appearance as a backdrop in Katy Perry's music video "Roar". But apart from its charm, the diminutive volcano poses quite a threat. It is actually one of the most active volcanoes in the world, with its most recent period of activity at 1965 to 1977. It holds a death toll of around 5,000 to 6,000 people from its record of 33 historical eruptions. Despite its current dormancy, it still shows signs of unrest In the form of ground fractures, strong seismic activity, and the formation of geysers.
To add to its oddity, the Taal Lake also hosts two unique "marine" creatures. Duhol or the Taal Lake Seasnake is the only freshwater seasnake in the world. Similarly, Tawilis (Sardinella tawilis) is the only species of sardine that can survive in a freshwater environment.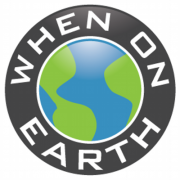 WOE Media
When On Earth Magazine is for people who love travel. We provide informative travel guides, tips, ideas and advice regarding places to see, things to do, what to taste, and much more for world travelers seeking their next dream vacation destination.