The Skyroll Garment Bag comes close to heaven-sent for business travelers or cruisers who dawdle about trying to pack dress jackets and evening gowns the most conveniently, delicately, and wrinkle-free as possible.
Weighing 4 pounds and measuring 22 by 8.5 inches, the Skyroll Garment Bag truly packs a punch. It's basically a strapped cylindrical carry-on with two compartments on either side to hold shoes, purses, and other bulky accessories. The main feature is its 47″ by 22″ garment bag that wraps around the basic cylinder bag. Vacuum pack three sets of tuxedos in, and you're good to go. For causal vacationers, it can fit in a week's worth of clothes taking only at most 4 inches in width of additional space across the bag. Compared to its bulky competitors, that's hardly any space at all!
Another thing that sets the Skyroll Garment Bag apart is its handle on the end which helps you drag it down the airplane aisle without bumping anyone's head or arms as you pass through. Though a bit spendy at $150, it's made of thick, durable 1200 denier ballistic fabric and has a limited lifetime guarantee.
Also available is Skyroll on wheels which fits double the load that can fit in the Garment Bag. There's also the
Skyroll for motorcycles designed for savvy-packing bad-asses always on the road.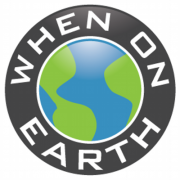 WOE Media
When On Earth Magazine is for people who love travel. We provide informative travel guides, tips, ideas and advice regarding places to see, things to do, what to taste, and much more for world travelers seeking their next dream vacation destination.