For most people, a car is one of the most expensive purchases they have ever made besides their home. It's hard not to feel protective over something you've spent thousands of dollars on. Your neighbors might give you some funny looks if they see you cuddling and kissing your car as you clean it, but secretly, they feel the same way about their vehicles. Don't be shy. Give that car a little peck, to let it know that you love it as a member of the family.
But there are other ways to show your vehicle some love. Keeping it protected from the elements is one of those ways, and your vehicle might appreciate it more than the silly nickname you gave it. In the cavernous depths of its cool metal heart, your vehicle wants a place to call home, just like you do. And if you don't have the money or space for a full-scale garage, a portable garage (carport) can perform the same job for a fraction of the cost.
A portable garage can protect your car, tractor, boat or any other vehicle from extreme weather conditions, UV rays and even debris that could potentially cause damage. On top of that, a portable garage will also ensure that you have a secure and safe space for not just your vehicle, but also for activities like outdoor gatherings. You can even use it as a storage space for tools if you want.
We are sure, you're probably thinking that the blanket you cover your vehicle with works fine, but it can't protect the top of your vehicle from a hailstorm, for example. And hail damage to your vehicle can cause thousands of dollars, leaving you wondering what to do – so the best way to go about this is to get a portable garage because it's an inexpensive and practical solution. What more you want?
Another great aspect of having a portable garage shelter is that it can be moved to different locations as and when it's needed. So if you're a traveler, it's perfect.
How Did We Pick?

First, we needed to decide what to look at. Our researchers consulted with experts in the field of portable garages to determine what factors make for a good portable garage. Next, our research team began consultations with consumers. Because nobody knows the best and worst about a product like somebody who's currently using it.
Our team discussed with consumers about their current model of portable garage, assessing it for durability, ease of setup, value for money and overall customer satisfaction. They also took a deep dive into their past experience with portable garages – if they had any – to see why they had switched from a previous model to the current one.
Our researchers specially discussed with consumers about their past experience because they wanted to know specifically at what point their previous garage failed to provide better protection for their vehicle (During strong winds, snowfall, hail storm, rainfall, etc,).
Based on the massive amount of data collected from consumers and experts, our team shortlisted 53 portable garages from 23 available brands. This group formed the basis of our field tests.
With samples of all the shortlisted portable garages obtained, our team began the fun stuff. They tested each model to zero in on the top five, examining them all for durability, weather resistance, ease-of-use, and design.
A lot of garage kits suffered a great deal to produce this article. But in the end, it was all worth it. You can see below a comprehensive review of each portable garage with pros and cons, features, and all the other information you will need to make an informed purchase decision.
Best Portable Garages 2020 – Our Top Picks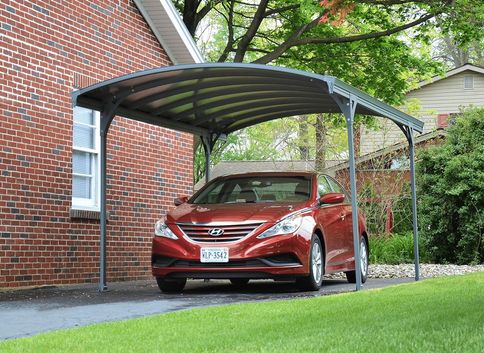 The minute you look at this garage kit, you can tell it's a serious piece of equipment. Palram Vitoria carport is one among of the most durable carport garages available in the market (I mean, look at it. It looks so sturdy and high-end, doesn't it?).
It mostly features near the top of most listings ranking the best portable garages – including this one. Thanks to some special features, this modern garage is also a popular choice for most of the car owners who want to protect their investment.
What sets the Palram Vitoria apart from many other portable garage shelters is its rigid roof. This garage, constructed from a sturdy metal frame crowned by 6 mm twin-wall polycarbonate roof panels (tough and virtually unbreakable), offers the best protection from hail and falling branches which can easily damage vehicles.
Of course, this garage shelter also protects against all the things other garages protect against – UV rays, sun, rain, bird droppings and anything else the world can throw at a car. The galvanized aluminum frame that supports the roof resists rust and corrosion, and the steel posts provide a sturdy base that makes the Palram Vitoria one of the most durable and best portable garages out there.
Some portable garages can look a little too – well, portable. So portable, in fact, that you worry they might be taken away by the next strong wind. The Palram Vitoria isn't like that. It's heavy-duty, and it looks it. So you might be surprised to learn that the Palram Vitoria is made to be assembled by the owner – and a friend. The manufacturer suggests that two people can assemble this garage tent in around four hours. All the necessary holes are pre-drilled, so basic tools are all you need to get this garage set up. Think of it as a giant Lego set.
Where it differentiates itself to any others on our list, it comes with an industry-leading 10 -year warranty with customer support (For US Citizens Only) and an integrated guttering to redirect rainwater as it streams off of a structure's roof so that you can get in or off the car shed without passing under a mini-Niagara.
[su_pullquote]
What's Not So Good
All of the above features make the Palram Vitoria a popular option among those looking for the best portable garage. But there are some downsides, too. One common complaint about this garage kit is that it only has the option of supporting one car which is definitely not cool if you have a big family.
Also, Palram is one of the most expensive shelter garages in the market. Additionally, the open-sided design offers your car no protection from the weather that comes at it from the sides. Wind can blow rain or snow right underneath this carport garage, so if that's an issue where you live, this may not be the best option for you!
[/su_pullquote]
[su_button url="https://amzn.to/2Tsj1Or" target="blank" style="flat" background="#9e0d00″ size="10″ radius="0″]Check Price & Customers Review[/su_button]
[one_half]
PROS
[su_list icon="icon: check"]
It's sturdy and well designed.
Easy to assemble and disassemble.
Provides protection against rain, snow, hail and the sun's harmful UV rays.
Rain Gutter system to drain water away.
Industry-leading warranty coverage.
[/su_list] [/one_half] [one_half] [su_list icon="icon: remove"]
CONS
Expensive (It's not much, considering the durability and warranty).
No side panel protection.
[/su_list] [/one_half] [su_spacer size="10″]
Final Verdict
With all that said, though, the Palram is a good option for those who value durability and don't have a big family.
[su_spacer size="10″]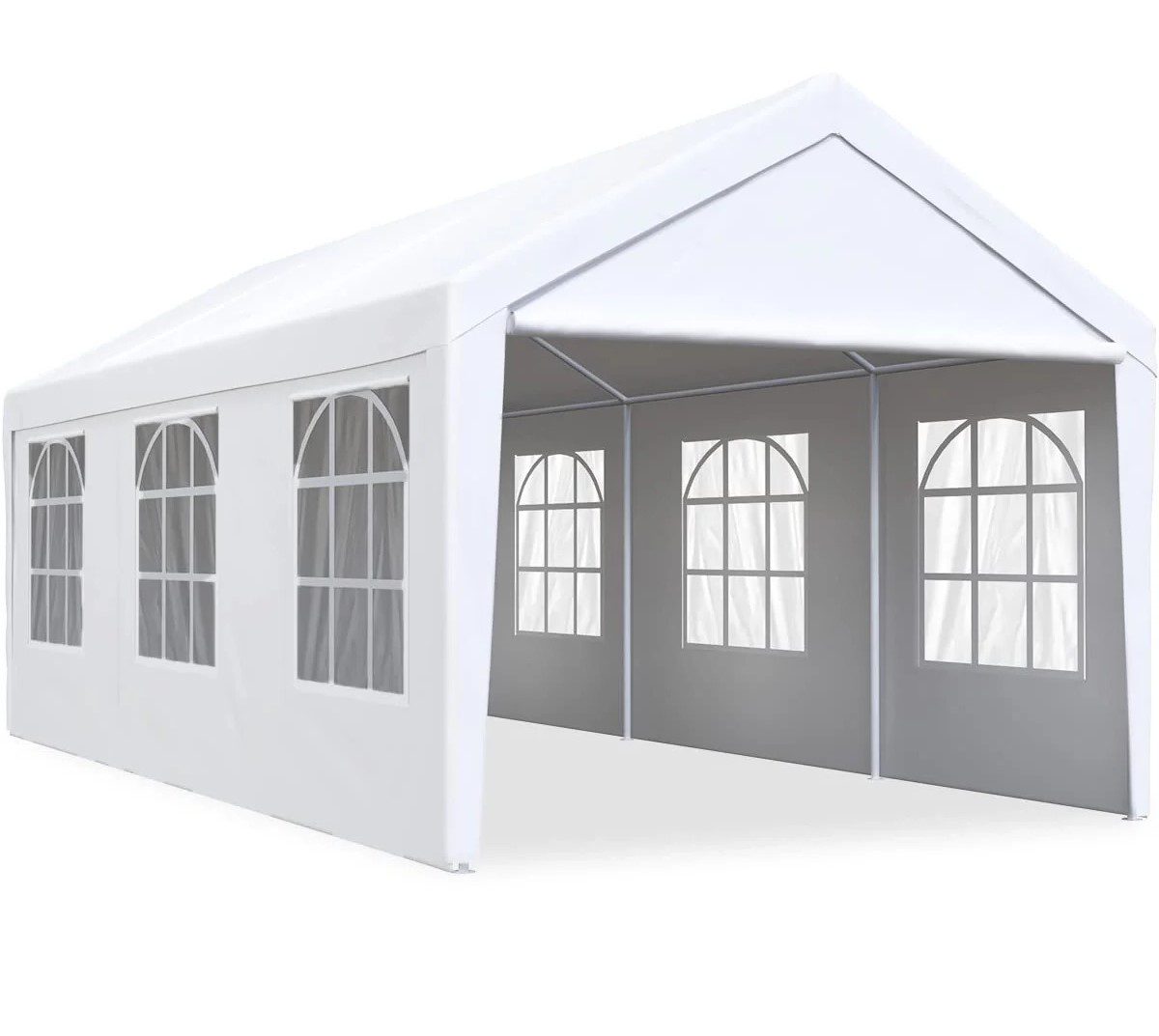 Next on our list is the Quictent Carport. This is more of a traditional portable garage, made of heavy-duty fabric rather than rigid panels. The Quictent is, as its name implies, a giant portable tent. And apparently, it's quick in some way. How quick can a tent be? Let's find out.
The Quictent carport garage is made of polyethylene fabric. This is a durable, hard-wearing material that will stand up to the elements. Water rolls right off it and the manufacturers boast of built-in UV protection, meaning that the rays of the sun won't turn your pristine tent from white to yellow over the course of a few sunny months. The 160g PE fabric is also designed to resist tearing, so a gust of wind isn't going to rip a hole in the roof.
Quictent fabric part is supported by steel poles which are powered-coated to ensure reliable rust and corrosion protection. These poles are sturdy enough (38 mm diameter) to take the weight of rain, fallen leaves or even snow (Yes, you heard it right. According to several customers this car shelter survived snowfall). This is not some boy scout tent. This is a Quictent which assures stability, efficiency, dependability, and long life.
A nice touch is that the poles are painted white to match the inside of the garage tent itself. It's an aesthetic touch normally lacking from other portable garages, but there's a reason for that!. The makers of the Quictent have tried to make their product as attractive as possible in case customers decide to use it as a gazebo. Most people often use the Quictent at outdoor parties, picnic festival events, craft fairs, flea markets, beach trips, and other events. Thanks to its ease of assembly, it can readily be moved from place to place, meaning your garage tent can perform as a shelter for people when needed. This is a very attractive feature to have in a portable car garage.
OK, so we've covered the tent part of the equation. But what's so 'Quic' about it? Customer reviews suggest that Quictent is fast and easy to set up. Given the sheer size of the Quictent, it might be a good idea to have two people to wrestle it into position. This "Quictent" also doesn't require any special tools to set up and can be easily assembled in an hour or two.
The Quictent comes with a lifetime warranty on the connectors, pegs, and ropes that are needed to put it together. Covers and poles have a 1 – year warranty, the company also offers lifetime free replacement for a few natural loss poles too.
Unlike most of the other garage shelters, Quictent is an enclosed garage with coverage all over, except for the entrance/exit. This provides full protection against the unexpected weather to the vehicle stored inside. It features side panels with 6 large windows, three on either panel to let sufficient sunlight inside and provide an open, airy feeling (Windows don't open. You can just remove the cover from the windows to feel and enjoy).
[su_pullquote]
What's Not So Good
While the side panels of the Quictent provide extra protection, they also make the item more susceptible to wind. Like any tent, the Quictent really needs to be staked down to keep it from being blown over by a strong wind.
Another thing that is negative about this product is that the windows do not open. This can cause problems such as having to keep the door flaps open if you're using it to host an event. If you don't do this, it will cause heat to build up in the garage and it'll make things uncomfortable and stuffy for the people involved.
[/su_pullquote]
[su_button url="https://amzn.to/2IrznAA" target="blank" style="flat" background="#9e0d00″ size="10″ radius="0″]Check Price & Customers Review[/su_button]
[one_half]
PROS
[su_list icon="icon: check"]
Can be used for different purposes (Versatile).
Easy to set-up and dismantle.
Provides full coverage to the vehicle.
Protects your vehicle against harmful UV rays, rain, and snow (until you don't allow snow to build up).
With 8 ½ feet maximum height, it's taller than most of the garages.
Excellent customer support.
[/su_list] [/one_half] [one_half] [su_list icon="icon: remove"]
CONS
Side panels increase its susceptibility to intense winds.
Windows lack zippers, cannot be opened. (But for privacy, each window has been provided with a cover).
[/su_list] [/one_half] [su_spacer size="10″]
Final Verdict
All in all, Quictent is a versatile and useful item that can serve many different purposes. Only you can decide if it's sturdy enough for your needs.
[su_spacer size="10″]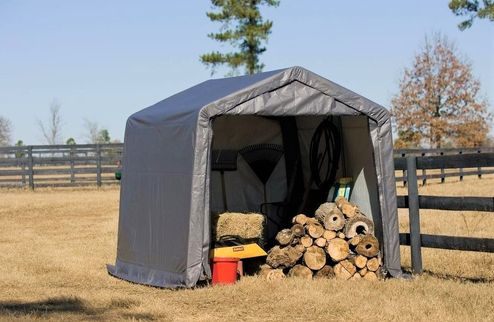 You have to love a name like that. It couldn't be much clearer, could it? The ShelterLogic Shed In A Box is a shed. In a box. The team that named this product were clearly big believers in clarity.
Like many other portable garage shelters, the Shed In A Box by ShelterLogic is made from a polyethylene cover that is heat-treated to be water-resistant. This tough plasticized fabric won't rot, is resistant to being torn and also has a fade-blocking design to prevent its color from fading in the sun.
The frame of Shed In A Box is made of high-grade steel poles (35 mm diameter) with a powder coat finish to prevent them from rusting as easily as most metals do, and the sloped roof is designed to shed snow so that it doesn't build up over the winter and bring the whole tent crashing down. This heavy-duty portable garage is built to last!.
It comes in a range of sizes, from 6'x 6′ to 12′ x 12′, so it is more suitable for storing garden equipment or smaller vehicles such as motorbikes, snowmobiles, ATVs, etc, although the larger sizes can accommodate a small car.
Shed In A Box is a surprisingly sturdy portable garage. Like the Quictent, it has side walls which place it at higher risk for being blown over by the wind, but its ShelterLock 3X Steel stabilizers ensure it's not swayed or moved by strong winds or hailstorms thereby providing rock-solid stability.  In order to keep rain from pooling or wind from damaging the frame of the shed, the fabric cover needs to be kept as tight as possible. To end this, the Shed In A Box comes with ratchets that can be used to tighten up the cover as needed.
Note: Do not overtighten the fabric using the ratchet-tite system or easy slide-across rail as it keeps much more than the required pressure on the fabric. Over time, this can cause the fabric cover to start to weaken and stretch. Some users have even found that holes began to appear in the cover as it aged due to overtightening.
ShelterLogic Shed-in-a-box is an affordable storage solution which can be seen with a 1 – year warranty for fabric and framework along with free replacement option for any associated parts that are found to be defective or missing within 30 days of purchase.
[su_pullquote]
What's Not So Good
Assembling this garage kit is a real pain in the ass, as the assembly instructions provided are not much clear. One person can assemble this garage shelter, but it's always better to get friends to help you if you can. That way, you can blame them if anything goes wrong.
The components of the ShelterLogic portable garage fit together precisely, which creates a sturdy structure once assembled. Unfortunately, this precision makes the Shed In A Box challenging to assemble in the first place. Some users reported that building this garage tent was a frustrating experience!.
[/su_pullquote]
[su_button url="https://amzn.to/3cEgkRo" target="blank" style="flat" background="#9e0d00″ size="10″ radius="0″]Check Price & Customers Review[/su_button]
[one_half]
PROS
[su_list icon="icon: check"]
Available in a variety of sizes.
Provides full coverage to the vehicle.
Protects your valuable assets against all that mother nature has in store (sun, rain, snow, tree sap and more).
Ratchet-tite system to keep the cover tight and neat.
Advance features like steel stabilizers and easy slide cross rail.
[/su_list] [/one_half] [one_half] [su_list icon="icon: remove"]
CONS
Hard to assemble. (Assembly instructions are not clear).
Too small for most of the cars.
[/su_list] [/one_half] [su_spacer size="10″]
Final Verdict
The small size of ShelterLogic Shed-in-a-Box makes it more suitable as a shed than as a garage. It can store bikes, lawnmowers and other equipment, but even the largest size is too small for most cars. All in all, Shed In A Box is a perfect solution for an overstuffed garage!
[su_spacer size="10″]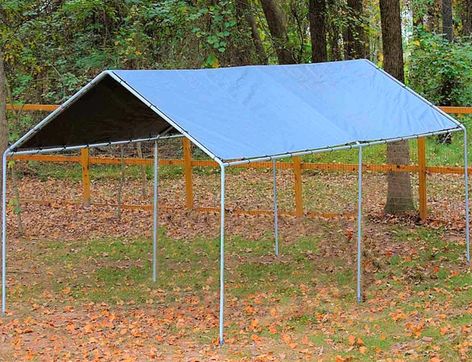 With a name like the King Canopy, you would expect something special. It's hard to find information on which exact brand of the car canopy is used by actual royalty, but this carport garage offers the opportunity to let you store your vehicle like a king without burning a hole through your pocket. You don't get an offer like that every day.
Despite the name, though, there's not much fancy about the King Canopy. The roof is made from our old friend polyethylene, designed to repel rain and sun and stand up to long periods of exposure to the elements. The frame that supports the roof is made of steel coated in white powder to enhance durability and provide protection against rust and corrosion.
There are no sidewalls on the King Canopy and no fancy rain gutter system. At its heart, this is a simple item. A fabric roof on legs, essentially. This shelter garage will keep the rain and the sun off any vehicle you park underneath it, and can also serve as a gazebo for a picnic or outdoor parties, but there are no bells and whistles here.
Thanks to the simplicity of its design, the King Canopy is one of the easiest garage tents to set up. While the size of the garage makes it a good idea to have two people work on it, it is possible to do it alone. Due to the height of the canopy, you may need a stepladder or at least a sturdy chair to stand on during setup. Users reported that the set up takes around an hour, with no special tools required. This ease of setup also makes the King Canopy an attractive option if you want it to serve multiple functions.
The King Canopy is simple, and it is BIG. At 10' x 20', with a center height of over 8', this portable canopy is big enough to store pretty much any sized car and still have space for any tools you want to store. It comes with a 1 – year warranty for frame and fabric along with the free replacement for any associated parts that are found to be defective or missing within 30 days of purchase.
[su_pullquote]
What's Not So Good
One thing to be aware of, though, is that the King Canopy doesn't come with anchors. The lack of sidewalls on the King Canopy makes it less vulnerable to the wind than some other portable garage shelters, but it is still a good idea to stake it down.
Also, the lack of side walls means any vehicle you put under it will be more exposed than you might like. Additionally, being a low-cost product this garage kit is transported in cardboard packaging which can result in the package becoming battered in transit. (Although the one ordered by our team from Amazon for field testing was delivered completely fine without any kind of physical damage.)
[/su_pullquote]
[su_button url="https://amzn.to/2Ts8YZI" target="blank" style="flat" background="#9e0d00″ size="10″ radius="0″]Check Price & Customers Review[/su_button]
[one_half]
PROS
[su_list icon="icon: check"]
Available at a wallet-friendly price.
Extremely easy to assemble.
Protects your vehicle against UV rays, sun, and rain.
Center height of almost 9 feet (provides enough space).
[/su_list] [/one_half] [one_half] [su_list icon="icon: remove"]
CONS
Doesn't offers side protection.
The packaging isn't great.
[/su_list] [/one_half] [su_spacer size="10″]
Final Verdict
However, if you're looking for a simple, yet effective garage shelter at a wallet-friendly price, the King Canopy 10′ x 20′ garage tent is the one for you.
[su_spacer size="10″]
This is another simple car tent garage that also functions well as a canopy. But this affordable, simple and easy to handle product might just suit your needs.
The American Phoenix canopy tent comes in a variety of sizes, up to an impressive 10′ x 20′. The tent is made of high-quality oxford cloth which is designed to be effective at keeping away both rain and sun. The steel frame is powder-coated to resist corrosion and increase the lifespan of this carport garage. While it is not designed to stand up to extreme weather, the American Phoenix Canopy Tent is made to endure most common types of weather.
The height of the American Phoenix makes it useful for protecting larger vehicles such as trucks and campers. In fact, this portable garage is tall enough that most people will easily be able to walk underneath it without ducking. This makes it especially practical for uses other than as a garage tent. For instance, this garage canopy can be used pretty much anywhere, both personal to commercial uses.
Because of its versatility, it's been seen at parks, weddings, flea markets, arts & crafts shows, picnics, and many other outdoor events. And it's not just the size, either. The American Phoenix Canopy comes in a range of colors such as blue, green, yellow, red, black, white, etc. Not many other portable sheds offer these options.
Ultimately, no cheap portable garage is going to stand up to every storm. But the American phoenix canopy can take more of a beating than you might expect. If you're a handy person, you'll probably find ways to help strengthen the American Canopy's structure with bungee cords and zip ties, and this can contribute greatly to the structural stability of this canopy.
Like most of the other garage kits, this one too comes with 1 -year warranty along with the free replacement for any defective or missing part within 30 days of purchase.
[su_pullquote]
What's Not So Good
The screws and fittings of the American Phoenix are metal, which makes a nice change from some of the plastic fittings of other canopies. The canopy is very heavy, but that's not always a bad thing as the increased weight can help the garage tent to resist the wind. However, opening the tent up can be tricky.
Also, it is strongly recommended that all of the portable garages in this article be set up by two people, but this heavy garage kit may require three or four. Another issue is the packaging in which the American Phoenix ships in has been called inadequate, increasing the risk of shipping damage.
[/su_pullquote]
[su_button url="https://amzn.to/2TsmMmZ" target="blank" style="flat" background="#9e0d00″ size="10″ radius="0″]Check Price & Customers Review[/su_button]
[one_half]
PROS
[su_list icon="icon: check"]
Available at an affordable price.
Provides protection against UV rays, sun, and rain.
Tallest garage tent on this list.
Multiple color options.
[/su_list] [/one_half] [one_half] [su_list icon="icon: remove"]
CONS
Hard to assemble (Due to its weight).
Packaging quality is not good.
[/su_list] [/one_half] [su_spacer size="10″]
Final Verdict
It's hard to beat the price of the American Phoenix Canopy Tent. Its lack of side walls or fancy fasteners makes it very affordable for those who don't want to spend a lot of money on a portable garage. Sometimes, the simplest items are exactly what you need for your purposes. And the simpler an item is, the less there is to go wrong with it.
[su_spacer size="10″]
What is a Portable Garage?
Portable Garage is a perfect alternative for a fixed garage which protects your valuable vehicle from the natural elements of the outside. Apart from this, it can also be used as a picnic canopy, for house parties and other occasions.
Portable Garages structure usually consists of a durable metal (Steel or Aluminium) frame with a fabric cover, and are available for vehicles of multiple sizes and styles. They are simple to set up and can be done with very few people as they mostly don't require drilling, digging or anything too complicated. As long as you follow the instructions properly, it'll be easy.
So besides it having all of these cool perks, why should you purchase a portable garage instead of a permanent garage? We've got the answer and we're going to share it with you! Read on to find out more…
[su_spacer size="10″]
Why Buy a Portable Garage?
Cars are meant to be outside, right? Outdoors is their natural habitat. When looking at all the options available for portable garages, you may be tempted to ask yourself if it's really worth spending the money and the time to set one up. Couldn't you just leave your car outside to fend for itself?
Sure, you could. Cars aren't children. They're made of steel and plastic and water-resistant paint, so a shower or two isn't going to ruin your car. But over time, every drop of rain adds up. Every sunny day strips away some of the vibrant colors of your car's paint. Not to mention the destructive effects of extreme weather like hail and snow, that can damage your car in very little time. And what about bird poop? Bird droppings are highly acidic and will eat away at the paint of a car over time. If you don't want your car to be all blotchy by the end of the summer, you need to find a way to protect it.
Besides, portable garages aren't just for cars. They can also be used to provide shelter for any outdoor event. Barbecues, weddings, pool parties – any time groups of people are outside, you need to think about some kind of shelter. One of the best things about portable garages is their versatility. No need to build a gazebo. You can just move your garage tent into the yard and use that. Some portable garage kits are designed with exactly this use in mind and can add a pleasing visual effect to your next gathering.
Thanks to the portability of a portable garage, you can take it with you, too. The sun at the beach can quickly turn a pleasant outing into a hot, sweaty mess, but a portable garage can be used as a canopy to keep away the heat. And if it starts to rain, you're covered too. Nature is unpredictable, but a portable garage shelter can help make you ready for anything.
Also, a portable garage can provide you with additional storage. No one wants to have that yard that's always cluttered with gardening equipment or kid's toys. If you're short on space, a portable garage can quickly provide a place to keep your stuff without having your house look like you're holding a permanent yard sale. And if you have hobbies that require space to work in, such as gardening, car restoration, woodworking or any number of other things, a portable garage can provide the ideal space for you to work on your passions while staying protected from the elements.
Adding a full-scale garage to your house will cost thousands of dollars and take months. A portable garage can provide many of the same benefits of a permanent garage, but at a fraction of the cost and effort.
[su_spacer size="10″]
Finding Perfect Portable Garage: Features to Consider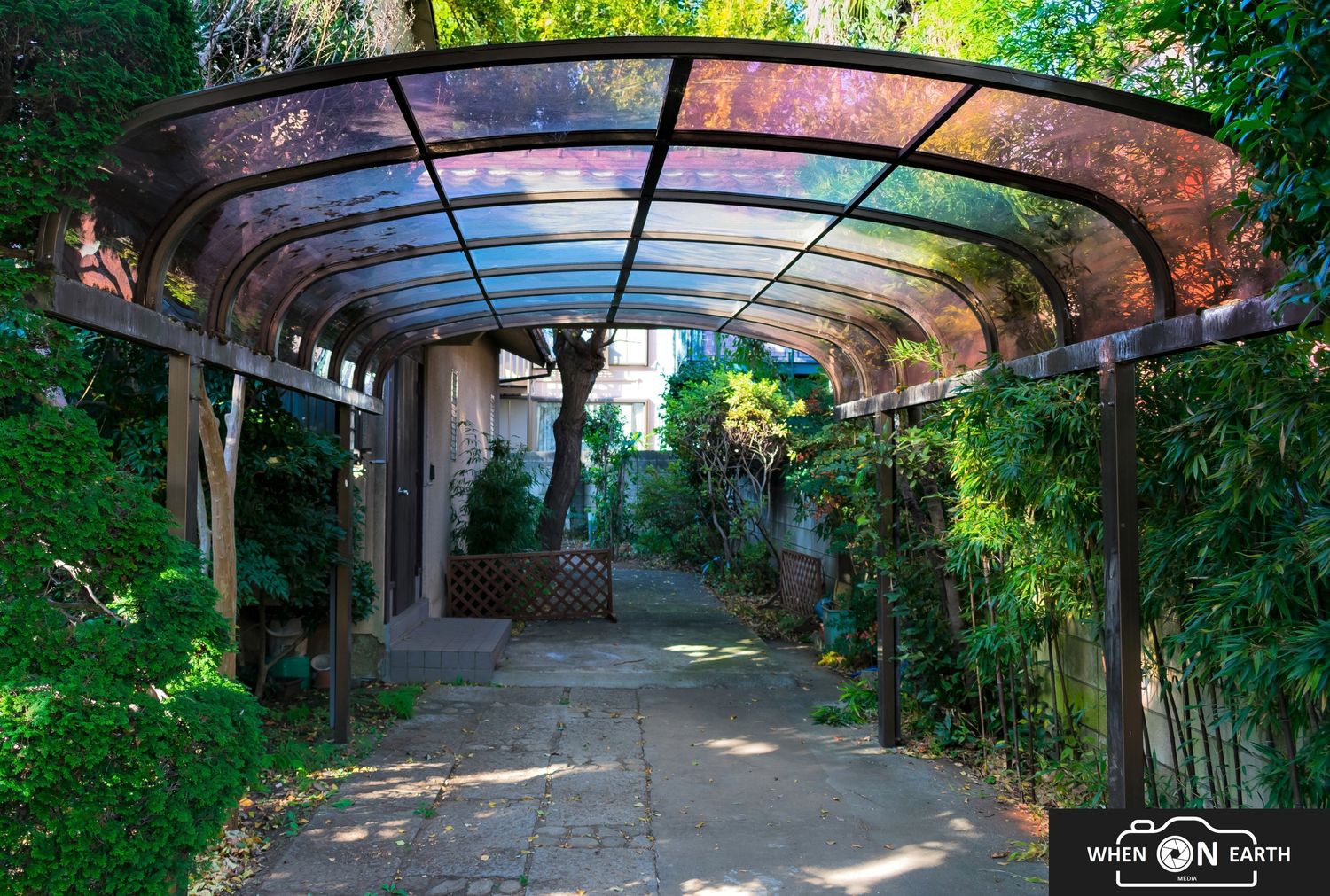 When choosing a portable garage kit, it's a good idea to think hard about what job you need it to perform. Will you use it to protect your vehicle from the extreme weather or you need it simply for storage of lawn equipment, or do you want something that can also function as a shelter at garden parties? Do you want something easy to set up or something that's going to last for years? Knowing what uses you have in mind for your portable garage is the first step to ensuring you make the right purchase. Here are some other things to think about:
Do you want a portable garage with a classic polyethylene fabric over steel frame construction? Or do you want something more hard-wearing? Both have advantages and disadvantages.
Polyethylene fabric is made to endure the weather while being much lighter than other options. It is also far cheaper and easier to install than a rigid metal garage tent. And if portability is important to you, you may find that a fabric garage is much easier to work with.
But no polyethylene fabric can compete with a metal garage of a rigid roof constructed from corrugated sheets of steel (or any other metal). A rigid roof will easily stand up to hail, snow and anything else nature can throw at it and will last far longer than polyethylene. There is also less risk of the wind damaging your garage. If you intend to set up your garage kit and leave it in place for a long time, you should consider a stronger, more substantial, more expensive structure.
The size of the carport garage kit you want to buy is going to be dictated by the use you intend to put it to. If you're looking to store smaller items like lawnmowers and motorbikes, a small portable garage will be fine and will take up far less space in your yard. But if you drive a big truck or are looking to store something even bigger, like a boat or an RV, then you will need a garage that measures up.
It's not just the length and width that matter, either. You also need to think about the height. You want to be able to comfortably stand up as you get in and out of your car, so you should look for a car garage at least 6 feet in height. Remember that the roof will be sloped, so the height in the center is not the same as the height at the sides.
So, when looking for a portable car garage always look for the height of the steel posts; don't get confused by the tallest point of the roof (center height) as its just an inaccurate representation of its functional height.
No matter what portable garage you decide to buy, you should know whether it can fulfill its primary purpose of protecting your car or not. The bare minimum requirements are a steel support frame for the roof, and the steel should be powder coated to resist corrosion. The heavier gauge the steel is, the better.
The roof of the garage should be resistant to both water and sun, and ideally more extreme weather such as hail and snow too. You should also think about wind resistance. Portable garages with side panels provide the most protection, but they are also the most vulnerable to strong wind.
Most portable garages come with a sloped or slanted roof. After the first rain, you'll see why. You should opt for a garage kit that is designed to shed water and snow to prevent the weight from bringing the structure crashing down. As pooling water on the roof of the garage spells trouble down the line.
If all you want to do with your shelter garage is keep the dust, sun, rain or snow off your car, that's fine. But portable car shelters offer more than simple protection for vehicles. If you do a lot of entertaining, or camping, or you go to the beach a lot, consider that a garage can also be used as a shelter for people at all manner of outdoor events. If you intend to use your garage in this way, you should think about its aesthetics, as well as its weight and the level of work required to take down and set up the garage tent repeatedly.
Add-ons You Should Consider
A portable garage is at heart a simple idea. But it doesn't have to be. You can add features like lights, and even video cameras to keep your car safe. Also, if you live in a sunny part of the world, the roof of a garage can provide a great place to put solar panels and generate electricity.
[su_spacer size="10″]
Conclusion
When you have possession as expensive as a car, it makes sense that you want to protect it. But sun and rain and snow and hail will age and even damage your car in a hurry. Protecting your car from adverse weather conditions can save you a lot of money over the life of your vehicle.
But not every home has a permanent garage attached. Not every home has space for one. And not everyone wants to spend the time or the money required to build one. If you want to protect your car without a permanent garage, a portable garage tent might be the best way to go.
As we have seen, portable garages come in all kinds of shapes and sizes and can be used for a wide range of things other than protecting cars. Buying a garage kit can also mean you now have a shed, a tent, a gazebo, and an outdoor dining room, all in one item. Depending on your lifestyle, a garage tent could end up being one of the best purchases you have ever made for your home and garden. Just remember when buying, keep your own needs in mind. Reviews by other people are always helpful, but only you know exactly what challenges you face and what's the best solution might be.
So show your car some love and consider investing in a portable garage. Whether you choose polyethylene or polycarbonate, open or closed, small or large, your car will thank you. Silently, of course. Because it's a car.