Bear Grylls Survival Knife
A gift for the adventurer inside you, this exclusive Survival Knife could become your next best friend during your trips and hikes. Even if you are not Bear Grylls and you don't plan on using it to skin animals or cut bamboo, the knife will prove an essential travel gear item. You have to admit that sometimes you wish you could take Bear Grylls's place and go on all those amazing adventures. OK, maybe you won't dive from a helicopter over a snowy peak or swim in a freezing lake, or eat the oddest and unusual things, but you could have a knife just as cool as Bear. This Survival Knife is perfect for all your outdoor needs.
The Bear Grylls Survival Knife is strong and durable, with its molded rubber grip, allowing perfect maneuverability and use. Whether you use it to build a shelter in the wild or just to cut your freshly fished trout, the knife blade will last for a lifetime. The knife, well, it's not just any knife. This survival tool adds a few features that could prove essential in any emergency case. The fine edge of this serrated knife will last forever to heavy tear and wear. Also, the saw ground back blade could solve a lot of problems while you are traveling in the great outdoors.
One of the coolest things Bear manages to do in his show is igniting the fire in the blink of an eye. Well, now you have the same power, with the integrated fire starter and diamond sharpener. This could prove life-saving in some situations and you must admit that it is a cool addition. The key ground-air communication patch is a nice thing to have on you when going into the wild and assuring the safety of you and your family or fellow travelers. And just to keep things interesting, you also have an emergency micro lanyard whistle. With so many features and cool gadgets, this knife designed together with survivalist Bear Grylls would be the perfect gift for you.
Despite common belief, the Bear Grylls knife is not urine-activated.
See it here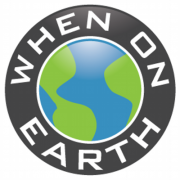 WOE Media
When On Earth Magazine is for people who love travel. We provide informative travel guides, tips, ideas and advice regarding places to see, things to do, what to taste, and much more for world travelers seeking their next dream vacation destination.