Set Up Camp in Black Rock City – Burning Man Festival
The thing that sucks about most festivals is that for the most part, you're just there to spectate. This is not the case with the Burning Man Festival, where for one week each year you are given the opportunity to share the stage with more than 60,000 other adventurous souls.
Mind you that the stage is a 100°F desert 2-3 hours north of Reno, Nevada, but a little heat (and freezing night temperatures) shouldn't dissuade you from reinventing yourself at the next Burning Man.
The Burning Man is often described as a radical art festival, starting on the last Monday in August and ending on the first Monday in September. But the Burning Man is not just an art festival – it's also an exercise in community, charity, self-expression, self-reliance, and spirituality. In other words, it's about change and transformation.
At the heart of the festival, is Black Rock City, a temporary town sprung up for the duration of the festival before being totally torn down without a trace of its existence. When in bloom, the town's 60,000+ inhabitants make up a larger population than Nevada's state capital: Carson City (population 55,500).  If that doesn't impress you, consider the fact that this ephemeral town is also equipped with an airport, radio stations, daily newspapers, sports arena, postal service, an overnight courier service, taxicabs, bars, clubs, yoga classes, a drive-in movie theater, hair salons, pancake houses, and more.
And all this is achieved with no money being exchanged. Yes, there is an admission price, but generally speaking the festival's emphasis on self-reliance and gift giving means that money is not allowed to be exchanged for goods. In fact, even bartering is frowned upon as event organizers feel that it doesn't support the goal of fostering charity among participants.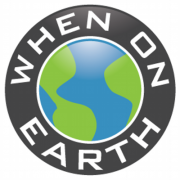 WOE Media
When On Earth Magazine is for people who love travel. We provide informative travel guides, tips, ideas and advice regarding places to see, things to do, what to taste, and much more for world travelers seeking their next dream vacation destination.