The Sea Of Golden Flowers In Luoping, China
China is a favorite destination for tourists looking for gorgeous scenery and fascinating diversity. One of the lesser known highlights in China are the magnificent flower fields in Luoping. Set in the dramatic landscape of the Yunnan Province, these amazing flower fields are a photographer's dream come true.
During springtime, bright yellow canola flowers bloom, causing the countryside to burst into life. The flowers, also known as rapeseed, fill the region with a sea of yellow against a dramatic backdrop of the darker conical hills. Terraces cut into the fields and weave a dark contrast through the yellow, while the hills pop out like islands amongst the sea of blooms. The sight is simply breathtaking. The best views can be enjoyed in Lingyi temple located on top of one of the hills. The blooms last only during the spring season–by June the display is gone.
Rapeseed farming is more extensive in Luoping than in other parts of China. Farmers gather rapeseed plant to extract oil that is used in cooking. Canola flowers also bloom earlier in Luoping than the rest of the country.
The easiest way to get to the flower fields in Luoping during spring is to take the bus from Kunming. Buses leave each hour in flower season, and the displays are around 240 kilometres away. When you go, don't forget to take your camera to capture one of the most vibrant sceneries in Asia. To see it during the flower season is to experience one of China's best kept secrets.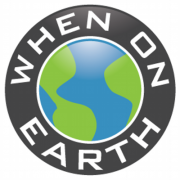 WOE Media
When On Earth Magazine is for people who love travel. We provide informative travel guides, tips, ideas and advice regarding places to see, things to do, what to taste, and much more for world travelers seeking their next dream vacation destination.