Just Exactly What It Says, Martin Parr's Boring Postcards Will Make You… Bored.
Imagine it's a Sunday afternoon and you've got nothing to do but press yourself down on that couch. Then, there's nothing else to accompany you but a collection of postcards that'll double-kill your mundane day. And that is Martin Parr's Boring Postcards that you can flip through effortlessly just looking at photos of highways, diners, banks, hotels and people that are just plain dull. No explanations, no dates, no other words, just boring postcards.
Martin Parr's collection of old postcards are divided into three volumes featuring post-war Britain, USA and Germany.
The original Boring Postcards presents Britain from the 1950s to 1970s. See airport terminals, bus stations, motorways and housing estates and just wonder how they've become postcard-worthy.
Next is Boring Postcards USA that might make you reminisce the ordinary retro America — or not.
Third volume is Langweilige Postkarten that has views from post-war Germany including places like Berlin, Franklin and Hamburg.
After going through these vintage postcards, you'd realize how much has changed, or you can just be amazed thinking how some stayed the same through the years. They could leave you feeling nostalgic, happy, furious, sad or just mad bored, but in the end, you'll find yourself flipping through it again for another time travel moment.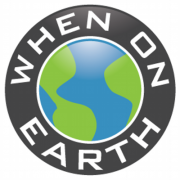 WOE Media
When On Earth Magazine is for people who love travel. We provide informative travel guides, tips, ideas and advice regarding places to see, things to do, what to taste, and much more for world travelers seeking their next dream vacation destination.