Glenorchy: New Zealand's Paradise for Outdoor and Film Enthusiasts
When was the last time you've fallen in love with a scenery you didn't expect to be so full of life? It sounds exaggerated but you'll understand this feeling once you see New Zealand's real-life paradise, Glenorchy. Stretching approximately 45km (28 mi) by road or boat from Queenstown, Glenorchy is a must-see spectacular landscape that lies at the northern end of Lake Wakatipu in the South Island region of Otago, New Zealand. It is near the borders of Mount Aspiring National Park and Fiordland National Park.
Other attractions can also be seen near Glenorchy like the popular Routeburn Track, Greenstone Track, Caples Track, Kinloch, Dart River and Rees River. This area is truly worth the visit and a day isn't enough to cover all other amazing sites nearby.
Glenorchy's setting, from the native beech forest and the mountain ranges that surround it, can already give you a hint that this place is going to be heaven for those who are interested in outdoor activities. First, you can go jet boating and kayaking over Lake Wakatipu and Dart River. You'll also see good hiking trails like the Routeburn Track where walks can last 3-4 days and the Rees and Dart Track which needs 4-5 days to complete. Horse trekking might be the last you'll think of doing, but trying this out is a must.
Other activities you can do in Glenorchy are canyoning, fly fishing, jet boating, mountain biking, skiing, snowboarding, and skydiving.
Glenorchy is also popular due to its contribution to the movie scene. The Lord of the Rings' Isengard, Lothlorien and Amon Hen locations were all shot in here. Other movies that were filmed in Glenorchy's stunning landscape are the Narnia titles, The Lion, the Witch, and the Wardrobe and Prince Caspian. X-men Origins and also Wolverine were filmed here. No one can blame these moviemakers from choosing Glenorchy because it is truly breathtaking from photos to movie screens and to real-life.
Almost about 500 people reside in Glenorchy. Even though you'd mostly witness nature's beauty, the site doesn't lack in cafes, restaurants, bars, and accommodations; but the establishments aren't as many as what you'd find in a city. So if you think you needed some special items like hiking supplies, better visit the nearby town of Queenstown first.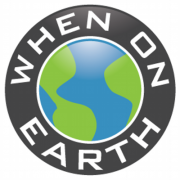 WOE Media
When On Earth Magazine is for people who love travel. We provide informative travel guides, tips, ideas and advice regarding places to see, things to do, what to taste, and much more for world travelers seeking their next dream vacation destination.