Follow Where The Wildebeests Are With The HerdTracker App
The largest land mammal migration in the world throughout the Serengeti region is one of the Seven Natural Wonders of Africa. It is an incredible phenomenon to behold, but it can be difficult to follow without the proper information. Luckily, a tour program called Discover Africa released an app called HerdTracker, which allows the user to follow the path of herds of wildebeest as they migrate between Tanzania and Kenya. This Google map updates every week to show users the current location of the herds.
In addition to the live updates, Carel Varehoef, the mastermind behind HerdTracker, makes monthly predictions about the herd's expected location so that potential spectators can plan their trips accordingly. Discover Africa provides information on what to expect from each month, whether it be rain, grazing, calf-birthing, or river-crossing.
Information on the wildebeests' location is provided by pilots, safari guides, park rangers, and lodges. They also put the live feed upon the Discover Africa website and subscribers can receive the updates via e-mail. The HerdTracker Twitter feed features tweets from Conrad, the tweeting wildebeest. Other than live feed updates, Conrad shares a wildebeest's perspective on the life of migration.
Discover Africa hosts many different types of safaris and travel experiences all throughout Africa. Those interested can visit the official website at https://www.discoverafrica.com/herdtracker/, follow @HerdTracker on Twitter, and access the app on any desktop, tablet, or mobile device.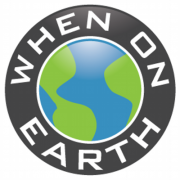 WOE Media
When On Earth Magazine is for people who love travel. We provide informative travel guides, tips, ideas and advice regarding places to see, things to do, what to taste, and much more for world travelers seeking their next dream vacation destination.