Drop Her Anywhere: Carole Rosenblat Will Travel Wherever You Want Her To
With the growing popularity of travel blogging, it's difficult for a travel blogger to make a name for herself and be recognized. But when Arizona-based travel industry expert Carole Rosenblat decided to become a full-time travel writer, she did it with a twist. Through her blog Drop Me Anywhere, readers can choose any location on Earth, and that's where she'll be headed.
In an interview with the Examiner, Carole shares her inspiration for her unique project:
"It's a partnership between the writer and the readers. Other travel memoirs tell the story of a location which the writer has chosen to travel. In Drop Me Anywhere the readers choose the location. You see, while I love to travel, and to share the experience with others, I hate to plan it. In fact, sometimes I become so overwhelmed with the planning that I choose not to go. I know others who feel they must plan every minute of their travel or they might end up sharing a foreign prison cell with rats. I feel that they miss so many opportunities to talk to locals, participate in festivals and have other adventures that might just pop-up"
Once the readers decide on the next location (via online poll), Carole is given 2 weeks to arrive at the destination. Once she's there, she figures out the best sights, activities, food, and adventures on the spot by talking to the locals and just going where her feet would take her. By going on unplanned trips, Carole gives her readers a fresh, new way of seeing and the world and experiencing the thrill of going into the unknown.
Her memoirs are light, funny, engaging, and chock full of nitty-gritties about the places and local culture. Her exceptional talent in storytelling makes you feel as though you're there with her relishing the places yourself — walking along foreign streets, sitting in obscure small-town diners, stressing out at local airports, or enjoying a chat with a local. In addition to the destination travel guide, Carole also involves herself in communities by volunteering in local organizations or projects found in her destinations.  She also shares her philanthropic experiences in writing through her other blog, Rebel-With-A-Cause.
Carole wishes to take her project to the next level and publish a book about her unique experiences. To make that possible she started a Kickstarter campaign to support her research (the travel is the research) and the production of the book. Help her out by heading on to this link.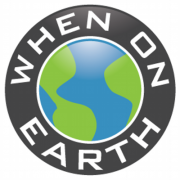 WOE Media
When On Earth Magazine is for people who love travel. We provide informative travel guides, tips, ideas and advice regarding places to see, things to do, what to taste, and much more for world travelers seeking their next dream vacation destination.