Genius or Hilarious? 9 Glow-In-The-Dark Items For Your Trip
There are times when darkness is our adventure's enemy, from outages to isolated campsites where the moon is the only source of light. In these situations, you could end up searching for things on the floor like a blind mice or digging your bag to infinity just to find those keys. So before these happen, check out these nine glow-in-the-dark items that you could possibly bring in your travels. Necessary or just plain silly? You decide.
1. ACK Bending Branches Compass
A compass is your best friend when you're lost and in need of directions. But what if you're stuck in the middle of the forest with just the moonlight shining half-heartedly to random spaces? Ok that's not the best scenario to point out its use but all we know is this is perfect to be installed on your bike or kayak for those "Yolo" trails you plan to conquer.
2. Thumbs Up! Glow in The Dark Toilet Paper
There aren't enough explanations for this toilet paper's existence, but isn't this cool? Let's say you're camping somewhere at night and suddenly nature calls you. Before you run and look for that safe place to mark your territory, you can just easily find and grab that glowing toilet paper. Now imagine yourself wiping off with relief using that in the middle of darkness. Let's hope no one's watching.
3. Arrowhead Equipment Glow Mini Zipper Pulls
Besides using these for your travel bags or pouches, these zipper pulls can also be tied around your tent's metal pulls so you can easily see that zip when you needed to get out fast with a glow-in-the-dark toilet paper on your right hand. Just kidding!
4. Ultimate UST Portable Camping 30-Day Glo LED Lantern
You're enjoying the warmness and brightness of campfire and suddenly it's all gone. Just easily grab this lantern without a fuss and light it up.
5. Farza Glow-in-the-dark Flipflops
You're in a hostel and you wanna go out a bit to pee or something. You jump off your bed and look for your flip flops but you can't just turn on the lights because duh – it's 3am (unless you want to annoy everyone). Well, no worries, glow in the dark flip flops are here so you can easily slip in your feet and sneak out. It could be a bit annoying in the dark so just hide it under the bed before sleeping.
6. Dorcy Pocket Flashlight
Curious you enter a cave and as you walk in, it starts to get dim and you know you can't miss those cave formations and underground creatures. Never waste time digging in your backpack because look, your flashlight is already visible, glowing, and calling you to grab it now.
7. Pure Fix Glow Bikes
You don't want to get hit and run during your long cycles to faraway places. Be the king of the lane with this totally glow-in-the-dark (and attention-grabbing) bike. One hour of time it spends under the sun is equals to one hour of Day-Glo at night.
8. New Balance High Visibility Beacon Jacket
And if you also want to be visible on the road while cycling (or running) at night, a lightweight, glow-in-the-dark jacket is what you need. Just don't forget to charge it of course.
9. Coleman 2-Person Youth Glow-in-the-dark Tent
Get your kids all hyped up for camping with this tent because seriously, they'll love it.
What do you think about these items?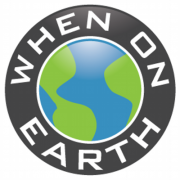 WOE Media
When On Earth Magazine is for people who love travel. We provide informative travel guides, tips, ideas and advice regarding places to see, things to do, what to taste, and much more for world travelers seeking their next dream vacation destination.