8 Surreal Natural Places You Must Visit in Hokkaido, Japan
Every time we think about Japan, the usual destinations like Tokyo, Kyoto, and Osaka often comes into mind first. However, these sites shouldn't be the only places you should tick off from your Japan destination list for there's more – definitely more. One of these destinations worth paying attention to is Hokkaido.
Hokkaido is the northernmost and biggest prefecture in Japan. It is also known as the coldest. These facts may intimidate travelers, but these shouldn't be. Hokkaido boasts its fresh seafood, fruits, and milk, gardens, and ski resorts. But the main thing that allures visitors to go all the way up north is its natural attractions, including some of the country's best national parks and hot springs. Here are some of the best natural attractions in Hokkaido.
Jigokudani
Hell is a place you'll find on Earth and it's unexpectedly a paradise in Japan where hot steam oozes off the ground creating a faint scent of sulfur. Welcome to Jigokudani, also known as Hokkaido's "Hell Valley". The valley offers walking trails which you can take for 20 to 30 minutes until you reach the sulfurous pond of Oyunuma and another hotter pond nearby. Enjoy the surreal views of mountains and other hot springs and when the cold night has come to bite your skin, it won't be a bad idea to dip your toes in an onsen (hot spring).
Cape Kamui
More amazing views are about to surprise you in Hokkaido and Cape Kamui's specialty is its odd rock formations that'll make you feel like you've just walked into another world. It can take you about 2-3 hours to stroll around the lush greenery while being surrounded by the blue sea. At the tip of the cape, you'll reach the lighthouse which guarantees to give you gorgeous views you won't forget.
Shiretoko National Park
Cliffs, forests, streams, and wildlife are all the things you can witness with your own eyes in Shiretoko. You'll definitely enjoy this world natural heritage site especially when you're interested in meeting Hokkaido dears and brown bears (or maybe just see their footprints). Moreover, the national park is known for its Five Lakes, Kamuiwakka Falls, and the Shiretoko Pass which is the highest point in the park that lets you see views of Mt. Rausu and Kunashiri Island.
Rishiri-Rebun-Sarobetsu National Park
The Rihiri-Rebun-Sarobetsu National Park is composed of the small islands of Rishiri and Rebun, and the marshlands of Sarobetsu. Each of these areas has their own unique highlights. The round island of Rishiri in the Sea of Japan is known for its dormant volcano, Mount Rishiri, where you can do a full-day hike. The neighboring Rebun Island is known for its rich flora and some alpine flowers that can't be found anywhere else. Lastly, Sarobetsu is a coastal plain and low-lying moor where you can enjoy walking through wooden trails and explore the wetlands.
Blue Pond
When you see it through your laptop screens, you'll think that the Blue Pond is an amazing work of art, all man-made and photoshopped. The truth is, it's all real and you'll find this eye-cooling pond just outside the hot spring town of Shirogane Onsen. The Blue Pond is actually a part of an erosion control system built to avoid damage to the small town of Biei in case the nearby Mount Tokachidake erupts.
Daisetsuzan National Park
Hokkaido's biggest protected park, Daisetsuzan National park, is an over 2,000-square kilometer paradise for nature lovers especially those who want to see the unspoiled area of Japan. Moreover, you'll find almost every natural form in Daisetsuzan including forests, wilderness, 16 peaks towering over 2,000 meters, and a group of stratovolcanoes.
Lake Toya
Lake Toya is a lake that never freezes even during winter which makes it good to visit at any season. Near the lake, you'll find the active Mt.Usu which erupts on a cycle of between 30 to 50 years with the year 2000 as its last eruption date. While around Lake Toya, you can enjoy fishing, hiking, camping, or relaxing in a nearby onsen.
Shikisai no Oka
You've been through hell (number 1) and a surreal blue pool (number 5), so how about turning more fantasies into reality by walking around a rainbow? Shikisai no Oka is a famous tourist spot in Hokkaido known for its panoramic flower gardens. From spring to fall, you'll have a chance to witness a field of colors made by the different species of flowers creating amazing scenery and an air of flowery fragrance.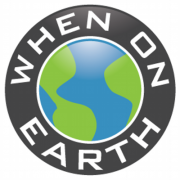 WOE Media
When On Earth Magazine is for people who love travel. We provide informative travel guides, tips, ideas and advice regarding places to see, things to do, what to taste, and much more for world travelers seeking their next dream vacation destination.