5 Creepiest Trees Around the World
Just like humans, trees have their own unique personalities. They can be inviting, lively, plain boring, or just left unnoticed. Of course, no one bothers to stare at a tree trunk and search for nothing, but there are some trees that possess too much charm that easily attracts people. Others though, have too much negative energy around them that the tree itself reflects it in a not-so-attractive way. With or without spirits, in the end, it could just be our wild imagination.
Here are 5 of the creepiest trees around the world:
1.  Island of the Dolls, Mexico
Expect to see more than 1500 dolls all happy (or maybe not) to meet you once you step on the man-made island of La Isla de las Muñecas in a southern borough of Mexico City. Look carefully as someone might be just sitting behind you; or left strangled, impaled, and hanging on a tree.  The trees here are no doubt creepy because of these dead-eyed dolls collected by a farmer who wanted to protect himself from a ghost.
2. Millenium Tree, Aurora, Philippines
The Millenium tree is known to be the largest Balete tree in Asia, which takes 60 adults to encircle it with their outstretched arms. It isn't just known for its record-breaking size, but legend has it that this 600 year old tree had caused a family member and a hired bulldozer operator to be ill after the land owner wanted to remove the tree from his property. As always, a Balete tree – whatever the size is – is still a Balete tree, known to be mysterious and haunted.
3. Rosaries in Trees, Salta, Argentina
Thousands of people walk up to a hilltop shrine in the city of Salta, northern Argentina every Saturday, from March to December, to receive Maria Livia's blessing. It is claimed that Our Lady appears and communicates with Maria Livia and her simple touch blesses a devotee, making that person faint and fall to the ground. Maria Livia's shrine of La Virgendel Cerro, (The Virgin of the Hill) is known for its odd tree with thousands of rosaries hanging from its branches.
4.  Wat Phra Mahathat, Thailand
Wat Phra Mahathat is a Buddhist Temple in Phitsanulok, Thailand. If you roam around outside the temple, you might have a chance to notice a tree with an actual Buddha head with the tree's roots around it. The Buddha head was separated from its body a hundred years ago during the Burmese sacking of Ayutthaya in Thailand.
5. Aokigahara, Mt. Fuji, Japan
Before hiking up the great Mt. Fuji in Japan, you might want to take a stroll first and head to its northwestern base. You can walk into some ice caverns and relax in the forest's silence due to absence of wind and wildlife. If you heard someone scream, just take a deep breath and remember you're in Aokigahara a.k.a. Japan's Suicide Forest, the world's second-most popular place for suicide. Of course, there's nothing else to see in here but if you're unlucky enough, a corpse hanging on a tree behind you will be quite a terrifying remembrance.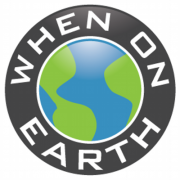 WOE Media
When On Earth Magazine is for people who love travel. We provide informative travel guides, tips, ideas and advice regarding places to see, things to do, what to taste, and much more for world travelers seeking their next dream vacation destination.