31 Amazing Crater Lakes Around the World
Crater lakes are amazing surprises that await you on volcanoes, which you've probably always thought contained nothing but deep boiling lava. If you're fortunate enough to hike to one (make sure it's allowed), you'll witness a variety of colors from turquoise blue to crimson pools that are maddeningly unbelievable. We've compiled a list of the world's most stunning crater lakes. We hope you enjoy.
1. Lake Quilotoa, Ecuador
Lake Quilotoa is a water-filled caldera found on the most western volcano of the Ecuadorian Andes located in Cotopaxi Province. The crater lake can be accessed by going through the hiking trail of Quilotoa loop which passes through some remote Andean villages in Ecuador. Hiking this trail usually takes 3-4 days or shorter by taking the bus between towns.
2. Lake Pinatubo, Philippines
In 1991, Mount Pinatubo erupted, which lead to destruction of its original summit. This event resulted in a highly acidic lake, but abundant rainfall helped to form a larger lake with  normal pH.
3. Okama Crater Lake, Mount Zao, Japan
of the Zao mountain range. It has a highly acidic water and its surface magically changes color depending on the sunlight.
4. Inferno Crater Lake, Waimangu Volcanic Valley, New Zealand
The largest geyser-like feature in the world, the Inferno Crater Lake continues to be a boiling blue natural pot with water temperatures that range from 35 to 80 °C (95 to 176 °F), with acidity up to pH 2.2. The lake was formed from a blast on the side of Mount Haszard as part of the 1886 Mount Tarawera eruption.
5. Kerið, Iceland
Kerið, Anglicized as Kerith or Kerid, is a volcanic crater lake located in the Grimsnes area in south Iceland. It is also known as the Golden Circle and it is one of the popular crater lakes in the area called Western Volcanic Zone.
6. Ljótipollur, Iceland
Ljotipollur means 'Ugly Puddle' but even the ugliest can be beautiful, right? This beautiful red lake is located in the south highlands of Iceland, in the southernmost crater in the Veidivotn fissure system.
7. Whakaari, New Zealand
Whakaari, also known as White Island, is an active andesite stratovolcano 48 km from the east coast of the North Island of New Zealand. An eruption in 2000 has created a new crater that was later turned into a lake.
8. Crater Lake, Oregon, USA
The Crater Lake in Oregon can be considered as one of the well-known calderas in the world because of its deep blue color and water clarity. It's the main feature of Crater Lake National Park filling a nearly 655-meter deep caldera. The Crater Lake is also known as the deepest lake in the United States.
9. Lago de Moka (aka Lago de Biao), Equatorial Guinea
Lago de Moka rises 1,500 meters above sea level and is 70 kilometers from the capital city of the Equatorial Guinea. Named after a former local king of the Bubi ethnic Equatorial Guinea. Today it is a tourist spot and rest, plus a protected part of the Luba Crater Scientific Reserve area.
10. Lonar Crater Lake, Aurangabad, India
Lonar Crater Lake is a saline soda lake located in Lonar, India. The over 6,000-year-old lake is both saline and alkaline in nature and by-products such as common salt are formed along with the carbonates of soda on the shores of the lake.
11. Yugama, Mt. Kusatsu-Shirane, Japan
Yugama is the name of the crater lake that lies at the summit of Mt. Kusatsu-Shirane. It is known as the most acidic lake in Japan.
12. La Cumbre Volcano, Fernandina Island, Galapagos
La Cumbre Volcano can be found in the uninhabited Fernandina island, known as a pristine island unique for having no mammals introduced to the island.
13. Maly Semyachik Volcano, Kamchatka Peninsula, Russia
The Maly Semyachik Volcano in Russia is a stratovolcano which includes the active Troitsky Crater filled by a hot, acidic crater lake
14. Deriba Crater, Jebel Marra, Sudan
The Deriba Crater on the highest point of Jebal Marra has inner crater filled by a crater lake. Precipitation doesn't enter the inner crater lake due to its walls being higher than the adjacent caldera floor.
15. Hnausapollur (Bláhylur), Fjallabak Nature Reserve, Iceland
Lake Hnausapollur is one of the two crater lakes (the other is #9's Ljotipollur) found in the Veidivotn System south of river Tungnaa.
16. Rano Kau Crater Lake, Easter Island
The Rano Kau Crater Lake can be easily recognized with its floating isles of grass. The crater lake is found at the bottom of Rano Kau whose eruption caused Easter Island to emerge from the open sea.
17. Öskjuvatn Lake, Iceland
Öskjuvatn Lake is situated in the crater of the volcano Askja in the north-east of the glacier Vatnajökull. The lake was created after an enormous volcanic eruption in 1875. The crater lake is considered to be Iceland's second deepest lake.
18. Lake Toba, North Sumatra, Indonesia
Lake Toba isn't just like any other crater lake – it's already what you call a supervolcano. The lake itself is a site of a massive supervolcanic eruption that's known to be the largest explosive eruption on Earth in the last 25 million years.
19. Lake Segara Anak, Mount Rinjani, Lombok, Indonesia
Formed in the caldera of Mount RInjani, Danau Segara Anak spans an area of about 11 square kilometers. The stunning blue lake is over 2,000 meters above sea level.
20. Ijen, East Java, Indonesia
Visit Ijen volcano and you'll experience being surrounded by splashes of yellow and turquoise. Over 3 kilometers of hiking will lead you to the surreal green lake surrounded by sulfur that makes the scenery atop the volcano unusual. Ijen is a main source of livelihood for the locals who mine the sulfur found in the volcano.
21. Cuicocha, Ecuador
Cuicocha is a 3 km wide caldera and crater lake found at the foot of Cotacachi Volcano in the Cordillera Occidental of the Ecuadorian Andes. The name Cuicocha actually means "Lago del Cuy" or Guinea Pig Laguna in English because of the guinea pig-shaped island in the middle of the lake.
22. Lake Guatavita, Colombia
If you're familiar with the legend of El Dorado, Lake Guatavita might ring a bell for it's known as one of the sacred lakes of the Muisca. But besides being a legend's setting, the circular lake is one of Columbia's major ecotourism sites.
23. Ambae Island, Vanuatu
Ambae Island in Vanuatu is often hidden under the clouds and when it's finally exposed, twin crater lakes can be seen from above, attracting eyes for their emerald color. The island is considered to be Vanuatu's largest volcano.
24. Blue Lake, Mount Gambier, Australia
If you're into a crater lake that changes its shades of blue depending on the season, the Blue Lake is for you. From late March, the lake has dark blue color that later changes into a deep turquoise color from early November.
25. Diego de la Haya, Costa Rica
Diego de la Haya is a 91-meter deep crater lake known to transform its mineral-rich waters from emerald-green to crimson-red. This crater lake can be found in Cordillera Cental's Irazu Volcano.
26. Kasatochi Island Crater Lake, Alaska, USA
Kasatochi Island Crater Lake measures around 1 kilometer across with a water level that sits about 20 meters above sea level. The island where the crater lake is situated is a member of the Aleutian islands, found on a narrow ridge that separates the Bering Sea from the North Pacific.
27. Lake Maninjau, West Sumatra, Indonesia
Several villages surround a magnificent crater lake named Maninjau. The crater lake is a great spot for swimming,  fishing, and watching the sunset.
28. Katmai Crater Lake, Alaska, USA
Mount Katmai is a large stratovolcano included in the five vents that surround the Novarupta volcano. The crater lake found in Mount Katmai has a maximum elevation of 2,047 meters.
29. Mount Ruapehu's Crater Lake, Tongariro National Park, New Zealand
Mount Ruapehu is one of the world's most active volcanoes and the largest active volcano in New Zealand. Warm acidic crater lakes form between every major eruption of Mount Ruapehu fed by melting snow. However, these crater lakes are emptied out after these major eruptions.
30. Heaven Lake, China and North Korea
Right at the border of China and North Korea, a lake lying atop the volcanic Baekdu mountain is some kind of a place they call heaven. It's popularly known as Heaven Lake, Cheonji in Korean, and Tianchi in Chinese. But whatever you may call it, it's a surreal spot stored with legends such as being the site where a lake monster resides. Legend even claimed Kim Jong-Il was born near this lake. (Maybe a connection, anyone?)
31. Pingualuk Lake, Quebec, Canada
The Pingualuk Lake fills in the hollow of Pingualuit Crater located in the Ungava Peninsula of Canada. It's considered as one of the deepest lakes in North America holding some of the purest fresh water in the world.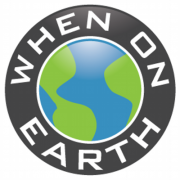 WOE Media
When On Earth Magazine is for people who love travel. We provide informative travel guides, tips, ideas and advice regarding places to see, things to do, what to taste, and much more for world travelers seeking their next dream vacation destination.