22 Most Vibrant Light Festivals You Should See
There's no need to feel gloomy during the winter season as light will guide you through the darkness and leave your eyes mesmerized once you see an entire place light up with art, music, interactive light installations,and and everything vibrant. Where are these different places where you can have fun with light? Read on to know more.
GLOW, Eindhoven, Netherlands
GLOW is an annual light festival in Eindhoven displaying bright installations, sculptures, projections, and performances created through a collaboration of different artists, designers, and architects.
Kobe Luminarie, Japan
Kobe Luminarie is a light festival held every December in Kobe, Japan. It was originally celebrated as a commemoration to the victims of the Great Hanshin Earthquake of 1995.
Amsterdam Light Festival, Netherlands
The city of Amsterdam lights to beat the dark winter season and visitors can either choose to view the light-filled waterways via boat or walk around the illuminated streets of Weesper and Plantage in Amsterdam East.
SIGNAL Festival, Prague, Czech Republic
One of the most visited cultural events in Czech Republic, the SIGNAL Festival catches eyes through their video-mapping exhibits, and interactive and light installations located at the city's historical sites.
International Commerce Center Light and Music Show, Hong Kong
It's not a once in a year kind of show but more of a daily entertainment for tourists. The International Commerce Center Light and Music Show takes place on two of the skyscraper's giant facades and it happens twice nightly.
Lights in Alingsås, Sweden
Every October, lighting designers transform typical evenings in Alingsås into a gleaming, futuristic space where around 80,000 people visit just to experience this rare opportunity called Lights in Alingsås.
Lux Helsinki, Finland
Lux Helsinki is arranged in the beginning of January featuring light artworks by both international and Finnish artists.
Vivid Sydney, Australia
Sydney's most spectacular light event, the Vivid Festival is an 18-day event featuring interactive displays created by combining light, music, and ideas.
i Light Marina Bay, Singapore
iLight Marina Bay is Asia's only sustainable light art festival that transforms the Marina Bay waterfront into a space of light and color with the aid of recyclable materials and energy-efficient lighting technologies brought by participating artists from around the world.
Winter Light Festival, Nagashima, Japan
The Winter Light Festival runs annually from mid-November to mid-March in Kuwana City's flower-filled park, Nabana no Sato. One of the famous attractions in the botanical garden is its tunnel of light.
Harbin Ice and Snow Festival, Harbin, China
The Harbin Ice and Snow Festival is held annually from January 5 and lasts for over a month. Visitors from all over the world visit Harbin for its breathtaking ice and snow sculptures, and the best part of it: the Ice Lantern Festival.
Festival of Lights, Berlin, Germany
In Berlin's Festival of Lights, the city's historical monuments such as the Brandenburg Gate, Berlin Cathedral and the Funktrum are illuminated for ten days through light projections and video art, together with various art and music events.
Light Festival, Ghent, Belgium
Every three years, Ghent reveals its hidden charm as the sun sets and its historical monuments show up with different art installations all controlled by light.
Loi Krathong Festival, Thailand
It's a different take in Thailand for its Loi Krathong Festival as they use lotus-shaped rafts decorated with candles, incense, and flowers, and launch them onto the rivers, lakes, and canals of the city. It coincides with the northern Thai festival known as Yi Peng where sky lanterns are launched into the air.
Diwali, India
Diwali is celebrated on a nationwide scale on Amavasya, around October or November, every year. The glamorous festival gets its name from the row (avali) of clay lamps (deepa) that Indians light outside their homes. It won't be complete without family gatherings, clay lamps, fireworks, bonfires, and more.
Giant Lantern Festival, San Fernando, Pampanga, Philippines
Held every December in San Fernando City, the Giant Lantern Festival features a competition of giant lanterns.
Festival of Lights, Lyon, France
Lyon's most famous festival, the Festival of Lights runs for four nights, each with a different theme, color scheme and vibe with the help of music and sound effects.
 VanDusen Botanical Garden Festival of Lights, Vancouver, Canada
For the whole month of December, over one million lights turn VanDusen Botanical Garden into a magical wonderland where you can stroll through interactive and themed areas and watch the Dancing Lights show.
Lumiere Durham, UK
UK's largest light festival, Lumiere, transforms the city of Durham into a live artwork for four evenings with the extraordinary art installations brought by  participating artists from around the globe.
Dandenong Festival of Lights, Melbourne, Australia
The Dandenong Festival of Lights showcases the Chinese culture in Australia through silk lanterns and colorful light displays along with ambient music. Other than the bright lanterns in different shapes and sizes, the festival has stage performances, exhibits, and more.
Reykjavík Winter Lights Festival, Iceland
Winter days are also days of darkness. However, that's not the case in Reykjavik as they enjoy the annual Winter Lights Festival where large scale light installations liven up the city together with the participation of the city's major museums, ski resorts, and thermal pools.
Light in Jerusalem Festival, Israel
Walk along the illuminated trails of Jerusalem during its Festival of Light where historical sites of the Old City blend in with the modern and artistic projections.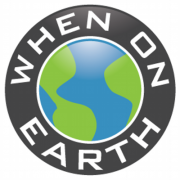 WOE Media
When On Earth Magazine is for people who love travel. We provide informative travel guides, tips, ideas and advice regarding places to see, things to do, what to taste, and much more for world travelers seeking their next dream vacation destination.