20 Romantic Beaches Around the World
So where do the lovebirds flock to the rest of the year? There's a good bet that they'll be at some of these romantic beaches, known around the world for their beautiful landscape and friendly locals. Whether for a romantic getaway, honeymoon, or just a relaxing vacation, these top 20 sexiest beaches are sure to be the best places to get you and your significant other in the mood for love.
20. Grande Plage
This beach in Biarritz, France is probably the most famous in the country. It has hosted several surfing competitions, has lots of sunbathers in the summer, and is full of fun activities for you and you significant other to enjoy.
19. Tulum Beach
Belonging to the coastal city of Tulum, Mexico, this beach is a historically appreciated beauty. It was an important city in the traditional Mayan culture of the area. With light sand and crisp light blue waters, anyone can see why it's been heralded as a gem for all these years.
18. Crane Beach
Barbados is home to this brilliantly bright beach. The waters are strikingly bright blue and the
surrounding vegetation is bright green and glowing with life. This beach makes a beautiful escape of a vacation from daily life.
17. Mustique Island
St. Vincent and the Grenadines is a tiny island country in the Caribbean. Since it's so small and so little known, the beaches there provide a unique and secluded experience for couples vacationing there. With blue-green waves, even the beach could captivate your lover's heart.
16. Ko Phi Phi Don Island Beaches
Thailand is usually not the country people think of when they think beautiful beaches, however, the beaches here are sure to be near the top of your list after you see its scenic views and gorgeous sunsets.
15. Bora Bora (Matira Beach)
Tahiti is known for its breathtaking beaches. But unfortunately for vacationers, most of them are privately owned. Thankfully visitors to the country can enjoy at least one of the famous beaches, as the beautiful Matira beach is open to the public.
14. Venice Beach
You might assume this is an Italian locale, however Venice Beach is actually in California. It's well-known across the USA for its beautiful and fit sunbathers. You can find lots of them playing frisbee or volleyball, relaxing in the sun, or swimming in the ocean. It's a great choice for more active couples.
13. Vieques Island
This island in Puerto Rico is delightfully secluded. It is said that you can walk for even a mile or two and not come across other beach-goers. The island is also home to the fascinating bio-luminescent bays which provide a natural and enchanting activity for visitors.
12. Miami Beach
Miami Beach, Florida is not only known for its beach-bathing beauties and lovely views, but also for its cultural diversity. Foodie couples will be delighted that they can find authentic food from many countries in this small area, and may also enjoy the music and parties.
11. Angra Dos Reis
Brazil is home to three of our top 20 sexiest beaches of the world, and there is a reason. The country offers a vibrant culture to compliment its very beautiful beaches. Angra Dos Reis lives up to its name in splendor — it translates to "King's Cove."
10. Bondi Beach
This beach in Australia provides more of an adventurous vacation opportunity than some of the others on this list. The beaches are lined with rock cliffs and have plenty of opportunities for activity in and around them. The beach is known primarily for its large waves of surfers and its topless sunbathers.
9. Copacabana Beach
According to the classic song, this beach is legendary, even enough to have nightclubs in America named after it. It's one of Rio's historical hotspots for visitors and is known for its beautiful sunbathers, as well as its parties and nightlife.
8. Las Terrenas
If you're looking for a gorgeous beach with a little more privacy, few beaches will be a better match than Las Terrenas in the Dominican Republic. The beach is even a favorite hotspot for celebrities because of its seclusion and beauty.
7. 75 Mile Beach
These vibrant green-blue waters sparkle in the sunshine, and people have noticed. Think of 75 Mile Beach in Queensland, Australia as exactly the way you'd want a beach to look. The breathtaking island is home to many uniquely Australian species, along with all those beautiful views.
6. Diani Beach
Kenya isn't exactly viewed as a place with particularly popular beaches which means that this lovely beach won't probably be too crowded with tourists. But that doesn't mean it isn't amazing! The sunset views in Diani Beach are unrivaled.
5. Angali Beach
This beach in Greece will provide visitors with the classic deep blue waters and clean white beaches along with the amazing culture, delicious food, and classic architecture that only Greece can offer. Truly a wonderful and unique beach experience.
4. Tenerife Beaches
The Canary Islands are a popular destination for many couples, and of all the beautiful beaches of the area, the Tenerife Beaches certainly stand out in their seclusion and their interesting variety. Some of them even have black sand!
3. The Republic of Maldives Beaches
The Republic of Maldives is a group of tiny islands in the Indian Ocean. As the only Indian Ocean location on our list, it provides a unique experience, with some of the clearest waters in the world.
2. The Republic of Seychelles Beaches
This island country consists of fewer islands, but contains just as much beauty as (if not more than) The Republic of Maldives! It has been the honeymoon location of several famous faces from royalty to movie-stars.
1. Ipanema Beach
This beach is on the top of our list, and it is hot, hot, hot! The gem of Rio, this beach tops off even its neighbor, Copacabana, because of the youthful beauty of its visitors. The people of Rio aren't shy, and you can tell because of the skimpy bikinis. The popular beach is sure to be a beautiful blast for you and your significant other.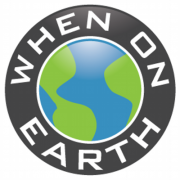 WOE Media
When On Earth Magazine is for people who love travel. We provide informative travel guides, tips, ideas and advice regarding places to see, things to do, what to taste, and much more for world travelers seeking their next dream vacation destination.