20 Fabulous Spots to go Freediving
Freediving is an experience like no other. The sport is competitive and exhilarating but most of all a test of self-endurance. Divers take just one breath and rely on their willpower to stay down deep and explore the underwater realms. They are at one with their mind and at one with nature.
Whether you're eager to start freediving or you're a professional in the sport, this article looks at 20 of the world's most fabulous spots for going under.
1. Richelieu Rock, Thailand
Richelieu Rock is one of the most beautiful places to dive in Thailand. Its strong currents and limited visibility also make it a great spot for professional freedivers who love a challenge. The area has been described as 'Whale Shark Magnet!' because of the history of shark sightings and the best time to spot these magnificent creatures is between February and May.
But even if you aren't lucky enough to get a sighting there's still plenty of other gorgeous marine life to explore. Pelagic fish such as giant trevallies, barracudas and dogtooth tunas roam the opens while porcelain crabs, tiger tail seahorses, and harlequin shrimp stalk the reefs.
2. Elephant Head Rock, Similan Islands
Named Elephant Head because of the shape of the rock at its surface, this dive site is comprised of a menagerie of arches, caves, and swim-throughs. It's an exciting playground for freedivers who want to push themselves to their limits. Here, you'll spot many a blacktip, whitetip and leopard shark beside huge schools of barracudas and trevallies.
The challenging currents at elephant rock make it another site that's more suited to the freediving pro.
3. SS Yongala Wreck, Australia
The SS Yongala Wreck is recognized as one of the most mesmerizing freediving spots in the world. Lying deep on the ocean's sandy bottom, the former passenger and freight steamer sank in 1911 along with its 124 passengers. The wreck is now home to swarms of marine life, including eels, rays, and sharks.
The visibility at the wreck isn't great and there is often a strong current meaning this spot should definitely be reserved for more experienced freediving. Sometimes, the area is too dangerous for diving at all. But if you do get the chance to go under, you can enjoy spotting groupers the size of small cars, sea turtles and huge schools of barracudas gliding by.
4. Crystal Bay, Bali
Crystal Bay is the most famous dive site in Bali. The marine life, in general, there isn't too busy but it is the place to find the Mola Mola – the huge ocean sunfish. The best time to dive is during August and October where you'll need to reach depths of 30m to be in with the chance of a sighting. On your way down, you'll also spot some beautiful coral.
This dive site is also reserved for more experienced freediving as the downward current can be pretty strong.
5. Batu Bolong, Komodo Islands
At the surface, Batu Bolong appears as though it's just a small rock with a hole but underwater it stretches 70m down and is home to a whole array of wonderful marine life. You'll spot huge schools of fish near the surface as well as many napoleon wrasses, dogtooth tuna and giant trevallies hunting the deeper areas.
As you go deeper the currents get stronger but if you can make the challenge then you'll find beautiful white tip sharks sleeping on the slopes. And what's more, diving at Batu Bolong makes for a fabulous experience all year round.
6. Cod Hole, The Great Barrier Reef
Located in the Great Barrier Reef, the Cod Hole dive site is famous for its crowds of friendly potato cods. This dive site has great visibility and hardly any currents making it much easier for the amateur freediver.
You should spot your first cod at about 15m deep. Besides the cod, you'll also find 30kg Maori Wrasses and many other beautiful species of the Great Barrier Reef including Emperor Angel, Trigger Fishes, and Whitetip Reef Sharks.
7. Point Lobos, Carmel California
Point Lobos is a well-preserved freediving site where strict management has ensured that the reefs are pristine and the marine life unmolested. Just beneath the shallows, you'll enter a dense canopy of thick kelp forest where the battle between light and shadow is a beautiful sight. And amongst the forest, you'll find crabs and minuscule snails taking the safety.
There are also lingcod patrolling the edges of the reef, nudibranchs flaunting their colors and harbor seals at the shore. Point Lobos truly is a unique and spectacular site to go freediving.
8. Mary's Place, Roatan Bay Islands, Honduras
Mary's Place is nothing less than a magical realm for taking the one breath dive. Here, the plummeting walls of rock are lined with huge fans of black coral, making the scene one often described as something out of Lord of the Rings.
You can choose to explore the sights from above or to take the challenge of diving in-between the close crevices. The beautiful corals reveal seahorses, anemones, huge rainbow parrotfish, and white-spotted filefish.
9. Barracuda Point, Sipadan
Barracuda point is named so because it's home to some of the biggest shoals of barracudas in all of the world's oceans.
These huddles of fish swarm the waters in a similar fashion to tornadoes to blanket the surface light. And besides the barracudas, there are masses of turtles, reef sharks and bumphead parrotfish patrolling the 22m steep wall.
10. Maaya Thila, Maldives
The waters of the Maldives are renowned for their excellent visibility, beautiful colors and coral reefs.
If you go freediving far offshore then you can encounter some fabulous fish species such as dogtooth tuna, trevallies, butterfly fish and wahoo. If you're lucky you'll also spot the rare and giant Napoleon Wrasse, whale sharks and turtles.
11. USS Liberty Wreck, Bali
If wreck freediving is your forte then you really cannot miss out on the USS Liberty wreck. This is the most famous dive site in Bali and also one of the most spectacular wrecks in the world. The Liberty ship went down when it was hit by a Japanese torpedo in 1963 causing it to a beach before the eruption of Mount Agung pushed it off to the beach into the deep.
It can now be found on a sandy bank quite close to the surface making this wreck a perfect freediving site for the beginner. The USS Liberty Wreck also makes for a spectacular night dive.
12. North Horn, Great Barrier Reef
With just a gentle current and excellent visibility, the North Horn dive site is perfect for a more relaxed, and yet scary, freediving experience.
Located on the Osprey Reef, at this spot you'll have a great chance of spotting all the sharks of the Barrier Reef, including the Great Hammerhead sharks, Grey sharks, and the Silvertip. And besides the resident population of sharks, the North Horn site also attracts several species of pelagic fish, including Rainbow Runners, Potato Cods and huge Dogtooth Tunas.
13. Navy Pier, Exmouth, Australia
Located under the Jetty of the Australian Navy, Navy Pier is a more unique freediving site than most. It's also a very easy dive site with hardly any current and maximum dive depth of 15 meters. And yet, the waters in these shallows are teeming with marine life.
All kinds of big and small creatures can be spotted when freediving, including the bizarre Wobbegong Shark, Frog Fish, Nudibranch, Stonefish, and the Whitetip Reef shark.
14. Gran Cenote, Riviera Maya, Mexico
If you love freediving amongst mazes of rocks, walls and crevasses then you should definitely take the plunge at Gran Cenote.
Here, you won't find an underwater world of spookiness but clear water which is suitable for beginners to get an introduction to these kinds of dives. There are also masses of water lilies near the surface that add a beautiful touch to the experience.
15. Kailua Kona, Hawaii
As Hawaii has one of the largest marine reserves in the world, there are several beautiful dive sites to choose from. Kailua Kona is just one of the areas home to spectacular reefs and a whole host of colorful tropical fish, stingrays, sharks, turtles and much more.
At this particular dive site, underwater lights have been placed on the ocean floor to attract plankton and huge manta rays. This makes night freediving a truly beautiful experience where you'll notice multitudes of small species pulsating with color and making their way to the surface to feed.
16. Great Blue Hole, Belize
Outlined by a coral reef and stalked by sharks, the Great Blue Hole at Belize is a natural and spectacular sinkhole that descends to 124m. The contrast between the shallow and deep water makes for an awe-inspiring sight and that's before you've even taken the dive. As you descend, the water becomes cooler and begins to waver as it transitions from salt to fresh at 15m.
You'll notice huge tuna and other pelagic fish roaming the hole and amazing stalagmites of ancient caverns even deeper. Freediving at the Great Blue Hole is eerie but truly fabulous.
17. Rocktail Bay, Kwazulu-Natal, South Africa
With its multitude of fish species, Kwazulu-Natal is recognized as one of the best spots in the world for spearfishing and freediving. The waters here can be quite cold but they are teeming with some of the most stunning tropical fish, including huge pelagic species.
There's even a chance to encounter the rare Tiger Shark and humpback whales at the dive site and between November and February, you'll spot leatherback turtles resting on the sandy shores.
18. Bikini Atoll, Marshall Islands
Bikini Atoll is heaven for divers who enjoy exploring shipwrecks. Famously used as an atomic test site during the 1950s, the sandy banks are now home to several sunken warships and the huge USS Saratoga aircraft carrier.
As the island is contaminated by radiation it's largely uninhabited meaning the marine environments have remained untouched. And the fish life that has flocked to the area is simply stunning. For freediving, Bikini Atoll is like the stuff of dreams.
19. The Bismarck Sea, Papua New Guinea
This site is perfect for the freediver who likes to explore the more intimate wonders of the deep. The reefs here are swarming with weirdly-shaped mico-creatures and some of the most bizarre marine biodiversity on the planet. You'll find all sorts of life slithering, crawling and hopping along the coral.
And the Bismarck Sea is also a fantastic spot for a night dive. Besides all the huge schools of fish, you'll spot the more unique sponge crabs, squat lobsters, and pygmy seahorses. In fact, biologists have identified more than 800 marine species in this area.
20. Sipadan Island, Malaysian Borneo
Malaysia's only oceanic island is a magnet for several wonderful species of fish including horse-eye jacks, trevallies and huge schools of barracudas. You'll also spot lots of friendly green turtles and hawksbill roaming nearer the surface.
There's even the chance to spot a shark and the rare mandarin fish. Sipadan Island is more suited to the professional freediver as the currents can be pretty strong.
[su_note note_color="#fafddf" text_color="#000000″ radius="0″]
Related Topics You May Be Interested to Read: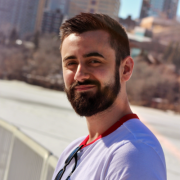 Cameron Dwyer
Cameron is a travel writer, a nomad, a wanderer, a wonderer, a gypsy, homeless. He loves being on the road always on a mission to explore the unexplored destinations.