15 Hideouts for the World's Next Great Supervillain
If the kid in you dreams about that perfect place to plot your plans for world domination, then good news! These next 14 places aren't just good settings for novels, they're also accessible for visiting or sightseeing in real-life. Some are great for getaways and some stay uninhabited and isolated. But who cares? As a powerful villain, no one can stop you from conquering your future hideout! It's all in your imagination.
1. Hellfire Caves, United Kingdom
Hellfire Caves are a network of man-made chalk and flint caverns that extend 500 meters underground. The caves, also known as the West Wycombe Caves, give off a creepy vibe as you walk through their darkness while learning history. Don't be surprised if you chanced upon random faces carved on walls or even a glimpse of 'someone' else.
2. Phantom Ship Island, Oregon, USA
The name already suggests that the island is capable of being an exclusive hideout for a mysterious character. The Phantom Ship sits on Oregon's Crater Lake, showing off a resemblance to a ghost ship especially during foggy conditions.
3. Tindholmur, Faroe Islands
Faroe Islands is an island group located between the Norwegian Sea and the North Atlantic Ocean. One of the eye-catching islets of Faroe Islands is the uninhabited Tindholmur known for its high point that reaches up to 262 meters.
4. Aogashima, Japan
A volcanic island, Aogashima lies isolated in the Philippine Sea yet remained to be populated with more or less 200 villagers. Despite being 358 kilometers away from Tokyo, Aogashima stays as a territory of Japan and even holds the record as the smallest village in the country.
5. Waterfall Island, Iguazu Falls, Brazil/Argentina
Looks fishy right? This is just one of the islands along the 2.7-kilometer-long Iguazu Falls. This huge rock, together with the other small to huge islands, divide the  falls into many separate waterfalls and cataracts.
6. The Needles, United Kingdom
Located in United Kingdom's Isle of Wight, the Needles is a row of three stacks of chalk with a lighthouse at the end of the formation. The Needles were once a site of a long standing artillery battery from the 1860s to 1954.
7. Cape Pillar, Tasmania, Australia
Isolated with attracting cliffs rising to 300 meters high, Cape Pillar proves to be a gem attached to the Tasman Peninsula's coastline. Cape Pillar also offers the best mainland view of Tasman Island.
8. Nishino-shima, Japan
Just like Japan's Aogashima, Nishino-shima is the product of continuous eruptions. The volcanic island is is fairly young and owes its existence to recent eruptions that have expanded the island to a size of 2.3 square kilometers and 110 meters above sea level.
9. Pico Cão Grande, São Tomé and Príncipe
Just like in some kind of fictional story, an adventure almost ends when it's time for the lead character to make a challenging hike up a super high peak for the final fight. Pico Cão Grande perfectly suits this scene with its summit that rises 663 meters above sea level, often covered by clouds.
10. Urup Island, Russia
An uninhabited volcanic island standing in the south of the Sea of Okhotsk, Urup is a part of Kuril's group of islands. It's the fourth largest in the Kuril islands with an area of 1430 square kilometers.
11. Ball's Pyramid, Australia
Lies 20 kilometers southeast of Australia's Lord Howe Island in the Pacific Ocean, Ball's Pyramid is a 1800-feet high remnant of a dead volcano. This rock is actually a hideout of the giant stick insects scientifically known as Dryococelus australis.
12. Cleft Island (Skull Rock), Australia
Off the coast of Victoria, you'll see a huge rock that looks like it opened its mouth open. For the locals, they call it Skull Rock but officially, you can call it as Cleft Island. Unfortunately, only a few were able to wander around the island and its open area. People can't land on the shore nor climb up the 50 meter sheer cliff. However, it's possible to land by helicopter (the preferred vehicle of villains everywhere).
13. Fingal's Cave, Scotland, UK
Fingal's Cave is an uninhabited sea cave attracting eyes with its unique structure. This 227-foot cavern in Staffa welcomes people with a walkway surrounded by uneven fractured columns. Sounds fun to imagine that there could be a secret passage to someone's lair but there's none (so far).
14. Fannette Island, California, USA
This cute tiny island named Fannette Island floats above Lake Tahoe, exactly on Emerald Bay which is the California side of the lake. It may look like a great spot for an overnight camping but unfortunately, camping and even swimming around here is prohibited.
15. Mt Thor, Nunavut, Canada
Even the name is totally rad. Mt Thor features our planet's greatest vertical drop of 1,250 m (4,101 ft), with the cliff overhanging at an average angle of 15 degrees from vertical. Let's see them try to get you there!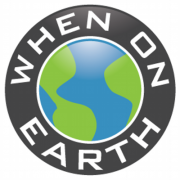 WOE Media
When On Earth Magazine is for people who love travel. We provide informative travel guides, tips, ideas and advice regarding places to see, things to do, what to taste, and much more for world travelers seeking their next dream vacation destination.