The shelter is a basic human need, but for millions of homeless people around the globe, it is a luxury that they simply cannot afford. However, quite a few creative people and organizations have come up with ways to provide affordable shelter to those living on the streets.
Although most of these alternative housing ideas are not meant as a permanent solution, they do offer a way for the homeless to escape the harsh elements while sleeping in safety and comfort.
1. Cardborigami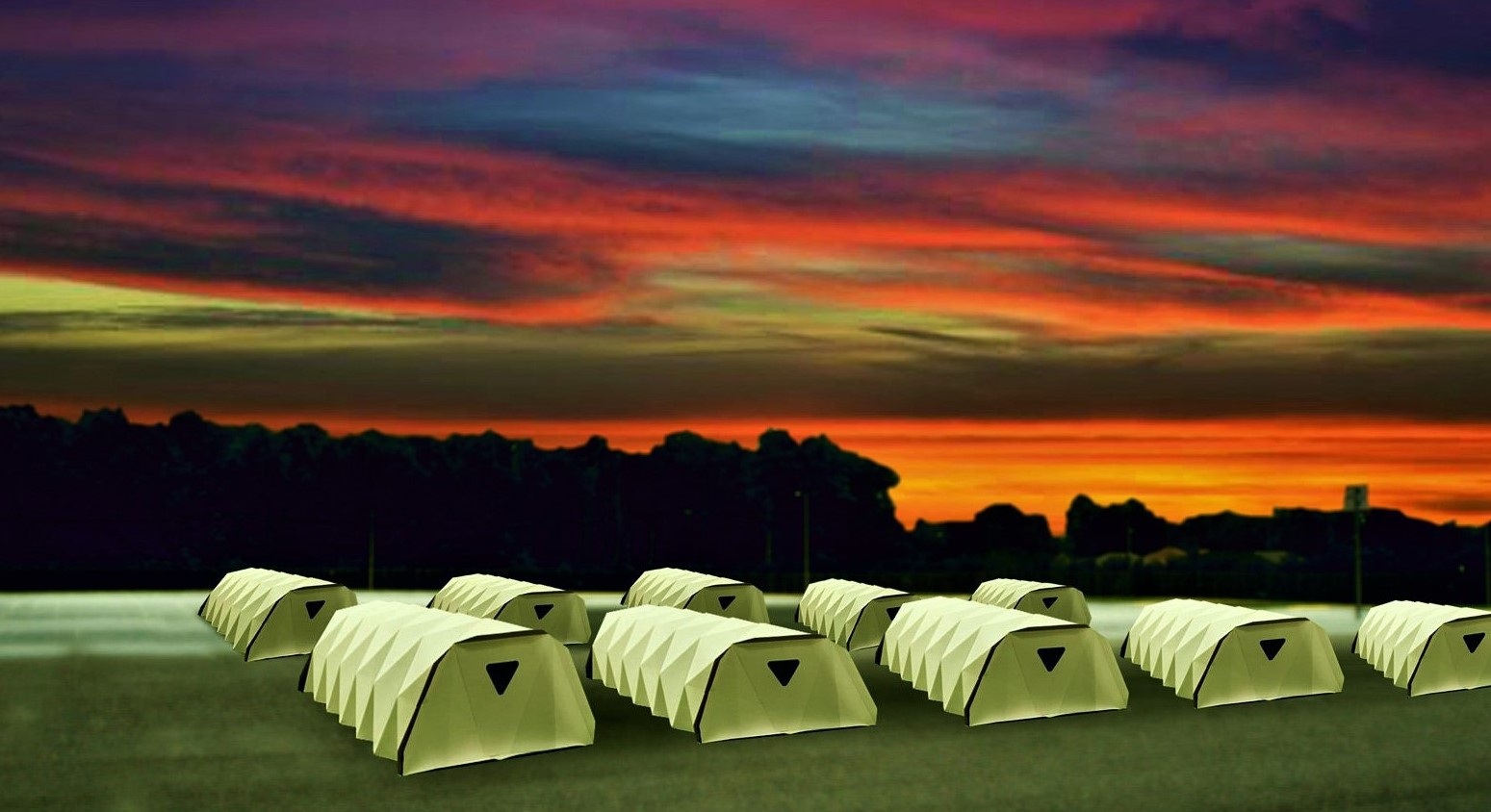 The Cardborigami shelter started out as a prototype by Callison, a global architecture firm, and has since grown into a non-profit organization for helping the homeless.
It is weather-resistant and can handle high winds as well as flames due to its cardboard design, which also makes it light and reusable.
2. Homeless Push Cart
The Homeless Push Card is a creative idea from inventor Paul Elkins.
Despite being relatively small and mobile, his design features a full kitchen, rainwater collection system, and sleeping area. In addition to being secure and watertight at night, the shelter can also be converted into an open space in order to sell wares during the day.
3. Ecocapsule
With its sleek design and ability to generate clean energy, the Ecocapsule not only looks futuristic but can be set up anywhere.
It is also surprisingly spacious, and while the initial design is based around setting it up in nature, the creators are also working on creating a version more suited to urban locations.
As it contains a toilet, shower, folding bed, storage, and kitchenette along with a rainwater collection and filtration system, the Ecocapsule is not just a shelter but a home.
4. De Woonfiets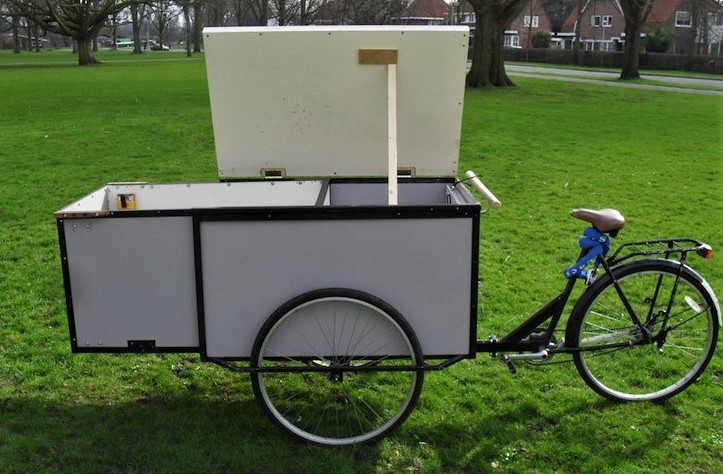 Created by Dutch artist Bas Sprakel, "De Woonfiets" (the Housetrike) is not only designed to provide shelter but mobility as well.
The front section of the bike features a sliding box that opens up into a shelter where a person can sleep protected from the elements. In addition, the box can be used for storage purposes or even deliveries, providing homeless people with an opportunity to earn money as well.
5. Folded Bamboo Houses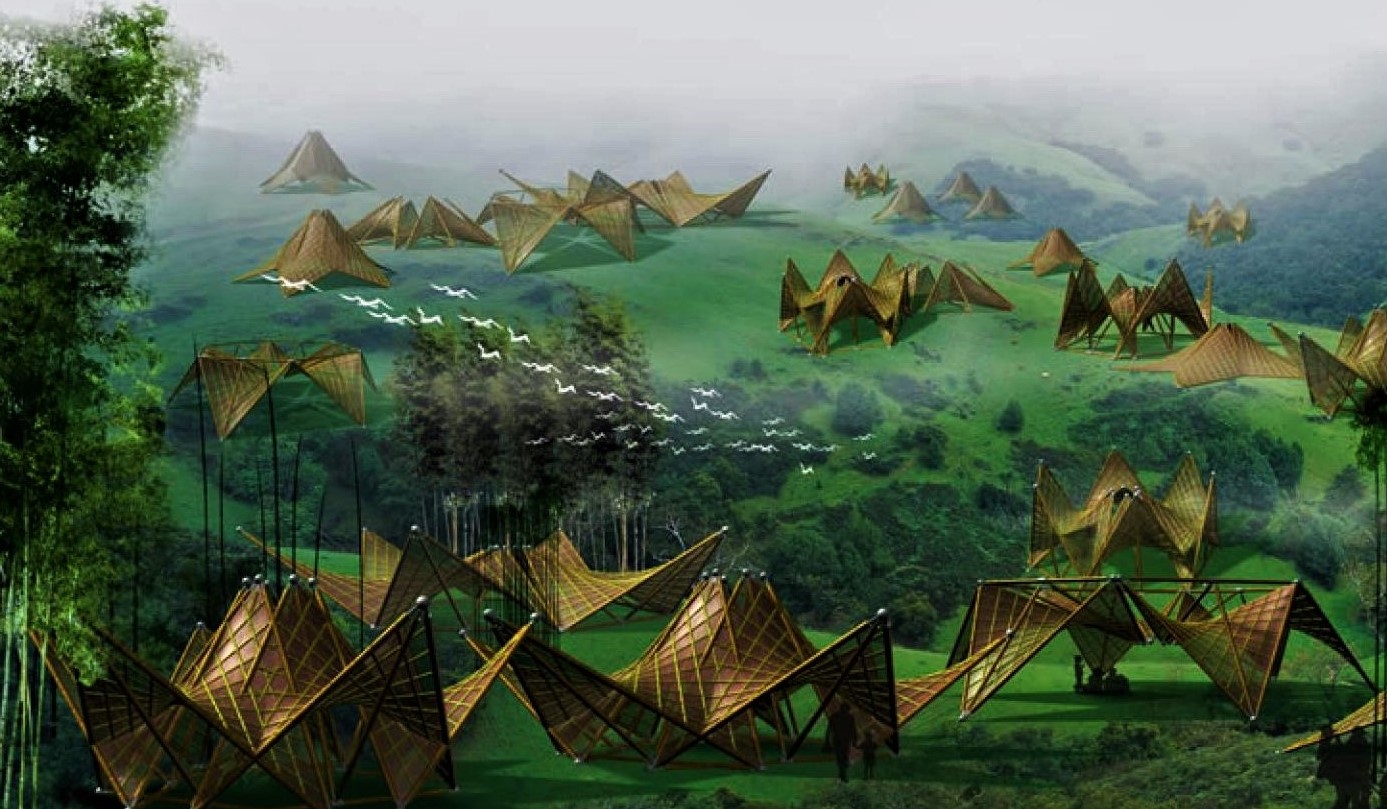 Designed by Ming Tang, the folded bamboo houses not only look beautiful but are also constructed from renewable materials.
According to Ming Tang, he came up with the concept after a 7.9 magnitude earthquake struck central China, leaving millions of people without homes.
Ming Tang also envisioned that the houses could easily be arranged according to the requirements of the dwellers.
6. buBbLe Prototype
Although it is a non-permanent housing solution, the buBble Prototype is designed for easy transportation and to provide all the essential comforts.
This housing alternative features a small kitchen, water hookup, and even lighting, while the plastic bubble skin walls can be filled with any type of material for insulation. It is packed into a compact metal locker and is easy to assemble.
7. EDAR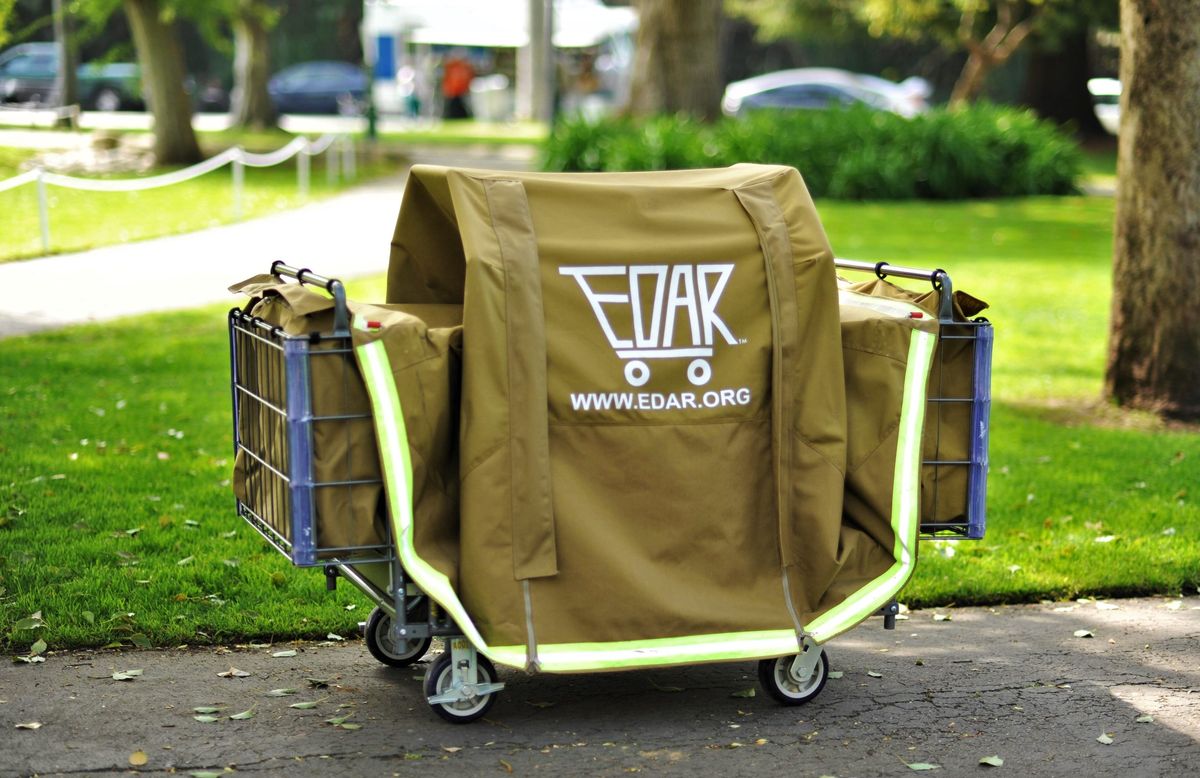 EDAR, which stands for "Everyone Deserves A Roof," is a four-wheeled unit provided for the homeless by a non-profit organization of the same name.
Maneuvering the sturdy and waterproof unit during the day is easy, and at night it can unfold into a tent-like sleeping structure.
It can be secured with locks to protect the belongings of the owner, and at night the translucent windows provide a clear view of the surroundings.
8. Abod
The Abod Shelters Foundation designed their Abod homes to provide safety and comfort at a low cost.
The structure can be assembled in one day and is also customizable, which makes it easy to personalize.
Moreover, the units can even be connected together if larger home structures are required. Finally, the structures can also be moved if required despite being secure and permanent.
9. Portable Shelter
The portable shelter was designed with the needs of homeless people in mind, which means it is compact, weather-resistant, portable, and can be elevated from the ground.
The shelter is also camouflaged and comes with other protective features. When not in use, it can be worn as a backpack and is made from inexpensive materials.
10. Homeless Haven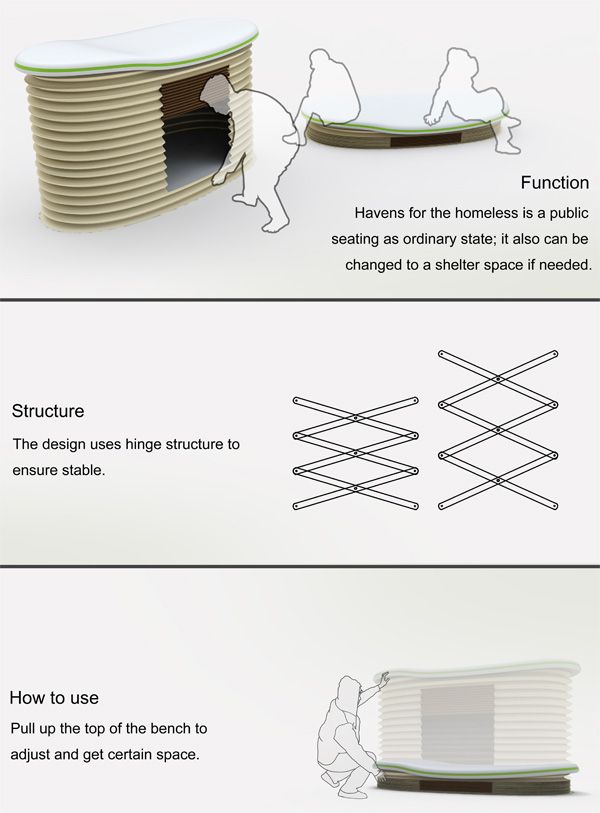 The Homeless Haven is designed to look like an ordinary park bench, but thanks to its expanding accordion design, it can become a cozy shelter at night.
The structure uses hinges for stability and can be adjusted by pulling up the top of the bench.
11. Instant Housing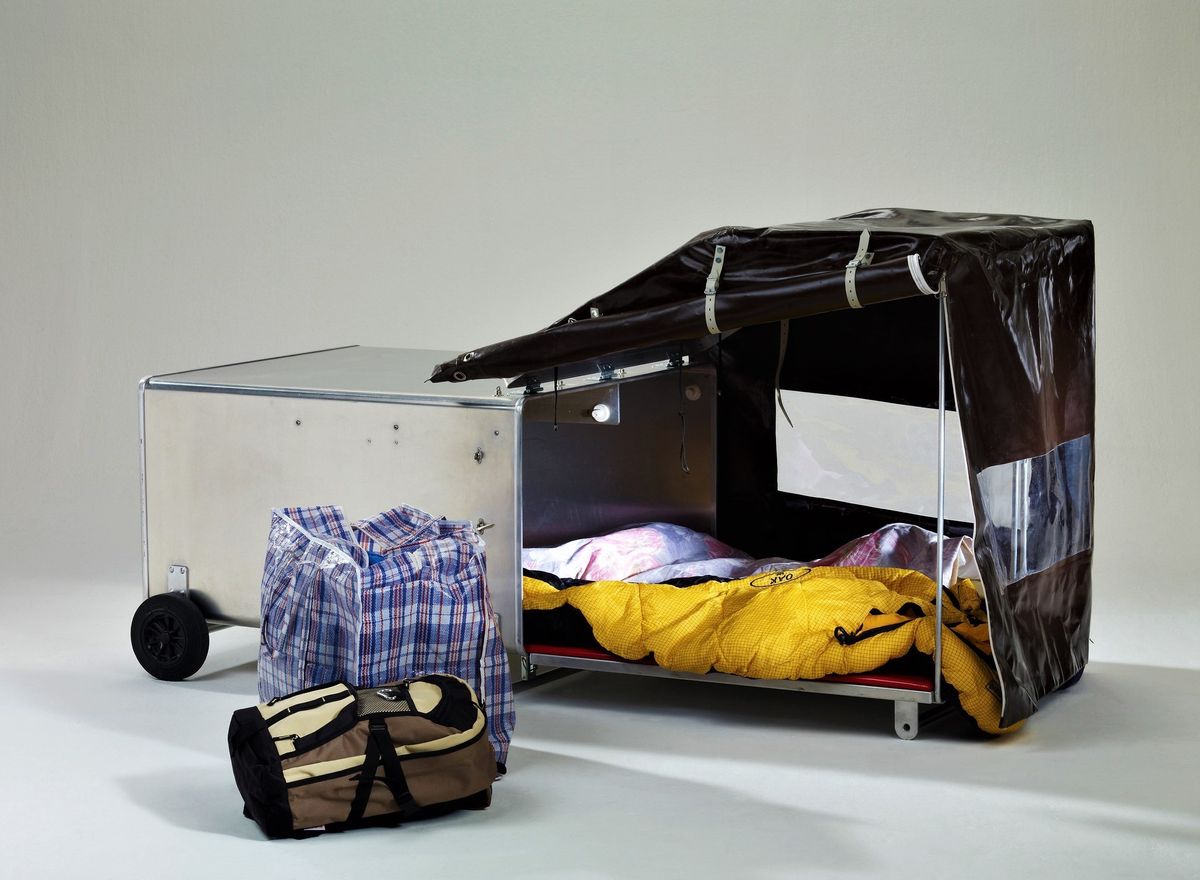 Under the banner of Urban Nomads, Winfried Baumann has created a variety of designs that can provide the homeless with shelter.
His creations are designed to be manageable by a single person and are compact enough to be moved around. In addition, his "Instant Housing" range incorporates small mobile homes that are not only practical and functional but also aesthetically pleasing as well.
12. I-gloobox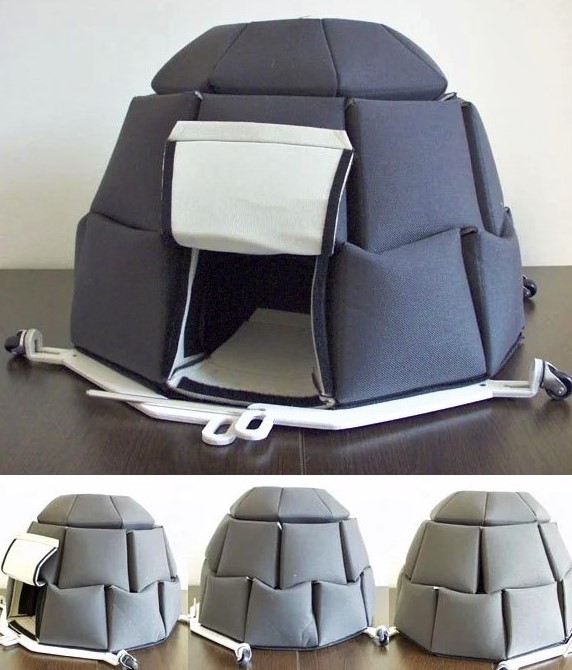 To tackle the issue of homelessness, one Bulgarian designer – Georgi Djongarski – came up with the I-Gloobox.
It is made from thick, waterproof material, which provides a warm, dry shelter at night. During the day, the I-Gloobox can be folded up and transported using the wheels attached to its aluminum frame.
Due to its modular design, the I-gloobox can also be repaired with ease when needed.
13. WheeILY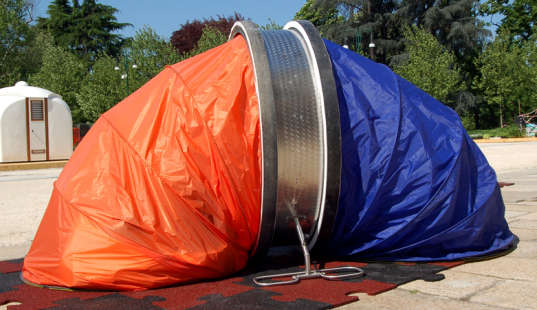 WheelLY is a concept from the Italian architectural and product design practice, ZO_loft.
It features an aluminum frame that can be rolled for easy transport and folds into two polyester resin tents.
All parts of the WheelLY are made from recyclable or recycled materials, and when rolled around, it also doubles as a storage space for personal belongings.
14. Project GREGORY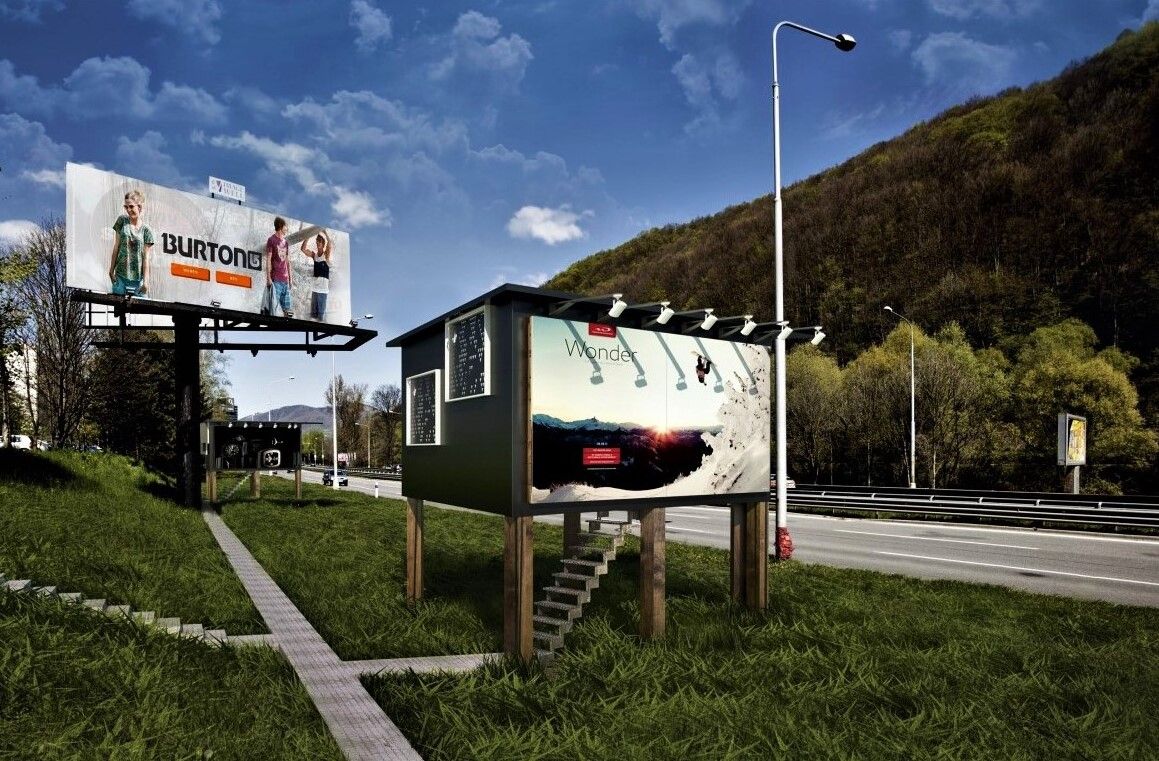 Gregory Ad Solution came up with the innovative idea of combining billboard construction with living spaces.
The house looks like an ordinary billboard from the outside, but stairs below the structure provide access to the interior living space.
Using the triangle shape of a billboard, the dwelling is able to provide two rooms, the first with a raised bed and kitchen and the second with a toilet, shower corner, and built-in cabinet.
15. Rolling Shelter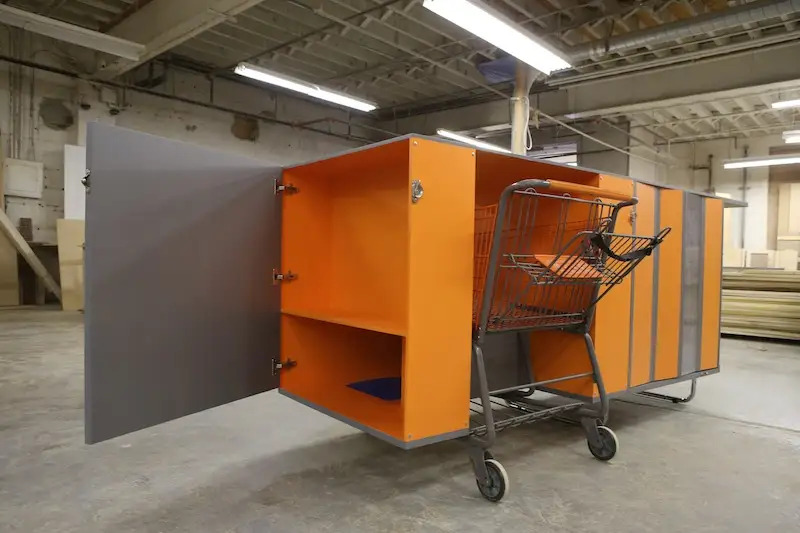 The Rolling Shelter is the idea of Eduardo Lacroze, an architect from Buenos Aires.
It was designed to be a discreet and efficient shelter that is suitable for homeless people, and Eduardo based his idea around using a shopping cart for the core component.
This means the shelter is not only mobile but can also be assembled using just a screwdriver. In addition, the shelter is insulated and weatherproof, with one side folding out into a flatbed.
16. Bus Shelters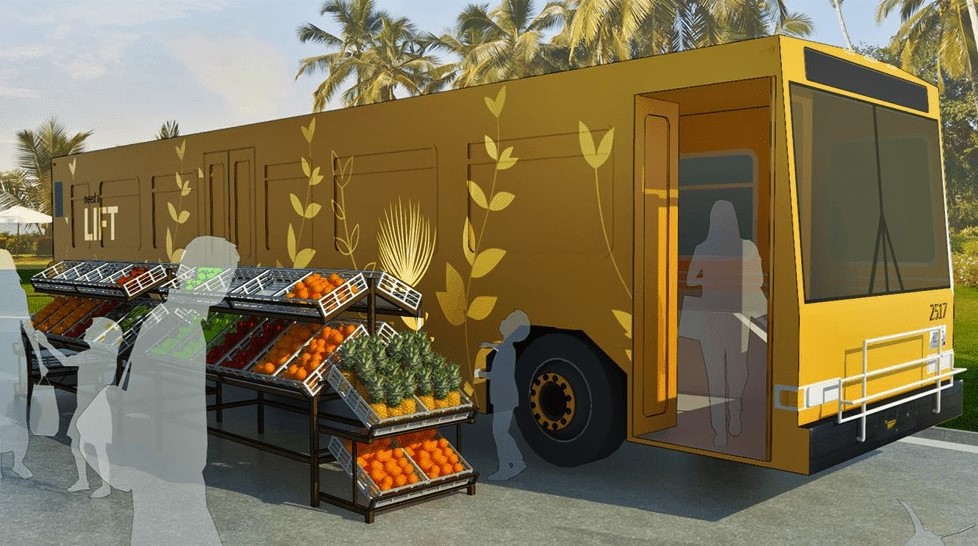 One of the proposed ideas for addressing homelessness in Hawaii is to transform the retired city buses into transitional housing.
The City has about 70 buses that were retired due to their advanced mileage, and each will be retrofitted to cater to the specific needs of the homeless population.
Some of the buses will be used for shelter, while others will contain showers or recreational space.
17. paraSITE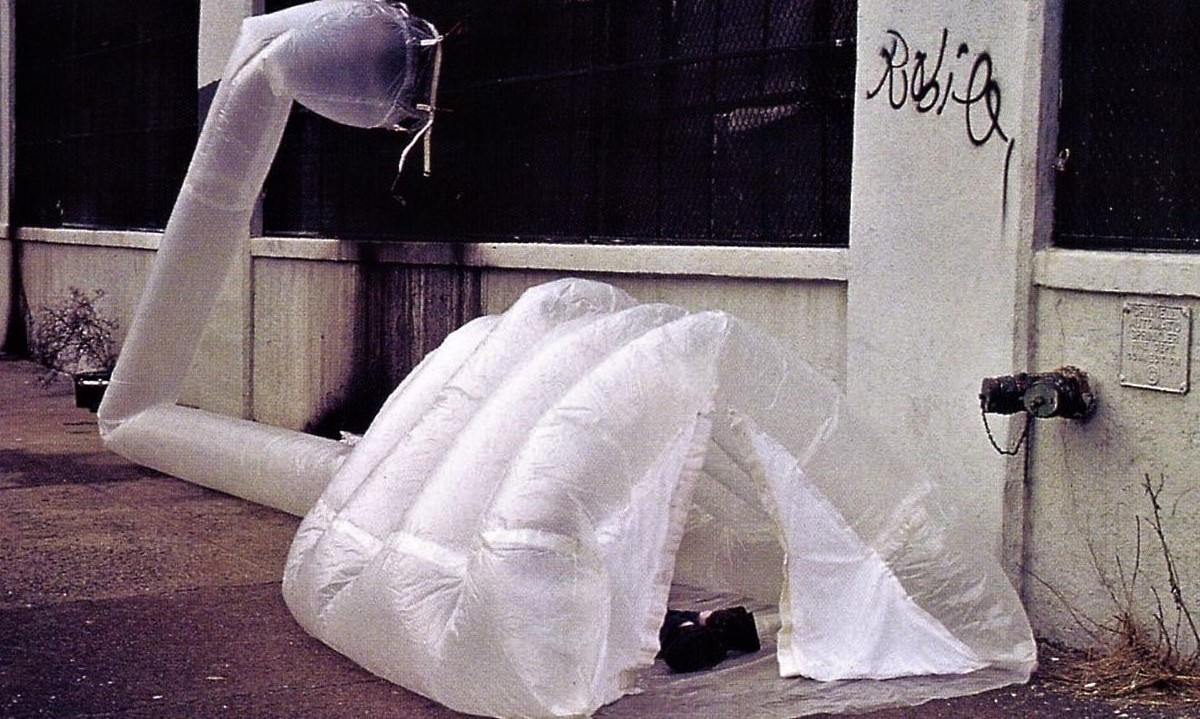 Michael Rakowitz is an artist who approached the problem of providing homeless people with shelter and warmth differently.
He came up with the paraSITE shelter, which is custom-built and inflatable.
The shelter works by attaching to the exterior outtake vents of the heating, ventilation, and air-conditioning systems of buildings. Since it uses only plastic bags, hooks, tape, and polyethylene tubing, it is very cheap to assemble.
18. A-Kamp47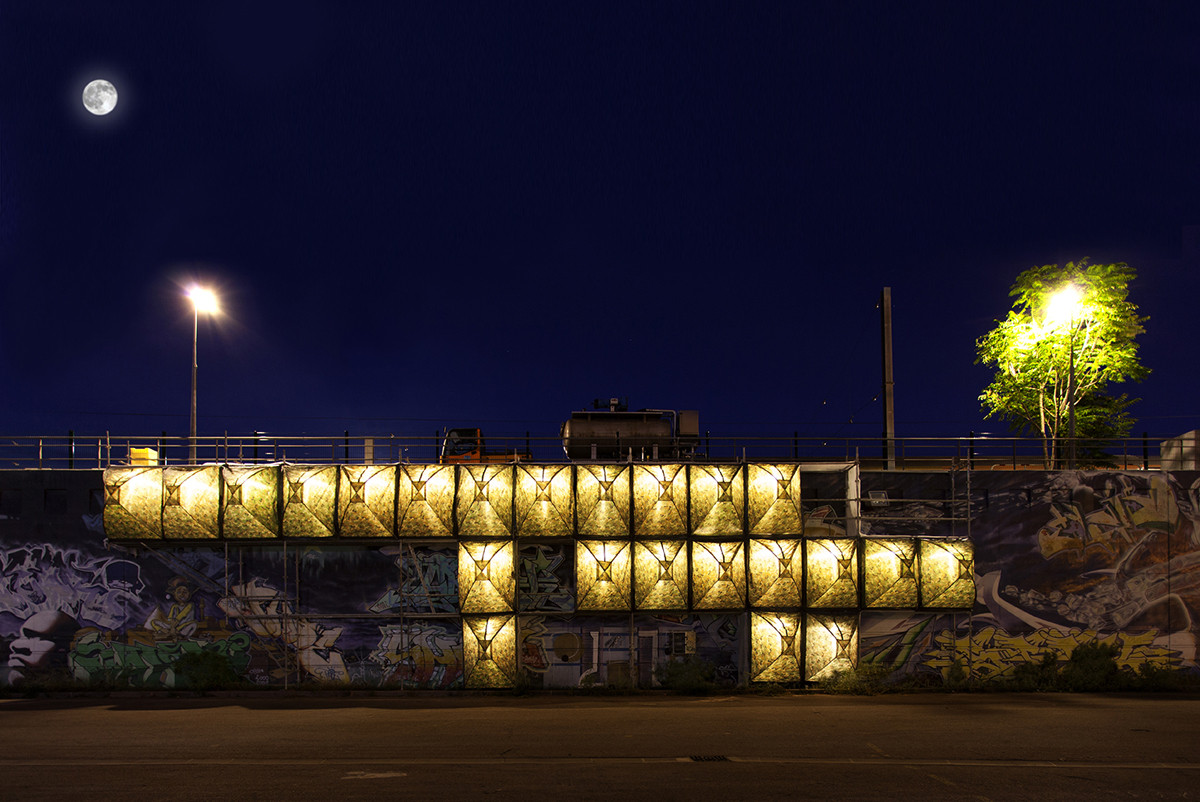 Designed by Stephane Malka, A-KAMP47 is his answer to the fact that isolated tents used by the homeless are often exposed to the cold and theft.
Instead of on the ground, the camp is installed vertically along the side of a wall on scaffolding. This not only provides better protection against the wind but also a better sense of community and safety.
Since the camp is located on the wall and not the ground, it also counts as a public space.
19. 1 Square Meter Houses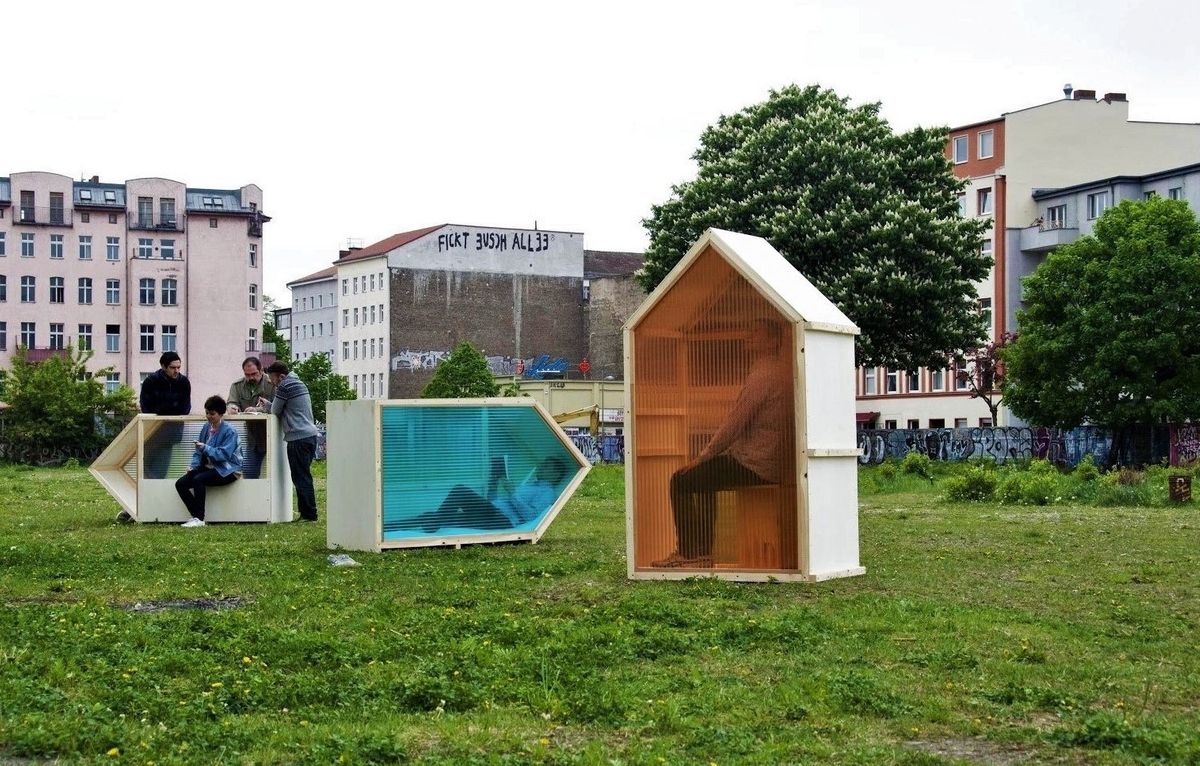 The One SQM House was invented by German architect, Van Bo Le-Mentzel, who was once a Laotian refugee.
Since he was homeless himself, he knew exactly how important it is for those living on the street to have a sense of owning their own space.
His ONE SQM House is easy to build, and he has made the plans available for free. Although small, the house features a bed, desk, window, and even lockable door.
20. Star Apartments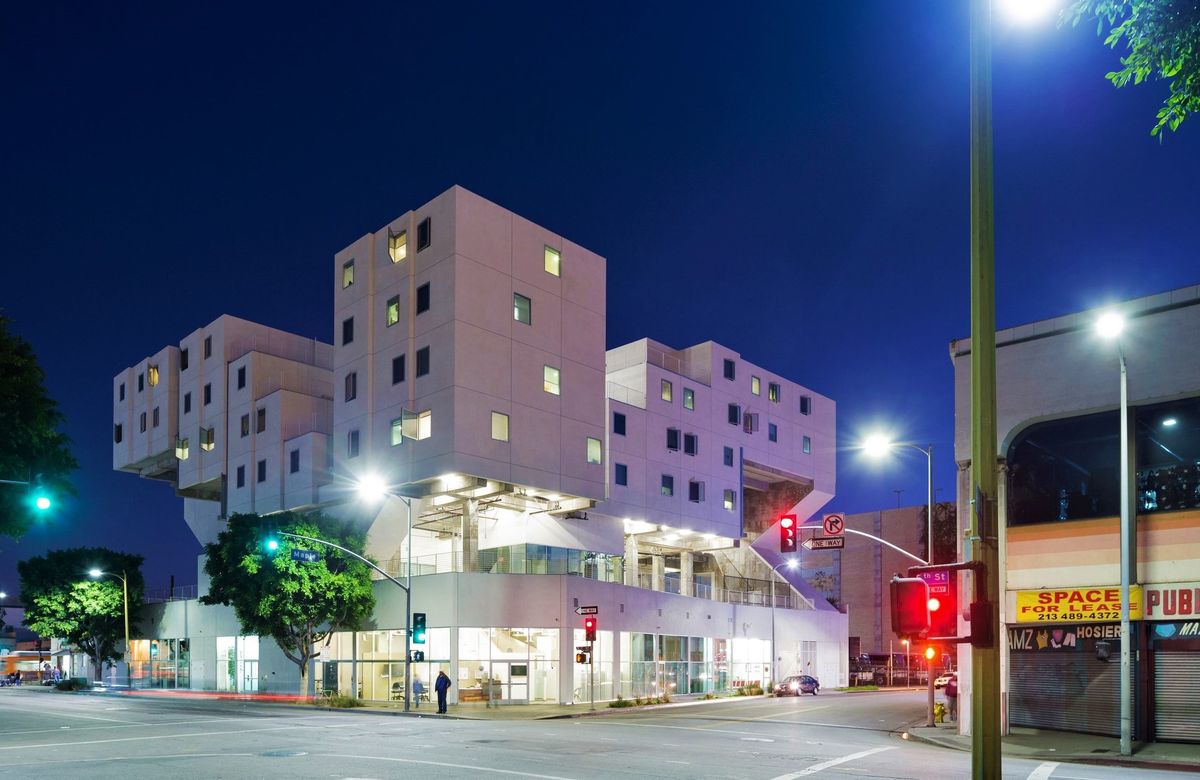 Skid Row Housing Trust came up with a more permanent solution for the homeless with their Star Apartments building in downtown Los Angeles.
The building was designed by architect Micael Maltzan and has 100 units made out of prefabricated modules.
These modules were stacked at angles, giving the building a very striking appearance. In addition to the rooms, the building also includes an on-site medical clinic, running track, art rooms, library, and community garden.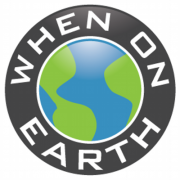 WOE Media
When On Earth Magazine is for people who love travel. We provide informative travel guides, tips, ideas and advice regarding places to see, things to do, what to taste, and much more for world travelers seeking their next dream vacation destination.