Do you have a strange hobby of creating imaginary figures out of cloud formations, shadows, and maybe even cookie crumbs?
Then, you might like doing this out of the different angles of islands around the world.
In this article, we have listed islands that resemble random objects such as seahorses, helicopters, hearts, and even a man's down under. So are you ready to have fun discovering oddly-shaped islands?
We promise they're all natural and not photoshopped!
1. Helicopter Island, Philippines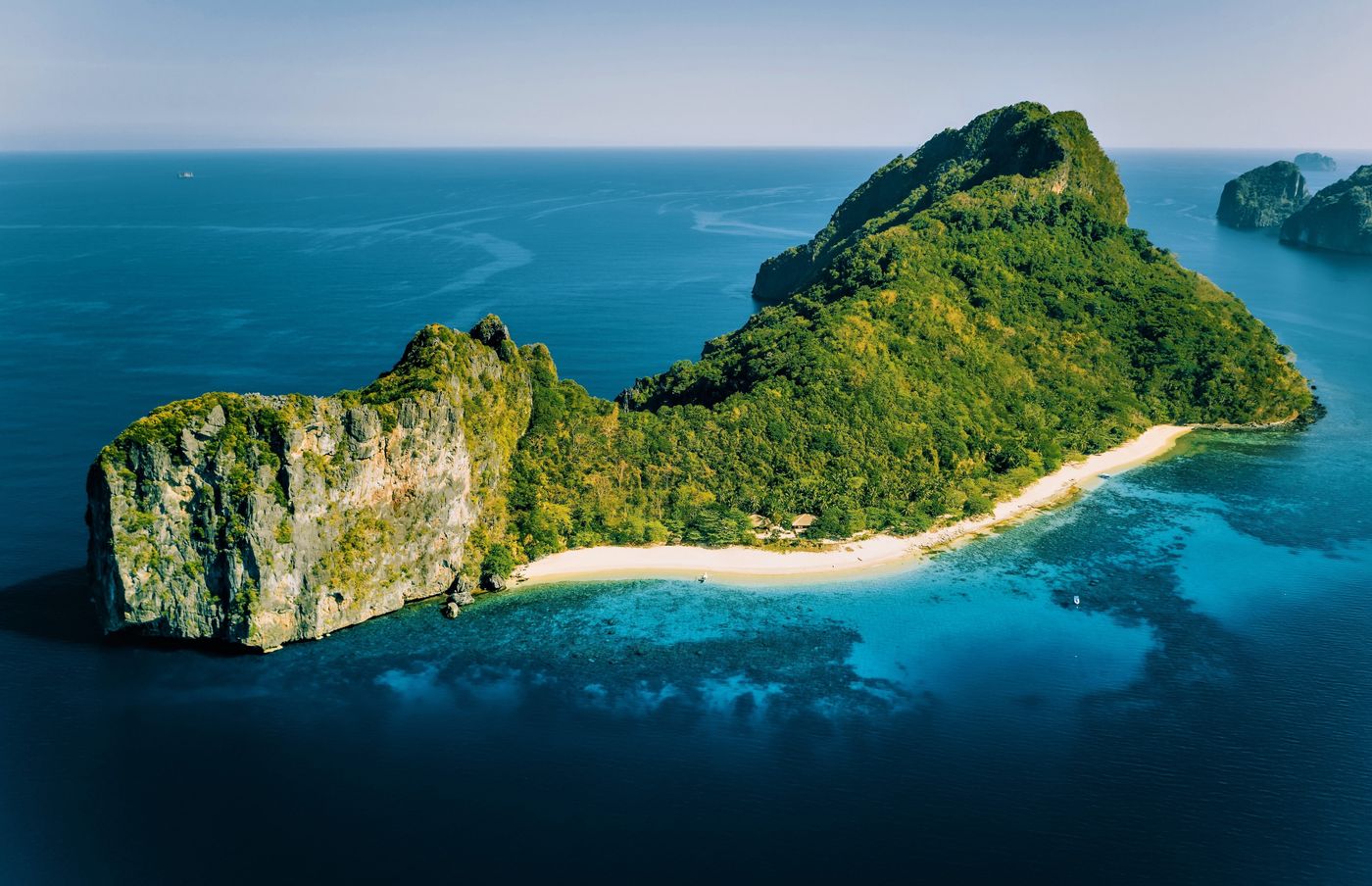 Dilumacad Island, found in El Nido, Palawan, catches the eye of island hopping tourists because it looks like a helicopter – without the propeller.
Going near the helicopter's body will give you a clear sight of the towering cliffs and dark green rainforests. Don't forget to trace your eyes down from the helicopter tail to see the white sand beach waiting for you to come over.
2. Turtle Island, Taiwan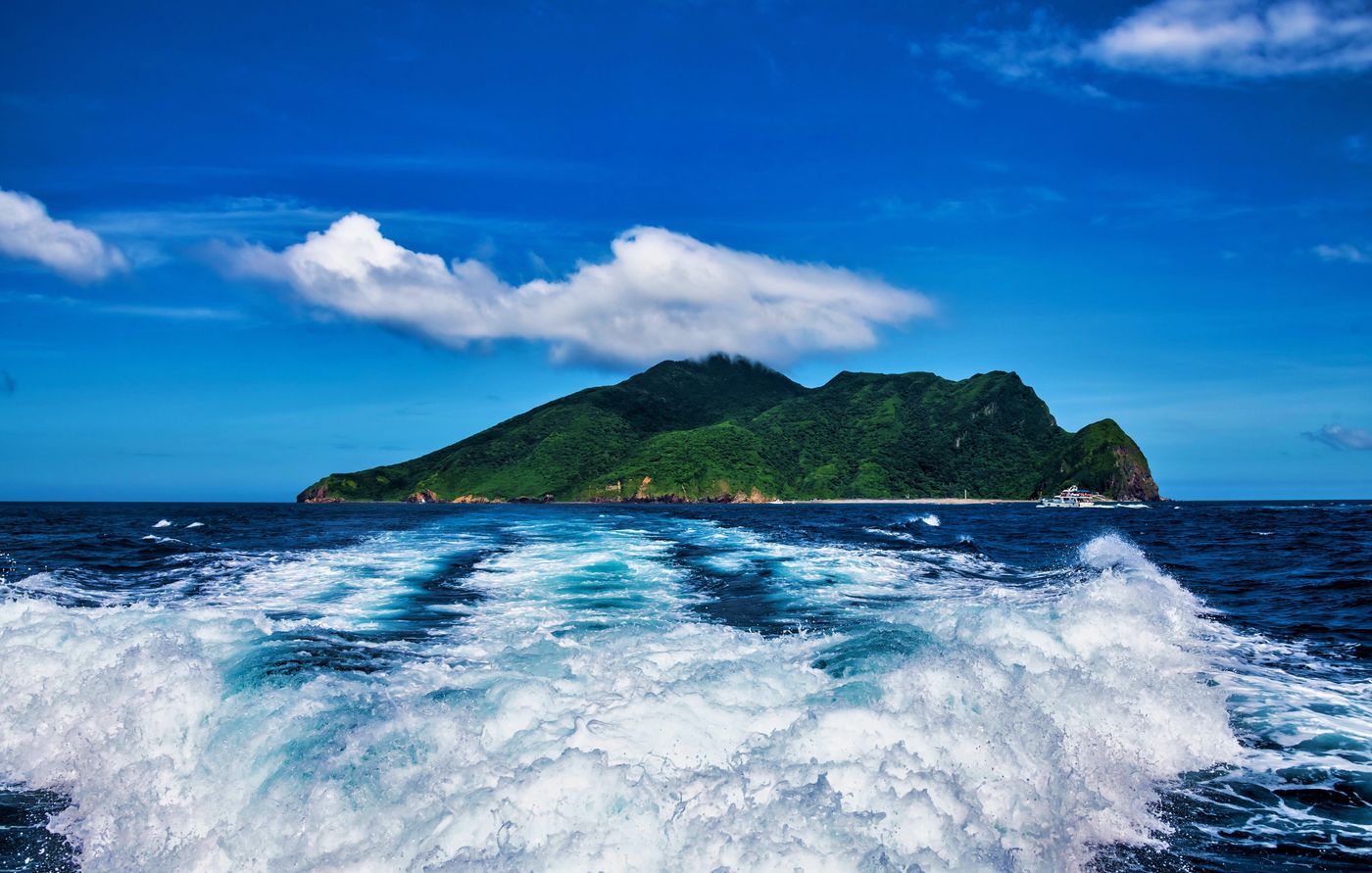 The huge turtle floats but never swims; Taiwan's Guishan Island is actually a volcano and the only active volcano in Taiwan. It's also the largest and the only island with residents in the Yilan county.
Besides being a special island that resembles a turtle, Guishan Island is a well-known tourist destination, especially for those who want to do some whale watching.
3. Heart Island, Fiji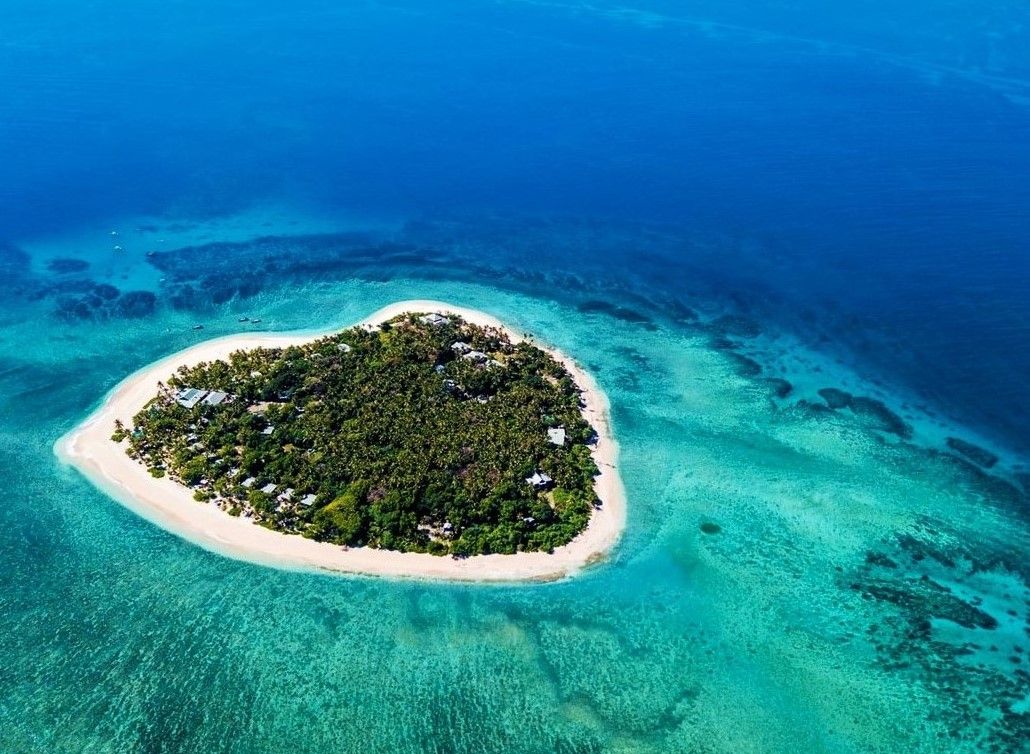 Tavarua is a heart-shaped island resort in Fiji that is just close to Viti Levu, the main Fijian Island.
This island surrounded by a coral reef is a spot you'll love because of the activities you can do, such as surfing, sport fishing, scuba diving, snorkeling, and kayaking.
You won't even need to worry about food and relaxation, as the resort is complete with restaurants and facilities to cater to your needs.
4. Crocodile Island, Philippines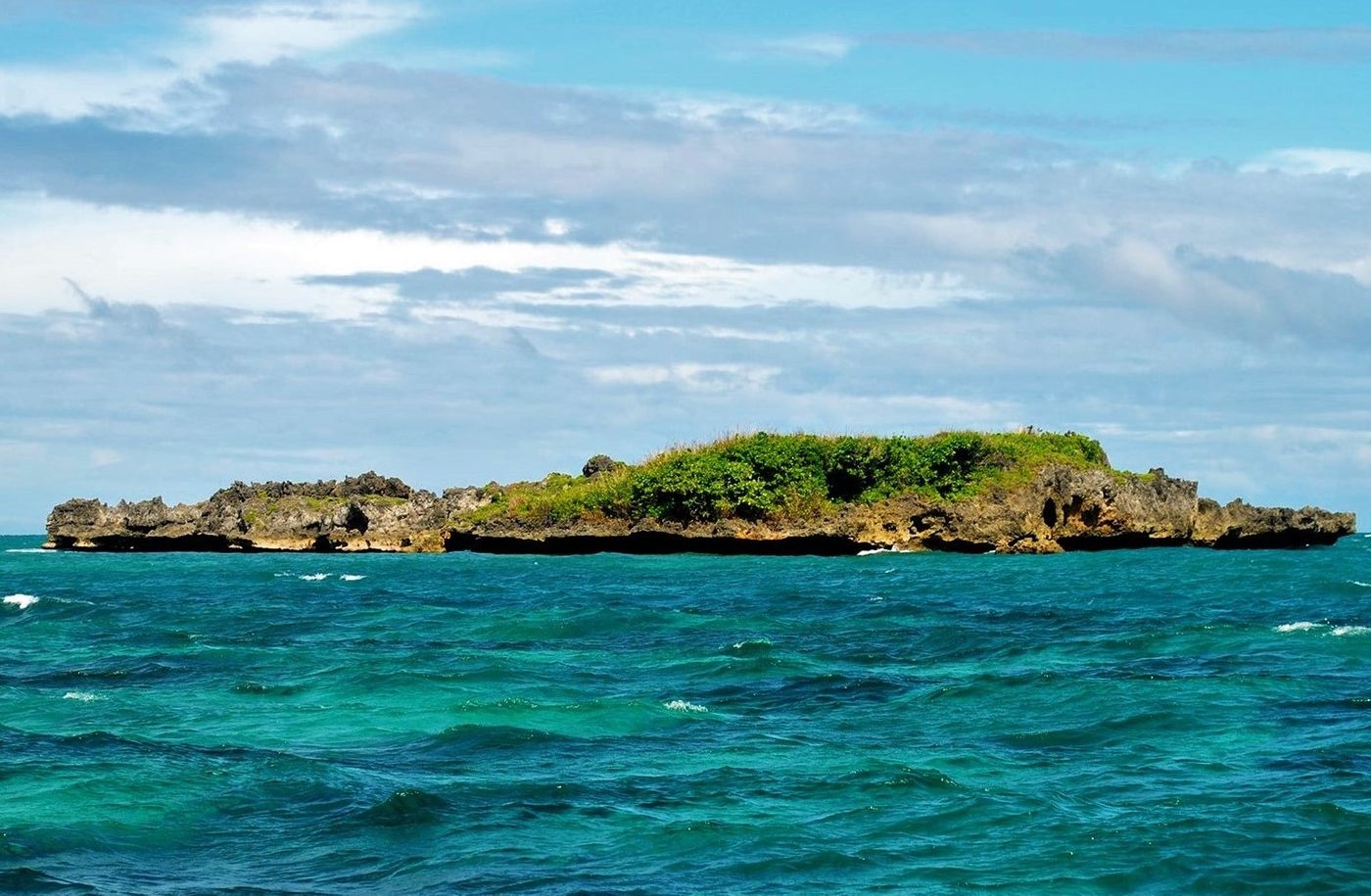 The Philippines can be known for its giant crocodiles, and there's also an island that looks like one, located near the country's most popular beach destination, Boracay.
The island is called Crocodile Island for an obvious reason and also because it's one of the best diving spots near the white beach.
In addition, the crocodile Island is just 20 minutes of sailing time from Boracay.
5. Seahorse Island, Galapagos, Ecuador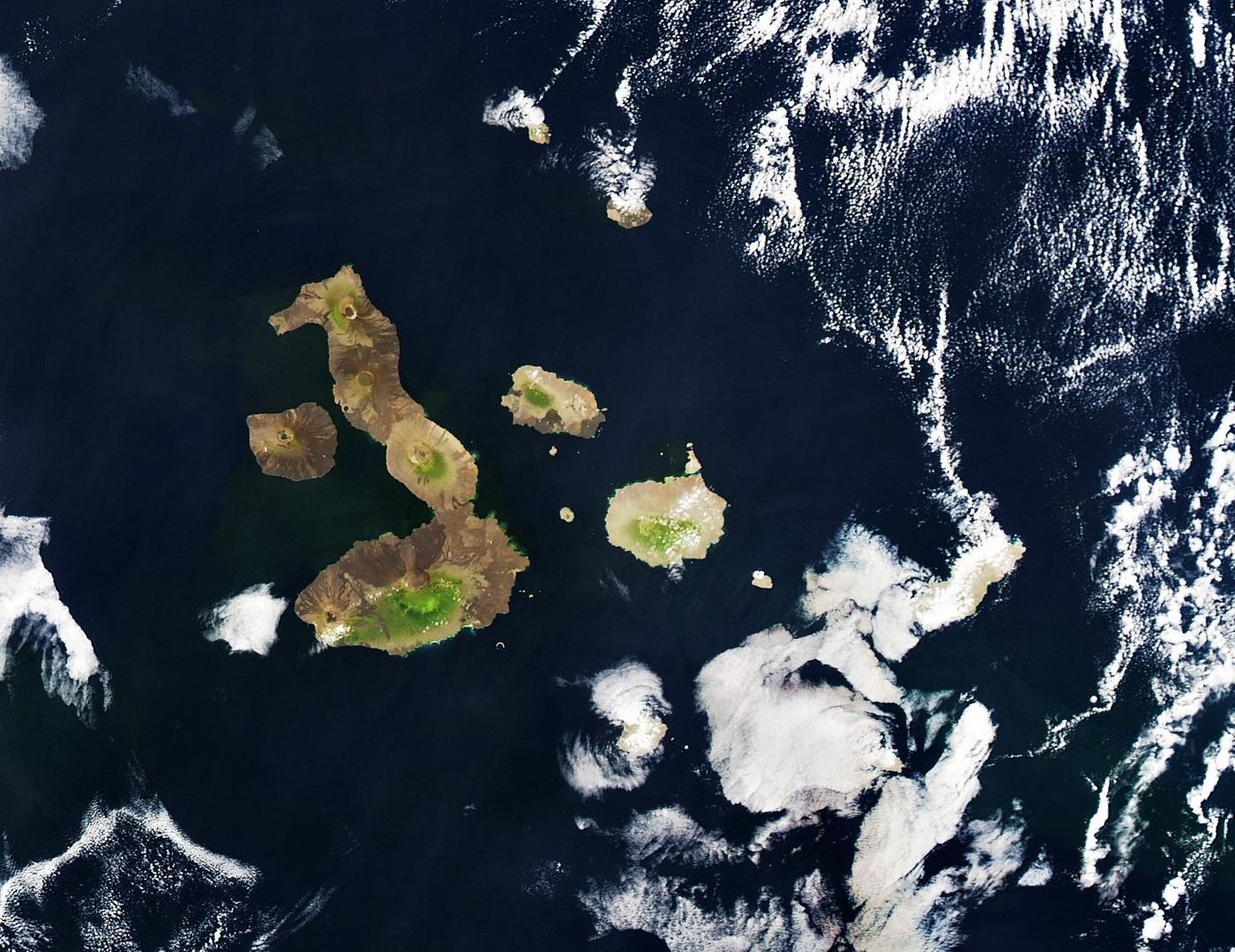 With an area of 4,640 square meters, Isabela Island is considered as the largest island in the Galapagos archipelago. It's also the youngest among the other islands, formed 1 million years ago as a merger of six active shield volcanoes.
Isabela Island is known to be the home of wild tortoises with a significant population that beats the tortoise population of the other islands of the Galapagos.
6. Smiley Group of Islands, Malaysia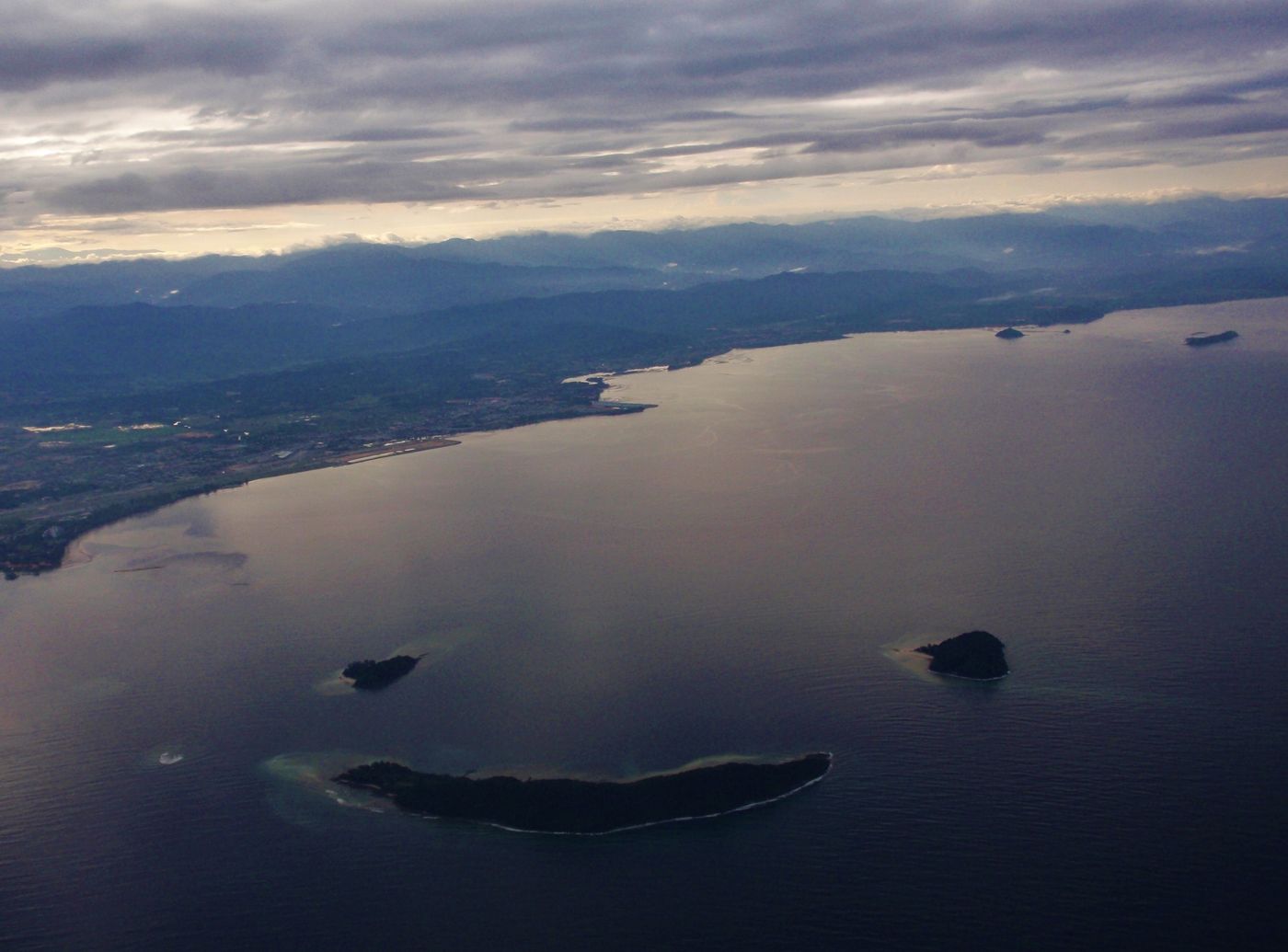 From Malaysia's Kota Kinabalu, you can fly to see the aerial view of the Manukan, Mamutik, and Sulug Islands that form a welcoming smile.
If you see the smiley, then you'll know you're above the islands known to possess great beaches, and coral reefs made popular for their scuba diving and snorkeling.
These islands are three of the five islands of Tunku Abdul Rahman National Park between 3 to 8 kilometers off Kota Kinabalu.
7. Moon Island, Hawaii, USA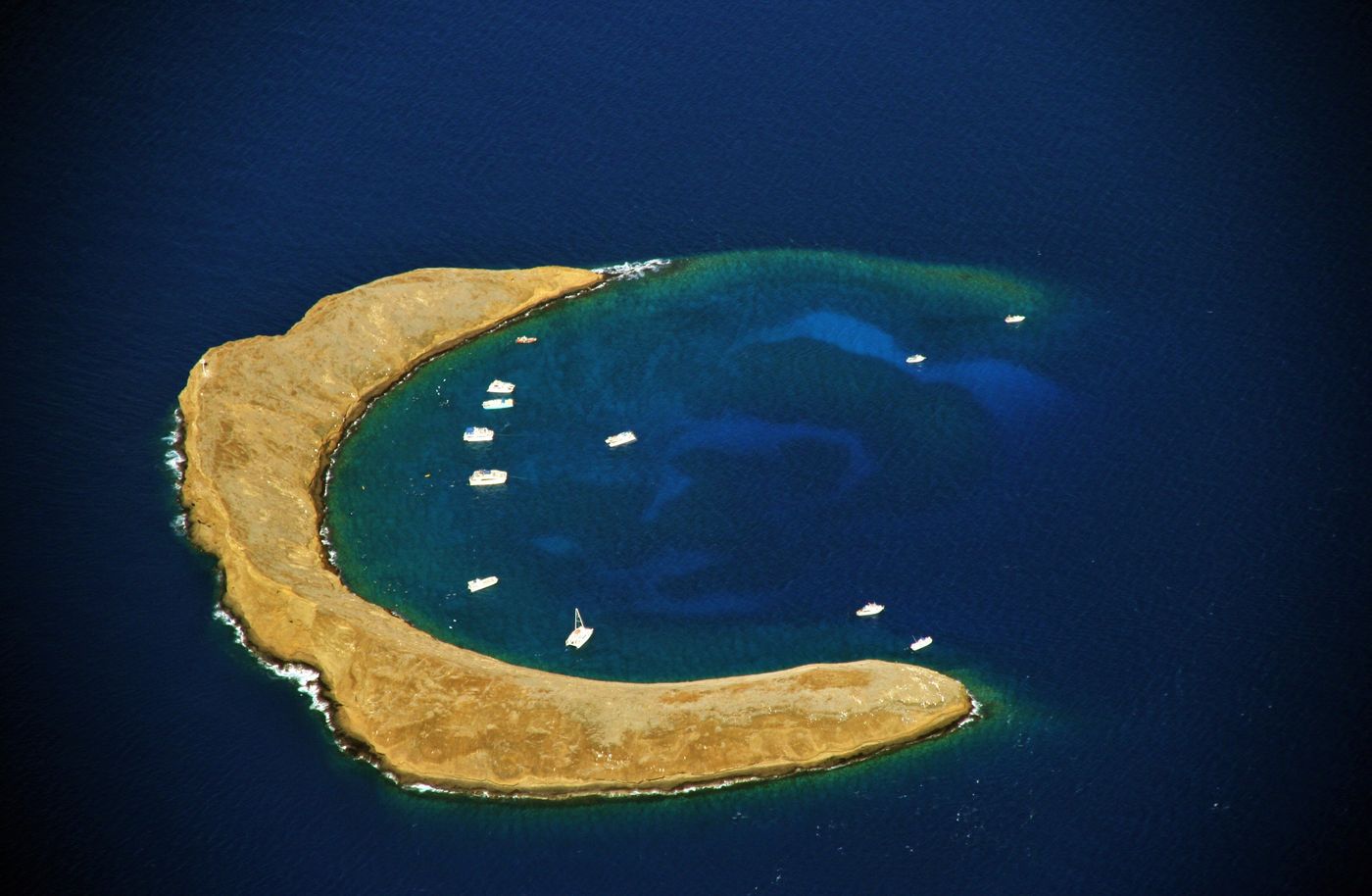 Molokini is a crescent-shaped volcanic cone (caldera) partially submerged in the Alalaleiki Channel between the islands of Maui and Kaho'olawe.
Molokini is also Hawaii's only Island Marine Sanctuary possessing beautiful coral reef and marine animals with over 200 species of fish and rare Whale Shark visits.
Over 50 species of plants grow along the slopes that surround Molokini. Also, include here the seabirds and the other species of birds that live in the steep slopes of this islet.
8. Penis Island, Fiji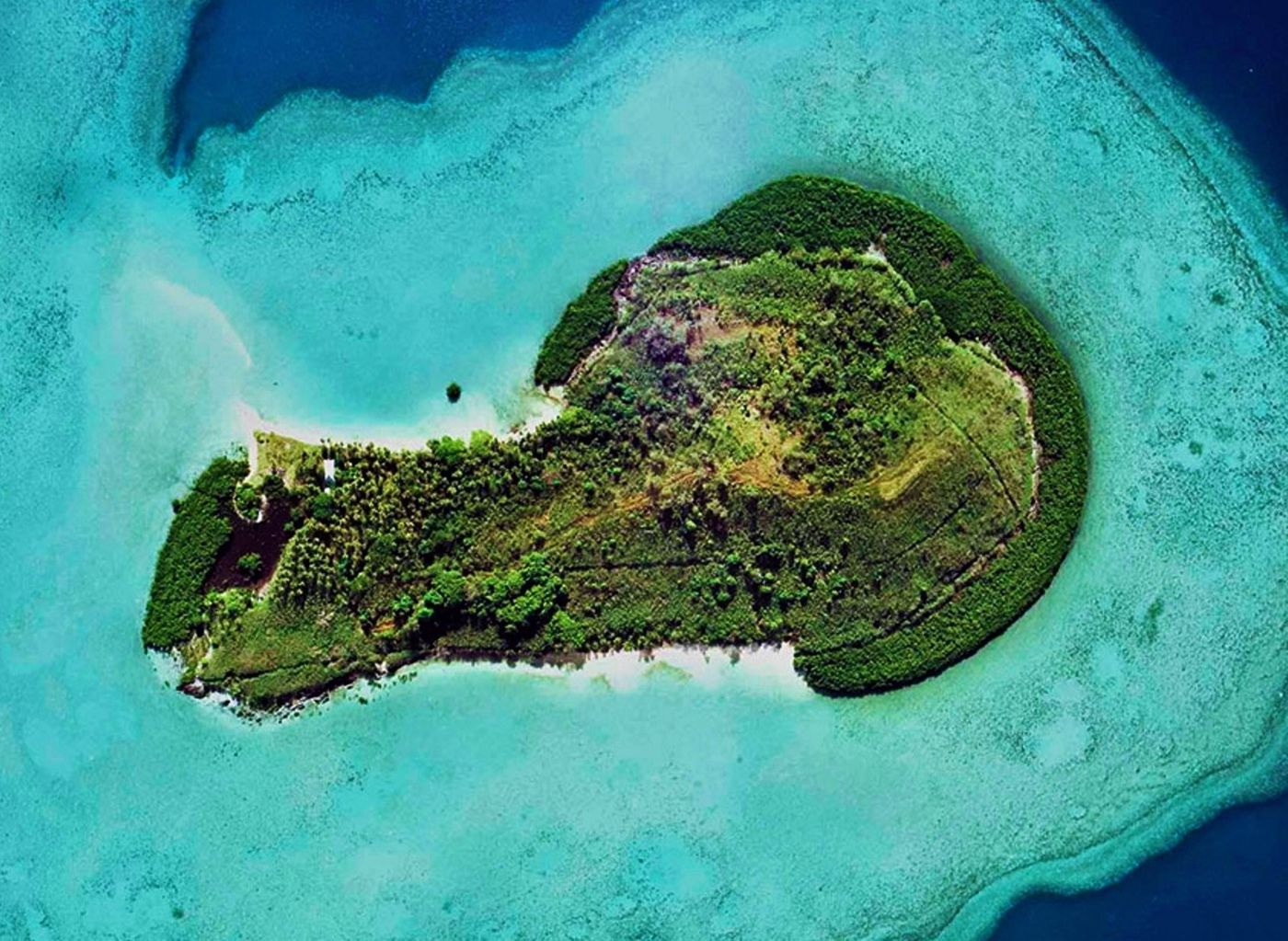 You've read it right. An actual phallic-shaped tropical island exists, and it's located in the popular paradise of Fiji. The island's real name is Mavuva Island, and it's right off the northern coast of Fiji's second-largest island, Vanua Levu.
Mavuva sits in a protected coral lagoon with a variety of marine life and belongs entirely within the world's third-largest barrier reef, the Great Sea Reef.
Is it not bad to have a getaway on this oddly-shaped island, right?
9. Boomerang Island, Spratly Group of Islands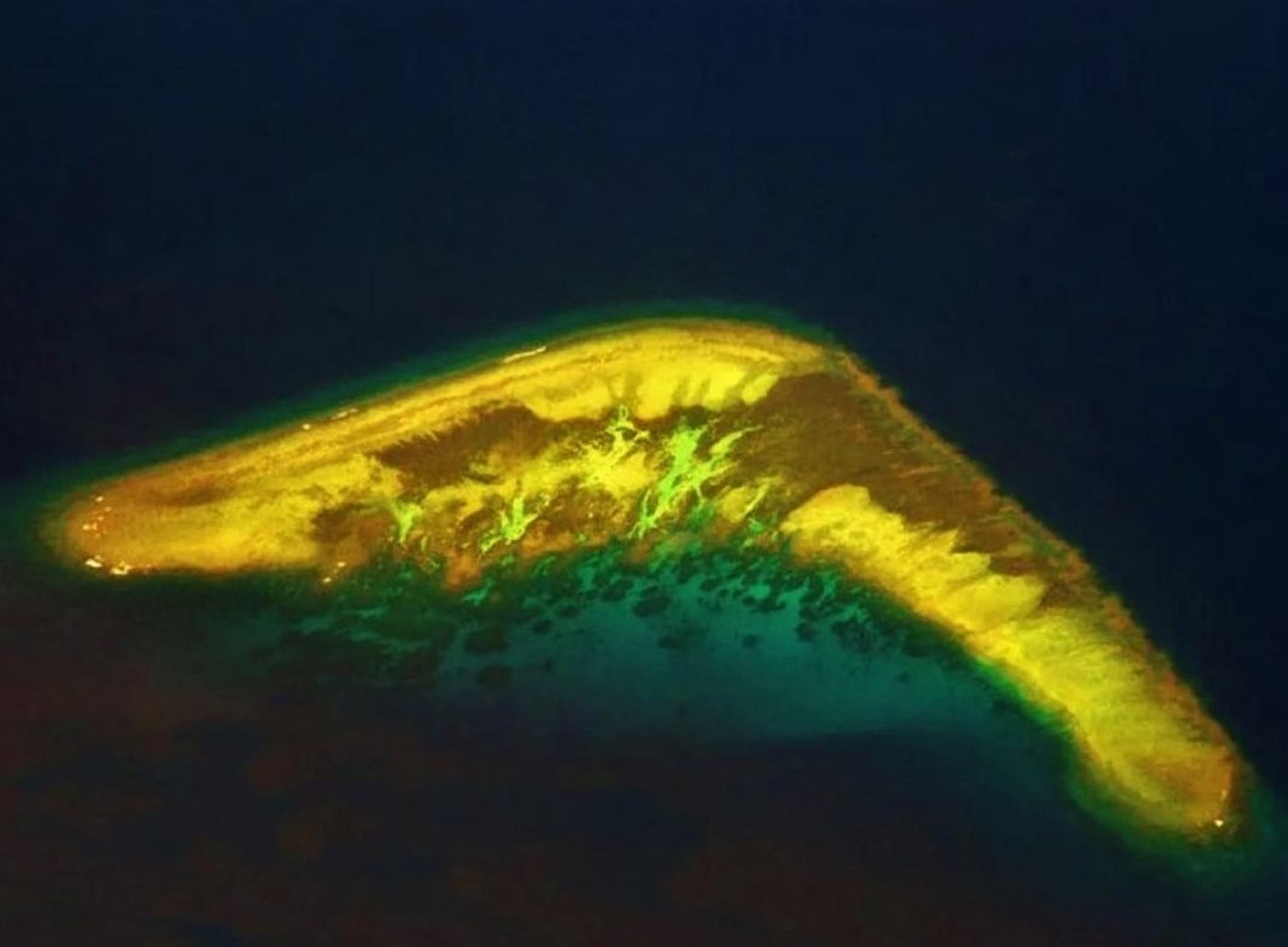 This boomerang-shaped island belongs to the disputed Spratly Islands lying on the coasts of the Philippines, Malaysia, and southern Vietnam.
The group of islands has more than 750 coral reefs, islets, atolls, cays, and islands in the South China Sea.
This boomerang island and the other remaining islands of this group aren't only chased by these surrounding countries due to their natural beauty but mainly because of their land, which is rich in gas and oil deposits.
10. Fish Island, Croatia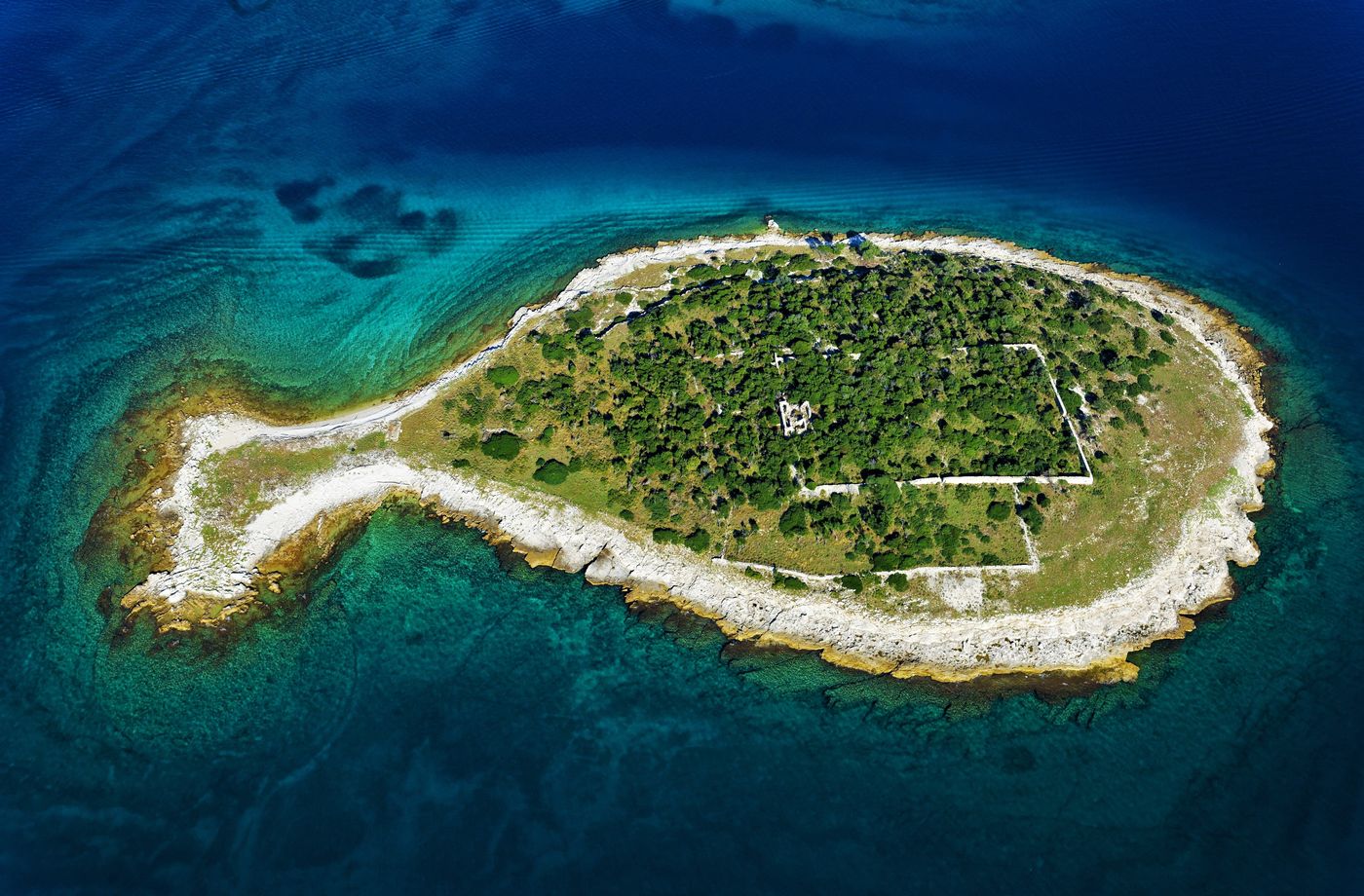 When you go on a holiday in Croatia, don't miss the scenic beauty of the islands of Brijuni.
Brijuni is a group of fourteen small islands in the Croatian part of the northern Adriatic Sea.
The archipelago is known to be home to some of the world's important archaeological and cultural sites, such as the 200 dinosaur footprints discovered on one of its islands.
Besides the archaeological stuff in Brijuni, one island named Gaz Island caught people's attention just because it looks like an itsy-bitsy cutie fish.
11. Dolphin Island, Italy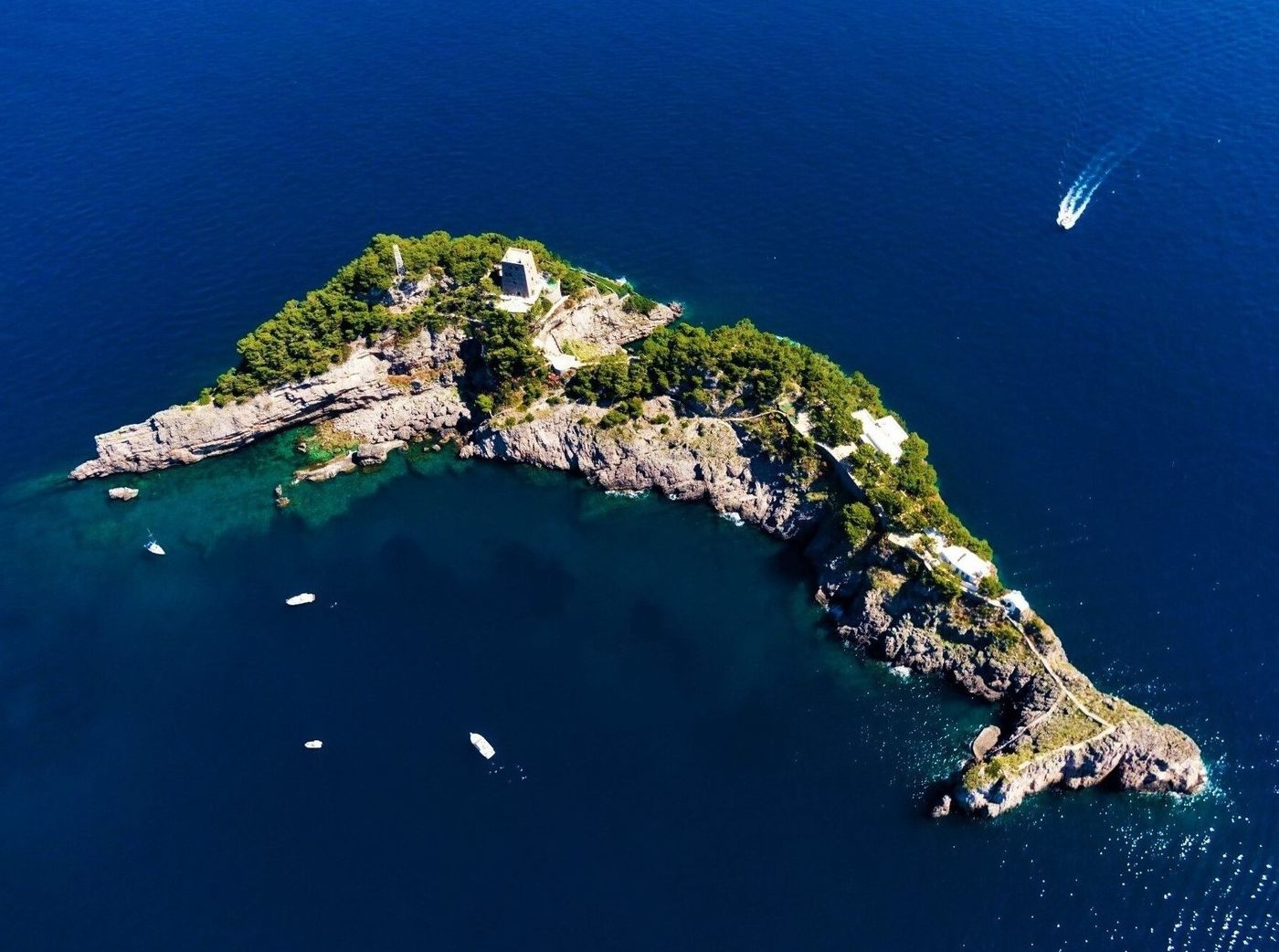 Sirenuse is a dolphin-shaped archipelago located just off Amalfi Coast in Southern Italy, between the Isle of Capri and the village of Positano.
Also known as Li Galli, Sirenuse got its name after the Greek mythology's Sirens, who were believed to have visited the island frequently and tempted Ulysses on his way back home with their enchanting voices.
Now, the island is filled with resorts and hotels and has become an ideal snorkeling site.
12. Pizza Island, Portugal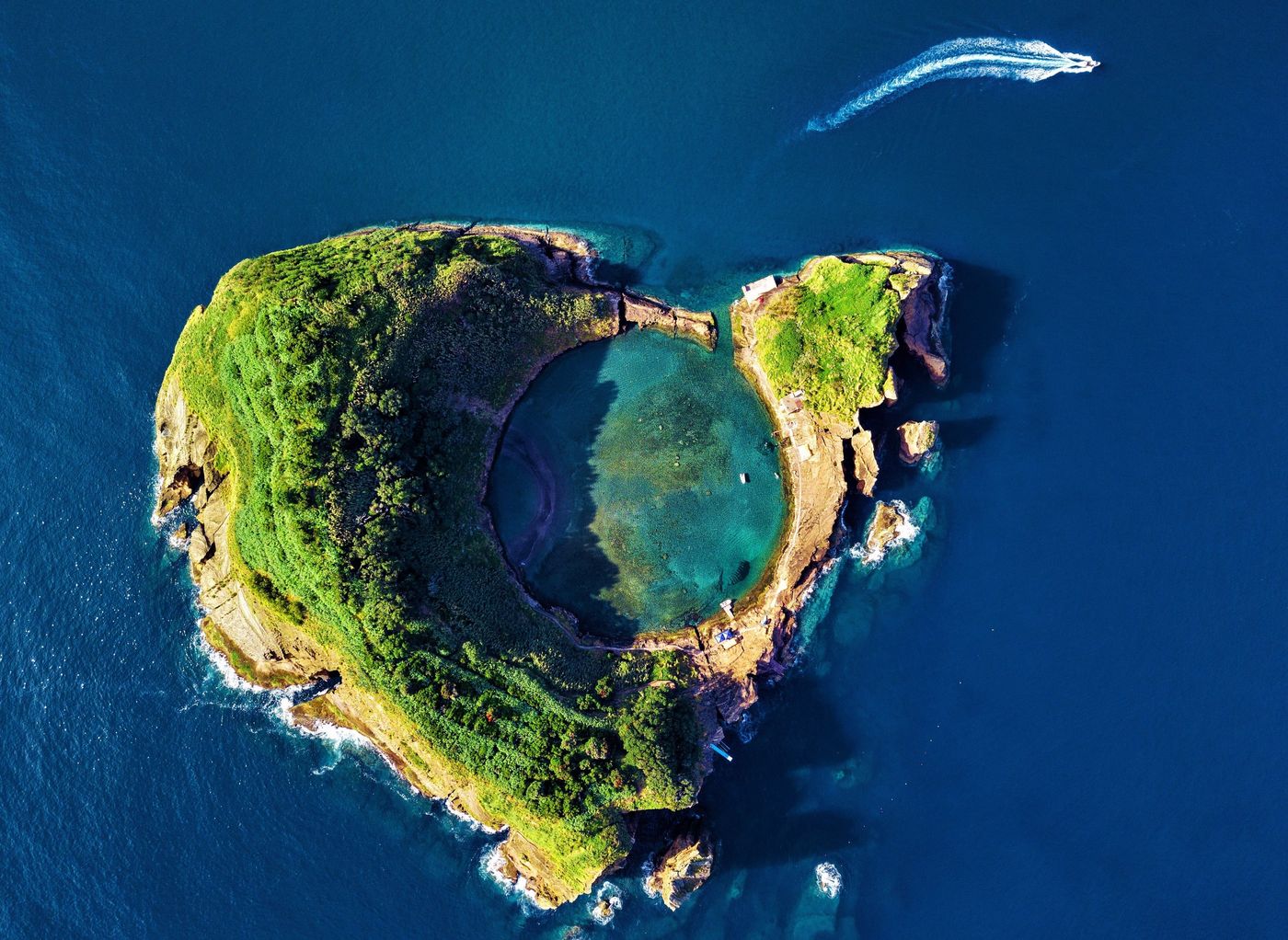 If you look at a certain angle from above, you'll realize that the small paradise known as the Islet of Vila Franca do Ocampo actually looks like a good slice of pizza with a huge pepperoni placed in the middle.
The islet you see is the crater of a submerged volcano, and the almost perfectly round lake at the center is linked to the sea by a narrow channel.
The Islet of Vila Franca do Ocampo is just offshore the larger island of Sao Miguel.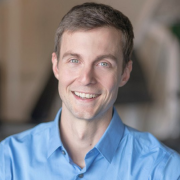 Ethan Allen
Ethan started traveling with his family at the age of 10 and has since visited dozens of countries on six continents. He loves discovering new destinations, predicting trends, and turning amazing travel experiences into inspiring stories.