10 Surreal Natural Places You Must Visit in Thailand
There is no doubt about Thailand being a favorite destination when you talk about traveling around Southeast Asia. Most travelers or backpackers who are into natural wonders don't miss adding Thailand to their bucket lists. But do you want something more than beaches? Don't worry. Here's a starter list for those who want to experience what Thailand is known for – nature.
1. Lalu
Lalu means 'pierced' in Thai and these pillars do pierce the ground and your eyes with odd formations. These rock formations are caused by several erosions which also resulted in the majestic cliffs and gorges of the country. You can find Lalu in the province of Sa Kaeo which is located at the eastern part of Thailand, almost at the border crossing Cambodia.
2. Morakot Cave (Emerald Cave)
When in Koh Mook, prepare your torches as you enter the dark, almost-triangular hole filled with  cave formations and bats. Swim in 70 meters of darkness and when you almost see the light, that's where you'll realize the swim into the unknown was worth it. The dead end of the cave is a natural roofless hall with nothing but lively cliff sides covered with vegetation, emerald water and white sands.
3. Karma Beach
Getting to that tiny dot of Koh Lipe can be a bit frustrating and there's no other way you can get there but by taking a boat. The time and effort you made to reach the island will pay you a white sandy beach where you can perfectly see where the sun rises and sets. Karma Beach deserves its name because after all that travel, walking on the white sandy beach already feels like good fortune.
4. Phang Nga Bay
If you ever become a castaway, waking up on the shores of Phang Nga Bay will make you lose even your words for its beauty. Emerald-green waters and towering limestone karsts are the qualities that make this bay a favorite, especially after one of its islands was featured in the 1974 James Bond movie. Phang Nga Bay is located in the popular island of Phuket.
5. Similan Islands
Koh Similan is one of the most popular islands found in the Andaman Sea, just northwest from Phuket's Patong Beach. While it seems to be the perfect relaxation place for beach bums, it boasts its name for having a wonderland underwater. Coral walls, barrel sponges, and more make up Koh Similan's rich marine life.
6. Sam Pan Bok
The Grand Canyon of Thailand, Sam Pan Bok, is known to have the biggest rock reef in the Mae Khong River. Sam Pan Bok means '3,000 holes' in Thai due to the gorge's holes carved all over the sandstone cliffs. The gorge is around 7 meters deep and up to 20 meters wide. You can find the rock cliffs in Pho Sai District, near Ubon Ratchathani.
7. Huay Mae Khamin
Weather conditions are often considered before going to a specific destination but if you want to see the majestic Huay Mae Khanim, it's better to visit during the rainy season. During the rainy season, the seven-tiered waterfall is full enough to provide visitors its picture-perfect form. Huay Mae Khamin is located in the mountainous Khuan Si Nakharin National Park in the province of Kanchanaburi.
8. Thi Lo Su
Thi Lo Su claims to be the biggest waterfall in Thailand when talking about the amount of space containing falling water. It also claims to be the highest with its three levels measuring 200 meters, 300 meters, and 400 meters respectively. If you want to see Thi Lo Su, you can find it in the UNESCO site Umphang Wildlife Sanctuary in Northern Thailand.
9. Crystal Lagoon
When in Krabi, don't forget to visit the unbelievably clear, blue-green-colored pool located in the Khao Pra-Bang Kram Wildlife Sanctuary. If you're fortunate enough to visit during off-peak hours, you can take your time in enjoying your swim around the surreal area. You can continue the walk to see the Bonam Phut spring which feeds the crystal clear pool of Crystal Lagoon.
10. Khao Sok National Park
The lowland jungle of Khao Sok National Park is believed to be 160 million years old, making it one of the oldest rainforests in the world. It's best to visit during the dry season, between December and April, to fully appreciate the limestone formations and waterfalls that will greet you as you wander around the national park. Khao Sok is located in Khlong Sok sub-district, Southern Thailand.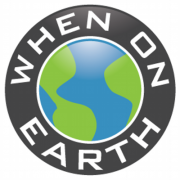 WOE Media
When On Earth Magazine is for people who love travel. We provide informative travel guides, tips, ideas and advice regarding places to see, things to do, what to taste, and much more for world travelers seeking their next dream vacation destination.