10 Surreal Natural Places You Must Visit in Colombia
Colombia doesn't lack the jaw-dropping beauty of nature and you shouldn't miss what it offers from colorful rivers to remote islands. Don't just think about coffee and cocaine and take a few minutes to discover some of the best natural attractions you should visit in Colombia.
1. Valle de Cocora
Stretching from the east of Salento into the lower reaches of PNN Los Nevados, you'll find Valle de Cocora as that lush green valley with sharp peaks. The valley is the perfect place where you can see and grow the Quindio wax palms (Palma de Cera), the tallest palm in the world and also Colombia's national tree and symbol.
2. Crab Cay
If you have the chance to visit Colombia's Providencia Island then you'll probably visit the oh-so-blue Crab Cay. The sights around this paradise can make your heart flutter as you discover more of it through snorkeling and wandering around with your feet feeling its white sand. Climb up the rocky trail in the small forest which takes you to the top displaying amazing views.
3. La Piedra del Peñol
In the municipality of Guatape, you'll find the massive rock that they call La Piedra del Peñol or simply known as the El Peñol Stone. When you look at the 10-million-ton rock from afar, you'd notice a stitch-like portion that may seem like holding the gap of the cracked rock. This odd zigzagged line is actually a 649-step masonry staircase that takes you to the top of the rock where you can take a good look from above and buy souvenirs.
4. Cayo Bolivar
Colombia has its own 'Caribbean' and it is the set of islands known as Cayo Bolivar located approximately 28 kilometers from the island of San Andres. It has two main cays: the first one inhabited by soldiers of the national army of Colombia and the second, a favorite shelter among fishermen. Cayo Bolivar boasts its white sand beaches and crystal blue waters which are attractive enough to make it a good spot for snorkeling, diving, bird-watching, swimming, and relaxing.
5. Salt Cathedral of Zipaquira
Although a cathedral is a man-made creation, this cathedral is worthy to be mentioned because it is an underground Roman Catholic church carved in a salt mine. To reach the underground church, you need to climb down 180 meters below the surface. Here, you can witness the different carved salt sculptures and a 16-feet-high cross located behind the main altar.
6. Desierto de la Tatacoa
Desierto de la Tatacoa is the second largest desert after Guajira. Located in the Huila department 38km from Neiva, the desert is a masterpiece with shades of red and orange created by the ochres and dry tropical forest which is home of the numerous plant species known to have highly adaptable root systems. The desert;s inhabitants include eagles, turtles, rodents, snakes, spiders, scorpions, alligators, and wildcats.
7. Nevado del Ruiz
If you want an unforgettable scenery, Nevado del Ruiz won't surely let you down. Nevado del Ruiz is a broad, glacier-covered stratovolcano known for its eruption in 1985 that killed a shocking number of 25,000 people. It is located on the border of the departments of Caldas and Tolima, 129 kilometers from the city of Bogota. It is part of the Los Nevados National Natural Park which also covers several other volcanoes.
8. Santuario Flora y Fauna Iguaque
If you want to hike on a mountain trail close to the city of Bogota, head to Santuario Flora y Fauna Iguaque for a one-of-a-kind experience setting your own eyes to the unique landscape of the Andean paramo (highland moor) and dry tropical forest. Among the several mountain lakes situated in the national park, one of them is the Laguna de Iguaque which is considered as a sacred lake by the Muisca Indians. The blue-green Laguna de Iguaque is your eye trophy after a 3-4 hour hike.
9. Suesca Rocks
Suesca Rocks is Colombia's premier rock-climbing site. The great wall of rock in the beautiful canyon of Suesca is approximately 60 kilometers northeast of Bogota which you can just easily reach by bus or car. The rock climbing activity is suitable for all levels, from complete beginners to the experts. Just be sure to have a guide with you to know the best route for you.
Besides rock climbing, you can also take an easy, family-friendly hike through the trail that runs along the river surrounded by unforgettable scenery.
10. Caño Cristales
Visit Colombia's otherworldly river, the Caño Cristales, known to be the "river of five colors" and "the most beautiful river in the world". You'll no longer wonder this can be called as the most beautiful river when you see its clear current running along the bed of rocks and green mosses. The whole visible picture becomes more lively during the period between the wet and dry seasons when a unique type of plant called Macarenia Clavigera turns into a striking red color.
The colorful river is located in Serrania de la Macarena which is a short trip from the town of La Macarena.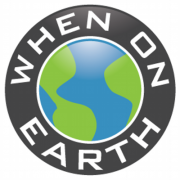 WOE Media
When On Earth Magazine is for people who love travel. We provide informative travel guides, tips, ideas and advice regarding places to see, things to do, what to taste, and much more for world travelers seeking their next dream vacation destination.