10 Fantastic Beaches You Should See in the Luzon Region of the Philippines
Philippines has a lot of beaches to offer and giving out 10 existing wonders isn't enough. However, for now we'd zoom into the country's biggest and northernmost island/region, Luzon and find out the few places where you can surf, swim, snorkel, or just chill on the sand. Read on to know more.
1. Valugan Boulder Beach, Basco, Batanes
If you're sick of seeing white sand beaches (definitely a rare case), why not go on a beach filled with boulders for a change? Valugan Beach in the northernmost islands of the Philippines known as Batanes displays a movie-like scenery wherein small to large boulders in different colors create the path that lets visitors reach the crashing waves. It seems to be a place where you can meditate or just be awed with the horizon with no distractions.
The beach is just a tricycle (auto-rickshaw) ride away from Basco.
2. Anguib Beach, Sta. Ana, Cagayan
Right on the tip of the country's Luzon mainland, you'll reach Sta. Ana, Cagayan which seems to be a blank dead-end on the map. Let yourself personally discover what lies on the edge: the powdery white sand of Anguib Beach. Take note that this is not a party beach and a developed tourist destination so better bring cash, your own tent, and snorkeling gear.
3. Nagsasa Cove, San Antonio, Zambales
It can be the isolated haven you're wishing for or the perfect camping spot for your adventurous spirit. The Nagsasa Cove is perhaps an upcoming favorite weekend getaway for the locals especially for those coming from the country's capital. From San Antonio's Pundaquit Beach, going to Nagsasa Cove takes you almost an hour of boat ride. Witness its crystal clear waters good for swimming and shallow enough for the kids to enjoy.
4. Matukad Island Beach, Caramoan, Camarines Sur
Caramoan is a rugged land that extends into the waters of the Maqueda Channel on the north and east , and Lagonoy Gulf on the South. It's a favorite island hopping destination and one of the islands worth remembering is Matukad Island with its beach displaying clear waters and fine white sand all surrounded by magnificent cliffs. Climb the steep rocks that will take you to the lagoon where a huge enchanted milkfish resides.
5. Mamangal Beach, Virac, Catanduanes
Mamangal Beach looks like a whole new world with only the best in it: the waves, the fine sand, and the sunset. What else can you ask for? This beach might not be for those who can't stand unavailable toilets and stores. But if you don't really care about that and prefer to be with nature at its rawest, then this beach is for you.
6. Gaspar Island Beach, Tres Reyes Islands, Marinduque
This one can be tough to reach but if there's a will, there's a way right? Gaspar Island is one of the three islands of Tres Reyes with the other islands known as Melchor and Baltazar. From the shoreline of Gasan, you can reach the islands by boat and you'll know you're almost there if you see the white sand shores filled with corals. Enjoy swimming and snorkeling in its clear waters.
7. Secret Lagoon Beach, El Nido, Palawan
This is the 'secret' beach that is not a secret at all, but guarantees you that searching for it is all worth it. Don't mind the searching part as guides will point you right at the grand entrance: a small hole on a limestone wall. You swim through this hole and you'll be welcomed by a white sandy beach surrounded by a rocky terrain. You can also snorkel here.
8. Cagbalete Island, Quezon
Just a 4-hour trip from Manila is the island of Cagbalete that is known for its magnificent shores. On mornings you can enjoy the shallow sea and when the afternoon comes, wait for the low tide to show you the entire beach and the mangroves that surround it. You can either bring your own tent and other necessities for camping or just book in one of the few resorts available in the island.
9. Subic Beach, Matnog, Sorsogon
Subic Beach has a unique pinkish-white color when you look at it from afar. When you look closer the fine white sand is mixed with red particles from crushed red corals which give it its unique color. It's a paradise minus the crowds, the rows of hotels, and loud music.
10. Puraran Beach, Catanduanes
For the surfers out there, Puraran Beach is for you. To get to the beach, you must take a tricycle ride from Baras town where you can buy some of the stuff you need before heading to the beach. The beach is made of golden sand and huge waves aimed by daring surfers. You can also just swim or wander around to see some of the surrounding rock formations.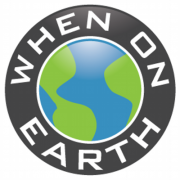 WOE Media
When On Earth Magazine is for people who love travel. We provide informative travel guides, tips, ideas and advice regarding places to see, things to do, what to taste, and much more for world travelers seeking their next dream vacation destination.