10 Beautiful Terraced Pools Around the World
Natural terraces called travertines are formed by chemical precipitation from certain types of shallow or surface waters. The loss of carbon dioxide on the Earth's surface causes a pH change and changes the solution chemistry that creates the precipitation. Waters high in acidity or high in alkaline form the travertines that can form in either hot springs or cold waters. What you get right after this natural change is a series of amazing pools that meets the eye with striking colors you'll never forget. Here are ten of the most beautiful terraced pools around the world:
1, Semuc Champey Pools, Guatemala
A series of turquoise blue pools and a natural limestone bridge maintains itself hidden in the green jungle nearby Parque Nacional Grutas de Lanquin. Although not really that hidden, Semuc Champey Pools remains a relaxing place for exploration, sunbathing, and swimming despite its popularity. Flowing beneath the stairs of Semuc Champey is the Cahabon River which plunges down in an underground water cave system nearby a gorge that you'll see upstream. A hike up the cliffs will grant you a beautiful full view of the limestone terraces.
2. Pamukkale, Turkey
Turkey's foremost mineral bath spa, Pamukkale is a natural beauty known for its travertines of hard white calcium that hold warm blue pools. Pamukkale which means "cotton castle" in Turkish deserves to have a cute, fluffy name with its surreal calcium carbonate and limestone formations. To maintain the whiteness of these travertines, guests aren't allowed to walk around the bathing pools with their shoes on.
3. Huanglong Pools, China
Huanglong is a UNESCO World Heritage Site containing a variety of amazing geological formations such as its popular travertine landscapes and vivid ponds. The travertine formations resemble an enormous golden dragon arching across the valley, traveling between the snowy mountain peaks. Huanglong is located in Songpan County, northwest Sichuan Province. Some of the famous series of ponds you need to see in this scenic area are the Yingbin Ponds, Mirror Ponds, and the Wucai or Five-Color Ponds. Visiting in fall and winter makes it a unique experience for both seasons.
4. Kuang Si Falls,
The biggest waterfall in Luang Prabang, the Kuang Si Falls boasts its multi-tier waterfall. You can climb up to the top of the waterfalls and have a nice swim in its natural jade pools plus a breathtaking view as you look down from the top. Kuang Si Falls is 29 kilometers south of Luang Prabang.
5. Baishuitai Pools, China
The White Water Terrace or Bai Shu Tai is located in the foothills of the Haba Snow Mountains, 101 kilometers southeast of Shangri-La in northwestern Yunnan Province in China, covering an area of three square kilometers. It is a spectacular white contrast among the lush green mountains where you can also learn about the nearby Baidi village, the home of the ethnic Naxi minority.
6. Mammoth Hot Springs, Wyoming, USA
Located in Yellowstone National Park, the Mammoth Hot Springs is a large complex of hot springs on a hill of travertine that constantly changes its shape and color. There are times that the springs are active for several years and may later change to a dry and lifeless landscape. The thermal activity also affects the color of the travertines that may go from white to gray depending on the weather.
7. Badab-e Surt, Iran
A natural wonder unique from the other terraced pools because of its orange and red travestines, Badab-e Surt is a product caused by two distinct mineral springs. Badab-e Surt has the words badab which means "sparkling water" or "fizzy water" and surt which means "intensity" for the word. It sits 1,841 meters above sea level in Manzandaran Province in northern Iran and it's best to visit the terraces during sunrise and sunset when the sun's orange-tinted rays perfectly light up the warm-colored springs.
8. Egerszalók, Hungary
Egerszalók is an open-air spa and village located in Heves County in northeastern Hungary. It has been a favorite go-to spot for those who want to take a plunge in a natural hot spring since the 1730s. The springs are surrounded by lush vegetation while being fed with steaming water that runs down through the natural white terraces. The water found in Egerszalók's pools is believed to be medicinal for it contains calcium magnesium hydrogen carbonate, sodium, and metasilicic acid.
9. Plitvice Lakes, Croatia
The oldest national park in Europe, Plitvice Lakes National Park houses Croatia's most popular tourist attraction: sixteen lakes all interconnected by a series of waterfalls. Visitors aren't allowed to swim in any of the clear waters to maintain what it's been keeping for years. However, you can savor the green and bluish scenery by hiking through the boardwalk trail that lets you take a closer look around the park's amazing cascades.
10. Bagni San Filippo, Italy
Dip into the hot waters of Bagni San Filippo where high concentrations of sulfur and calcium can be found. White rock terraces catch attention among the area filled by forests making it tempting to swim in the natural pools. What's more amazing to know is swimming in the hot springs is absolutely free. But if you want a place where you can still soothe your aches away but without the hassle of looking for facilities and amenities, better go to Terme San Filippo.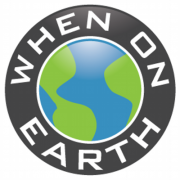 WOE Media
When On Earth Magazine is for people who love travel. We provide informative travel guides, tips, ideas and advice regarding places to see, things to do, what to taste, and much more for world travelers seeking their next dream vacation destination.