The World's First Ever Glow-in-the-dark Roads in the Netherlands
For the locals and tourists alike, passing by the 500m N329 highway in Oss, Netherlands will no longer be the same. While most streets are looking ordinary with streetlights along the roads, the Netherlands will give you a different kind of light as it recently unveiled the world's first ever glow-in-the-dark roads.
Thanks to a Dutch company, a long stretch of road transformed into a unique, smart highway. The glow-in-the-dark markings have not only replaced streetlights, but they are also expected to cut energy usage. This innovation is courtesy of a solar-powered luminescent powder that is integrated into the road paint making it possible to glow for over eight hours.
These glow-in-the-dark roads in the Netherlands materialized because of Interactive artist Dan Roosegaarde. Roosegaarde recalled that he was amazed on how millions were spent on the roads of the Netherlands, but no one really cared of how they look and behave. This thought inspired him to imagine how the Route 66 would be in the future when technology is more advanced and what we could only see on computers are already part of us.
He also noted through an interview with BBC that "the government is shutting down streetlights at night to save money and energy." Hence, Roosegaarde's company, Studio Roosegaarde, decided to collaborate with Heijmans, a civil engineering firm in the Netherlands, to create sustainable and interactive roads, also known as Smart Highway Project.
Just in case you will be visiting the Netherlands anytime soon, consider cruising on these cool glow-in-the-dark roads.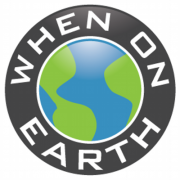 WOE Media
When On Earth Magazine is for people who love travel. We provide informative travel guides, tips, ideas and advice regarding places to see, things to do, what to taste, and much more for world travelers seeking their next dream vacation destination.