Weekend Web Finds: Top Sunsets, Monkey Selfie, Life in Cambodia and More
Got something interesting to share? We do! Here are the 10 things we've found in the internet for this week:
1. Daily Life in Cambodia
Curious what Cambodians do and see everyday? From lotus flowers to the sunrise behind Angkor Wat, these photos surely captured the simplicity and beauty of Cambodia. See the whole gallery here.
2. Monkey Selfie
A photographer went to Indonesia, took photos of the crested black macaque and let it play with his camera. The result? A selfie! Copyright issues between the photographer and Wikipedia have been buzzing this week, but never forget a monkey took a selfie and it's just adorable.
3. What's in a Korean High School Student's Bag?
South Korean high school students are known to be studious to the point that they can study for up to 15 hours a day. It's pretty normal and finding blankets and neck pillows in their backpacks is not a surprise for them. Read more here.
4. Man Didn't Mind the Gap at a Perth Station and Got Stuck
It was shocking to see a man who got his leg stuck between the train and the platform at a Perth station. What even made it worth the shock is realizing that he got stuck in a less than 5cm gap — but that isn't the highlight here. The commuters went out from the train and set the man free by pushing against the train carriage, making the good news become viral around the world. Know the whole story here.
5. 3 Restaurants with Ridiculous Views in Ponza Island, Italy
It's a hit and miss when you're looking for great food in a restaurant that offers an awesome scenery, but that's not true in Italy's Ponza Island. The island might not ring everyone's bells so read about it in Dream Euro Trip, get hungry, and fall in love with the island.
6. Aerial Views of India by Drone
Photographer Amos Chapple's remarkable aerial views of India were shot by attaching his camera to a 'quadcopter' drone. See the photos here.
7. A Bus Converted to a Dream Home
An architecture graduate student, Hank Butitta, got tired from paying the rent and decided to purchase a $3000 bus and transformed it into his new home. See what he did here.
8. Top 6 Sunset Spots Around the World
Viewing sunsets give you a calm feeling while watching the sky go through different rays of colors until it turns into a complete shade of blue-gray. Is your favorite in the list? Find out here.
9. Aerial Photos that Show the Division Between the Rich and the Poor in Mexico
Originally a campaign for a Mexican bank's community development program in low-income areas, the photos shot by Oscar Ruiz revealed two Mexico cities: the rich and the poor. Read more here.
10. Parisian Grocery Stores at Night
Photographer Marie Hamel captures the classic grocery stores all lit up even in the middle of the night in the streets of Paris. Unfortunately, large retail chains are taking over and it's uncertain how long these shops will stay. See the photos here.
Did you like our list, or are we missing something? Tell us at our Facebook page and Twitter page. We'd love to know your opinion.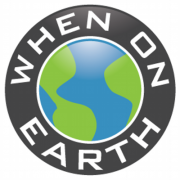 WOE Media
When On Earth Magazine is for people who love travel. We provide informative travel guides, tips, ideas and advice regarding places to see, things to do, what to taste, and much more for world travelers seeking their next dream vacation destination.