Weekend Web Finds: Post-it Cartoons, Peaches Wearing Lingerie and more
Any plans for the weekend? Before heading out or just lazing away on your couch, check these 10 interesting things we've found around the worldwide web.
1. Sexy Peaches
Yeah, peaches got that noticeable "hump" and this region in China, known for its lingerie industry, dressed up these sweet stuff with sheer and lacy undies. Know more here.
2. Butter Tea
Have you heard of Butter Tea? Know what it is and how it's a part of daily Tibetan life through this blog. You can even try making your own!
3. Nazi Shelter Turned Home
A former Nazi Air raid shelter was transformed by an art collecting couple in Berlin and turned it into their perfect artsy home. See more here.
4. How Not To Run A Marathon
Do you marathon? Check out this infographic and find out if you've been running a marathon the wrong way.
5. Kyushu Adventure
For those interested in going to Japan, but wanna stay away from the busy city of Tokyo can try out the green region of Kyushu which is famous for its abundant hot springs. Check out this blog to know which spots to visit, food to eat and other fun things to do in Kyushu.
6. Australia Before and After
See the same venues in the past and present Australia blended together in these digital montages.
7. Abandoned Soviet Ruins
British photographer Rebecca Litchfield's latest book, Soviet Ghosts, takes us on a tour of the vacant and decaying buildings of the countries in the former Eastern Bloc. See some of her works here.
8. Passengers Turned Post-it Cartoons
You might be bored when you take public transportation especially when you need to take a seat for more than an hour. So why not do what this guy did to some of his fellow passengers? Just with some pens and post-it notes, he turned them instantly into your favorite cartoon characters. See his other post-it works here.
9. Eastern Europe Food Art
Wanna take a tour of Eastern Europe through food? See this!
10. View Earth Like You're In Outer Space
An exhibition facility in Higashi-Matsushima, Miyagi, Japan features a giant globe that'll take you on a tour around the world as viewed from space in real time. Know more about the "science globe" here.
Wanna share something awesome like the latest tourist attractions or travel blogs that aren't yet featured on our weekend list? Tell us through our Facebook and Twitter page!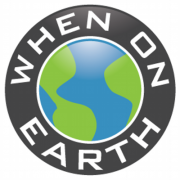 WOE Media
When On Earth Magazine is for people who love travel. We provide informative travel guides, tips, ideas and advice regarding places to see, things to do, what to taste, and much more for world travelers seeking their next dream vacation destination.