Weekend Web Finds: Plane Passenger Shaming, Annoying Tourist Poses and More
What a week! iPhone 6 just dropped in the market, Scotland says "No" to independence, and more shocking news have hit the the world this week. The news continue to roll in, and when it comes to the cool stuff you need to see around the world, we're all set to give you updates. So we've selected 10 good finds around the internet that'll leave you entertained for a moment or inspired to travel more. Why not? There's a lot to see out there, so keep calm and read on.
1. Plane Passenger Shaming
"Passenger Shaming" pages seen on Facebook Instagram and Twitter are features the worst plane passengers from all over the world. See their feed and you might feel like laughing, go mad or just plainly grossed out.
2. 7 Cities with Great Food Truck Culture
Food trucks are loved for their accessibility and quick meals. The food could be quick and easy but it doesn't mean it should sacrifice that great taste you're looking for. So here's the list of 7 cities in the US with awesome food trucks where you could grab a good snack.
3. An Airline Bringing Style Back to Business Class
The business class-only boutique airline La Compagnie brings out an oomph that'll guarantee a luxurious flight for business travelers. What makes them different from the other established airlines?
4. Annoying Tourist Photo Poses
Do some tourists make you go "WTF?!" when they start "pinching" the Eiffel Tower, or trying to push the Tower of Pisa? You're not alone. You might even agree with this list of 17 Tourist Poses You Need to Stop Making on Vacation.
5. The Tree of Life in Senegal
The locals in Senegal, especially the poor, would skip the veggies and its good nutrients and feed themselves with affordable starch-based foods such as rice and porridge. Then a tree native in this country was realized to be a treasure that changes the way they eat.
6. How I Lived Like Royalty in a Tropical Paradise For $50 a Day
Ecuador is a tropical paradise but it doesn't mean you'd need to shell out a lot to enjoy everything it offers. Know how you can travel around Ecuador for $50 a day here.
7. The Dancing Traffic Light in Lisbon
Pedestrian traffic lights aren't usually noticed. But in Lisbon, Portugal, you might not even want to cross the street and just stay on your spot while watching their Dancing Traffic Light. Know more about this groovy street light here.
8. A Food Truck with a 3,500 Pound Wood-Fired Oven
We've just mentioned about food trucks on #2 but this food truck shouldn't be left unseen for its massive oven that can cook pizza in 90 seconds. Yes, seconds. Know more about this mega-truck in Orlando here.
9. Soaring Above Prague
See Prague from above while listening to soothing violoncello and piano music. The rooftops, the statues, the running rail transits, the whole scenery with the sun slowly rising will just leave you in awe. Read and watch here.
10. Trailing of the Sheep Festival
The 18th annual Trailing of the Sheep Festival comes to Ketchum, Idaho next month, October 9-12 and expect a parade with 2,000 sheep. Just imagine the long hour full of "baa". Know more here.
Baa that's it. If we missed some great(er) news, why not tell us here? You can also give us a shout on our Facebook and Twitter page.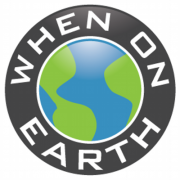 WOE Media
When On Earth Magazine is for people who love travel. We provide informative travel guides, tips, ideas and advice regarding places to see, things to do, what to taste, and much more for world travelers seeking their next dream vacation destination.