Weekend Web Finds: Greenland Life, Dizzying Hong Kong, Fake Food and more
What did we find this week? More awesome photo series. From food to scenic views, the photo series in the list might make the travel bug in you buzz with impatience. Other than those, check out the list for a teepee transformer and a sarcastic article for umbrella users. Have fun!
1. A Teepee You Can Use As a Raft
The structure by Antony Gibbon Designs called "The Nook" serves as a cabin alternative for hotels, offices, and more. But this modern teepee doesn't only serve as a shelter, it can also be used as a raft, using the recycled containers underneath.
2. Life in Greenland
Photographer Ciril Jazbec went to the remote villages of Northern Greenland where climate change threatens to change people's tradition and home. Check out his series of photos from Greenland, "On Thin Ice".
3. The History Behind Your Favorite Foods
Ice cream and pizza aren't from Italy. Check this infographic to know where these famous foods are really from.
4. Walking in NY with an Umbrella
A funny article by Sapna Maheshwari gives New York City's pedestrians a guide on how to use their umbrellas. Yep. Umbrellas are tricky objects to use especially under hard rain showers leading to annoying users.
5. Cityscapes of Hong Kong
Hong Kong is a land of high-rise buildings and photographer Romain Jacquet-Lagreze's shots made the city look like a huge maze. See more here.
6. Iceland Cinemagraphs
Not photographs but cinemagraphs! See this series of ghostly yet beautiful moving images of Iceland here.
7. World's Largest Underground Trampoline
Bounce Below in Llan Ffestiniog, northern Wales got a trampoline under a disused slate cavern lit with technicolored light display that'll make you feel like partying and bouncing underground.
8. Aerial Shots of Sao Paulo's Football Fields
Renato Stockler shows us aerial shots of Sao Paulo's football fields spotted in different urban locations. They're simple, raw and look like oases hidden in a land full of modern structures.
9. Japan's Fake Food Capital
Japan makes awesome-looking fake food, the ones you can see in restaurant windows with realistic yet catchy colors making you drool and ask yourself, "Is that bowl of ramen really fake?" Read here to know more about the city of Gujo Hachiman and the art of making fake food.
10. 27 Must Try Foods Around the World
Know what travel and food bloggers suggest as must-try foods in different countries. Do you agree with this list? Do you want to recommend more? C'mon tell us at our Facebook and Twitter page!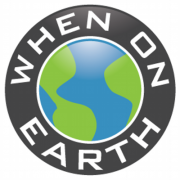 WOE Media
When On Earth Magazine is for people who love travel. We provide informative travel guides, tips, ideas and advice regarding places to see, things to do, what to taste, and much more for world travelers seeking their next dream vacation destination.