Wanna Run and Hide Big Time? Travel to 6 of the World's Remotest Islands
Enough of cities. Enough of towns. Enough of everything huge and crowded. If you just want to be alone with a few people and unreachable, where should you go? To a small remote island of course. Small but still inhabited to let you still live like a real social human being. You can choose among these 6 of the smallest and remotest inhabited islands that could be your future home of peace.
1. Tristan da Cunha
Lying 2,816 kilometers from South Africa and 3,360 kilometers from South America, Tristan da Cunha is your perfect isolated island. It was first discovered in 1506 by the Portuguese sailor Tristão da Cunha but he wasn't able to step foot on the island due to rough seas. Visiting this island feels like you're in the center of nothingness. Add up the facts that there's no Wi-Fi here and not even an airport. The only way you can go here is by taking a boat from Cape Town. But even if Tristan da Cunha takes you back to dial-up era, there are still places worth seeing around here like the hiking routes that take you to the 2062-meter-high volcano or walk around Edinburgh of the Seven Seas to meet some locals. You won't miss an opportunity to meet locals here anyway because homestays are available here instead of hotels and hostels.
2. Nauru
It looks like a potato! Nauru is another island that isn't the easiest to visit for you can only step foot on the island if you take a plane from Brisbane. What's unique about Nauru is its stand as an independent republic – actually the smallest independent republic – compared to the other islands which are dependent territories. You can easily feel how small the island is because it takes only less than one hour to drive around it. Take chance with the island's small size by not missing any tropical beaches like Anibare Bay and climbing Nauru's highest point, the Command Ridge.
3. Bishop Rock
Wouldn't it be cool to stay in a lighthouse? Bishop Rock, known as the smallest island in the world, got nothing on its land but an erected lighthouse. It was a crazy and dangerous idea to build a solid granite tower on a small land mass but it was necessary because the rocks around Scilly Isles caused many shipwrecks around the area. At first, a screw-pile lighthouse was created but a heavy gale swept it away leaving no other choice but to build a lighthouse on the island itself. There are no more keepers staying in the lighthouse anymore but you can book a week to three in this ten-floor tower. We're not quite sure what you would do there for three weeks.
4. Foula
32 kilometers from the west coast of Shetland in Scotland, there's an island known as Foula which is considered to be Britain's most remote inhabited island. Going there isn't that difficult but you need make sure you know your schedule well for it only has ferries traveling a few times a week. It has some of Britain's highest cliffs that reach up to 1220 feet above sea level. If you're up for a hike, you can take the routes going to the summit of Da Kame and Da Sneug. Lastly, Foula didn't just get its name meaning 'bird island' without a reason, for it is home to 500,000 seabirds including the rare Leach's petrel, Manx shearwater, and the world's largest colony of great skuas.
5. Easter Island
3700 kilometers from Chile in the Pacific Ocean, lies an island that together with its remoteness, gives off a mysterious vibe due to its iconic statues and the unknown. The island the world knows as Easter Island, or Rapa Nui for the locals, is an island that can be described as an open-air museum and something nature has created well. One of the popular sites to visit here is the place where you'll see the Moai standing on ceremonial platforms called Ahu. There are the volcanic craters of Rano Kau and Rano Raraku that provided the stones used to create Moai. Easter Island also has white-sand beaches: Anakena, located in the northern side of the island and Ovane, located east from Anakena.
6. Île Amsterdam
If you look closely in the southern Indian Ocean, you'll find Île Amsterdam like a nameless speck in an almost empty space. It has an area of 55 square kilometers and only one settlement exists on the island, the village of Martin-de-Viviès. This extremely small village is home of about 30 residents with most of them scientists and volunteers who manage the island's three research laboratories.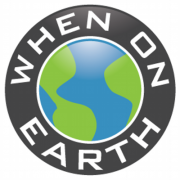 WOE Media
When On Earth Magazine is for people who love travel. We provide informative travel guides, tips, ideas and advice regarding places to see, things to do, what to taste, and much more for world travelers seeking their next dream vacation destination.